Publié le par Bernard Duyck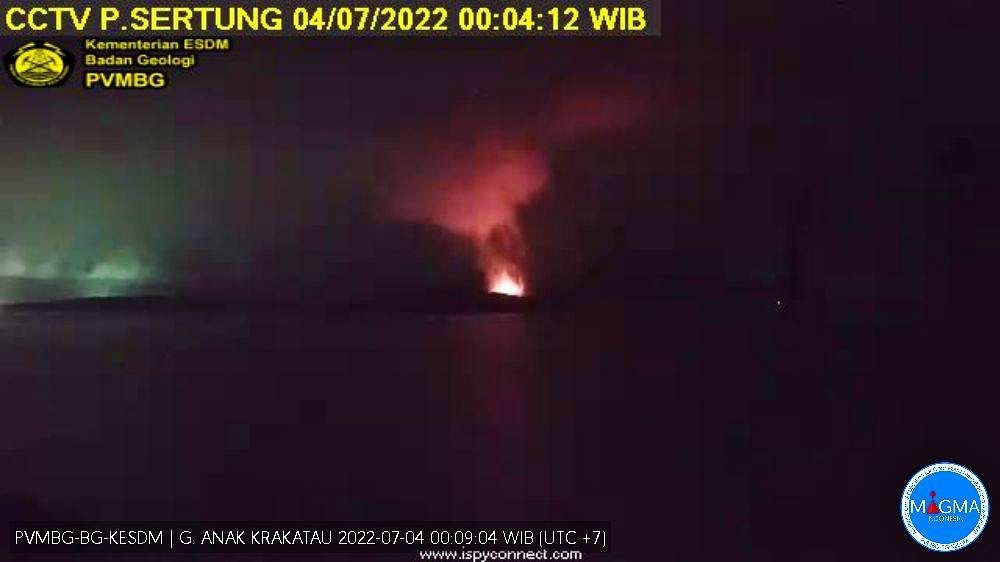 Anak Krakatau - 04.07.2022 / 00:04 WIB - Webcam Sertung PVMBG / Magma Indonesia - one click to enlarge
At Anak Krakatau, the PVMBG reports at the seismic level for July 3, 2022:
- 8 emission earthquakes, with an amplitude of 17 to 48 mm and the duration of the earthquake from 17 to 55 seconds.
- 168 low frequency earthquakes, with an amplitude of 8 to 45 mm and an earthquake duration of 4 to 15 seconds.
- 1 shallow volcanic earthquake, with an amplitude of 20 mm and an earthquake duration of 7 seconds.
- 4 episodes of continuous tremor, with an amplitude of 2-45 mm, dominating 8 mm.
Around midnight local time, a beautiful incandescence marked the crater.

The activity level remains at 3/siaga, with recommendations for people/visitors/tourists/climbers not to approach Mount Anak Krakatau, or engage in activities within 5km of the active crater.
Sources: PVMBG, Magma Indonesia
Thanks to documents and data from Sentinel-2 and Mirova, we can see that the activity continues on Manam.
Thermal anomalies have been identified, between VRP 2 and 21 MW since the beginning of July, in line with the previous months.
According to the GVP, this eruptive period began in late June 2014 and continues, with more frequent activity observed at the southern crater, and a concentration of eruption products in the southeast drainage.
Sources: Sentinel-2, Mirova, Mounts Project, global Volcanism Program
Manam - image Sentinel-2 bands 12,11,8A from 03.07.2022 / 00:47 - via Mounts project - click to enlarge
The Phivolcs has issued a notice of increased activity of the Kanlaon volcano.
A total of 41 volcanic earthquakes around the summit area have been recorded since 5am on June 30, 2022 by the Kanlaon Volcano Network or KVN. These included 7 very shallow tornillo signals that could be associated with the movement of volcanic gases along fractures in the upper volcanic slopes.
In addition, ground deformation data from continuous GPS measurements indicate slight short-term inflation of the lower and middle slopes since January 2022, which is consistent with the continuous electronic record of flank inflation inclination. southeast since mid-March 2022. Short-term ground deformations and increased seismic activity are likely caused by shallow hydrothermal processes beneath the edifice that could generate phreatic or steam-driven eruptions from the summit crater.
DOST-PHIVOLCS would like to remind the public that Kanlaon Volcano is at Alert Level 1, which means it is at low level of unrest. Local government units and the public are strongly reminded that entry into the 4 kilometer radius Permanent Danger Zone (PDZ) is to be strictly prohibited due to the additional possibilities of sudden and dangerous steam eruptions. or groundwater. Civil aviation authorities should also advise pilots to avoid flying close to the volcano's summit, as ejecta from any sudden phreatic eruption can be hazardous to aircraft. DOST-PHIVOLCS is closely monitoring Kanlaon Volcano activity and any new developments will be relayed to all concerned.

Source: DOST-PHIVOLCS 03.07.2022 / 2 p.m.