Publié le par Bernard Duyck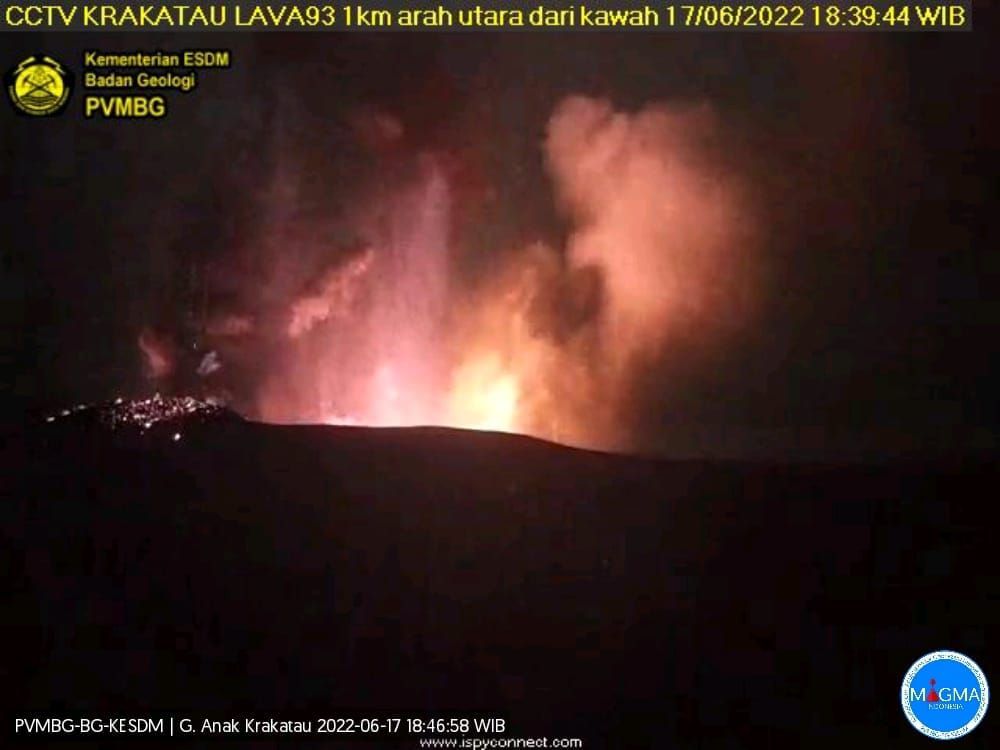 Anak Krakatau - 2nd eruptive episode of 17.07.2022 / 6:39 p.m. WIB - webcam 1 km north of the crater - PVMBG via Andi - one click to enlarge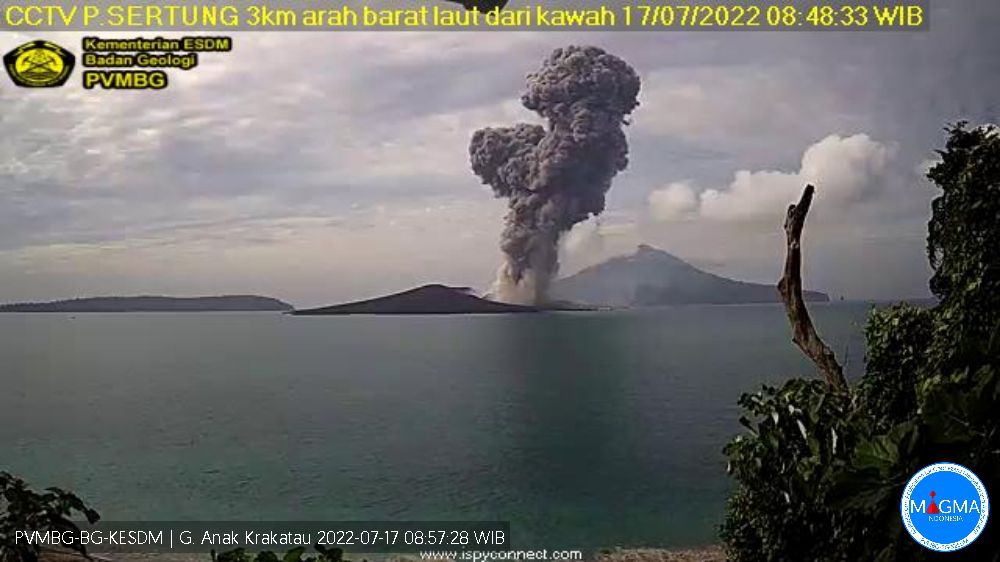 Anak Krakatau - eruptive episode of 07.17.2022 / 08:48 WIB - Sertung PVMBG / Magma Indonesia webcam - one click to enlarge
At Anak Krakatau, the seismicity of July 17, 2022 is characterized by:
- 3 eruption earthquakes, with an amplitude of 29-56 mm and an earthquake duration of 16-79 seconds. Two eruptive episodes were photographed, respectively at 08:47 WIB and 17:07 WIB.
A harmonic episode, with an amplitude of 12 mm and an earthquake duration of 117 seconds.
- 15 low frequency earthquakes, with an amplitude of 2 to 29 mm and an earthquake duration of 3 to 11 seconds
- 2 shallow volcanic earthquakes, with an amplitude of 10 mm and an earthquake duration of 5-6 seconds.
- 1 deep volcanic earthquake, with an amplitude of 35 mm, S-P 1.1 seconds and an earthquake duration of 10 seconds.
- 1 distant tectonic earthquake
- 4 episodes of continuous tremor, with an amplitude of 0.5 to 28 mm, dominating 2 mm.
The aviation code was set to orange by VAAC Darwin.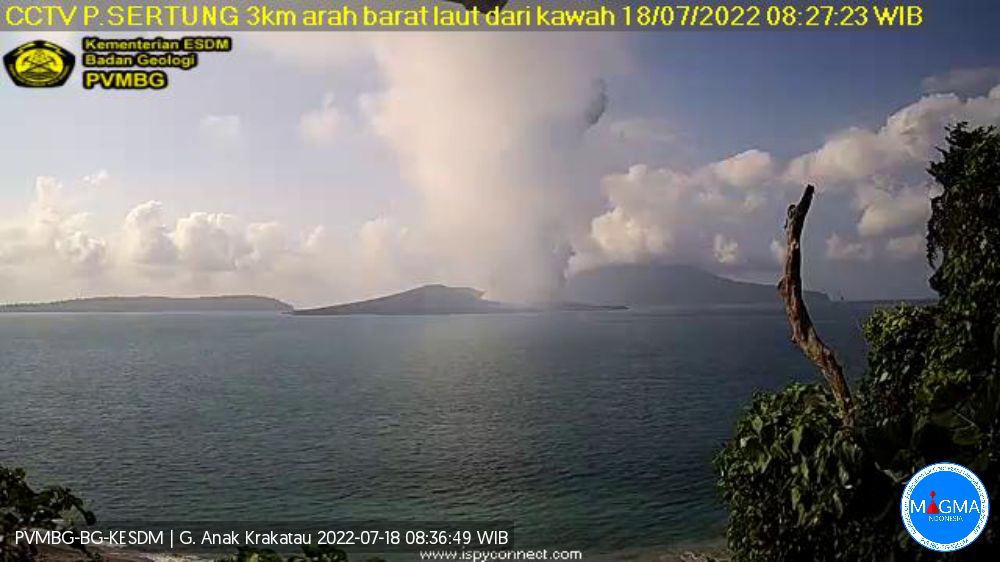 Anak Krakatau - 18.07.2022 / 08:27 WIB - Sertung webcam 3 km away. from the crater / PVMBG / Magma Indonesia - one click to enlarge
This Monday, July 18, 2022 at 08:26 WIB, an eruptive episode occurred, accompanied by the emission of gas and gray to black ash, observed at ± 2000 m above the summit (± 2157 m above the level of the sea) dissipating towards the southwest. This eruption was recorded on a seismograph with a maximum amplitude of 53 mm and a duration of 127 seconds.

Activity remains at Level III/siaga, with recommendations for communities/visitors/tourists/climbers not to approach Krakatau, nor engage in activities within 5 km of the active crater.
Sources: PVMBG, Magma Indonesia, VAAC Darwin, - Andi comment / to follow on
IG GeoVolcanography Indonesia - https://www.instagram.com/andi_volcano/
Eruption of the Turrialba volcano on July 17, 2022 at 7:49 a.m. local time, lasting about 1 min or less. A pulse of ash and gas rose 200 meters above the crater, or 3540 m.a.s.l. (meters above sea level). A slight ash fall is reported in the Irazú Volcano National Park.
Seismic activity shows no change. The deformation is maintained with a tendency to shrink. Satellites have not detected SO2 in the atmosphere since June 25.
Source: Ovsicori
Increased seismic activity beneath Kamaʻehuakanaloa (Lōʻihi) Seamount, south of the island of Hawaii, began around 2:00 a.m. HST on July 16, 2022. Hawaii Volcano Observatory US Geological Survey detected a seismic tremor marked by pulses of seismic energy every 15-20 seconds, which is still ongoing at the time of this publication.
About 24 hours after this activity began, two dozen M1.8-M3.0 earthquakes occurred from 1:30 a.m. to 6:00 a.m. on July 17.
According to HVO scientist in charge Ken Hon, this seismic activity is likely the result of magma movement beneath the Kamaʻehuakanaloa seamount and currently shows no signs of an eruption.
The volcanic alert level and the aviation code remain "Unassigned"
Source: HVO-USGS
In Sangay, surface and internal activity levels remain high, and unchanged, as of 07.16.2022 / 11 a.m. local time.
The seismicity is significant, despite a recording halved by technical problems: 753 explosion earthquakes, 8 LP earthquakes and 15 emission tremors.
Gas and ash emissions were observed up to 1,000 meters above the level of the crater, then in a northwesterly direction.
The Washington VAAC reported gas and ash emissions up to 1,170 meters above the summit, looking west and northwest.
The MOUNTS system reported 162.7 tons of SO2, measured on 07/15/2022 at 2:21 p.m. TL.
FIRMS recorded 16 thermal anomalies, MIROVA reported 1 high (232 MW) and 2 moderate thermal anomalies, over the past 24 hours.
Observation: From ECU-911 images, descent of incandescent material was observed along the southeast flank.
As of 17.07.2022 / 11 a.m., the IGEPN reports 720 explosion earthquakes and 24 LP earthquakes over the past 24 hours.
Emissions of gas and ash were observed up to 1000 meters above the level of the crater in a west-southwest direction.
The FIRMS system records 18 thermal alerts and MIROVA records 1 high thermal alert (108 MV) in the last 24 hours.
The alert level - SNGRE: Yellow
Source: IGEPN