Publié le par Bernard Duyck
A moderate eruptive activity of the Ebeko volcano in the Kuriles continues on July 10, 2022. According to visual data from volcanologists from Severo-Kurilsk, an explosion sent ash up to 2,700 m. altitude, an ash cloud drifts for 5 km. southeast of the volcano.
Moderate eruptive activity of the volcano continues. Ash explosions up to 6 km (19,700 ft) above sea level could occur at any time. Ongoing activity could affect low-flying aircraft and Severo-Kurilsk airport.
The aviation code remains orange.
Source: KVERT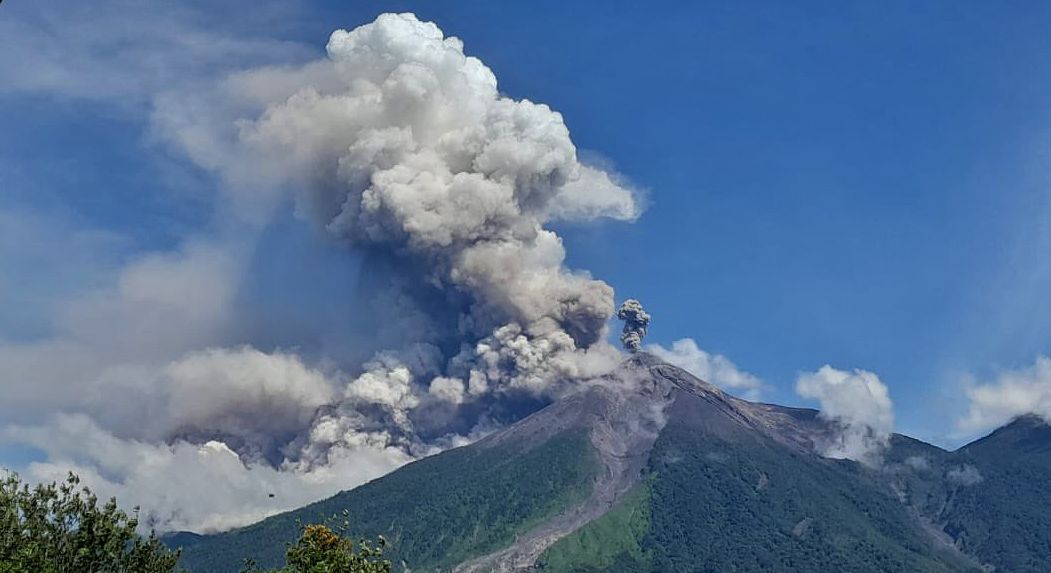 Fuego - plume and pyroclastic density current - photo archives 04.07.2022 / William chigna - one click to enlarge
The instrumental recording of seismic and acoustic stations around the Fuego volcano shows an increase in degassing activity from the crater since Saturday evening. This was reported by OVFGO observers at Panimaché I as low to moderate sounds similar to a train locomotive, which went from intermittent periods of between 1 and 5 minutes, to remaining constant since early today.
At this time, 2 to 5 weak explosions per hour are observed, as well as moderate and strong avalanches towards the Ceniza ravine. This activity raises a curtain of ash above the ravine, and the wind disperses this material over distances between 10 and 15 kilometers to the west and southwest. Some weak avalanches were also observed towards other ravines such as Santa Teresa and Las Lajas. All this favors the fall of fine ash in the communities of the southwestern flank such as Panimaché I and II, Morelia, Santa Sofia, Yucales, Palo Verde, El Porvenir, La Asunción and La Rochela.
This increase in activity may precede the formation of a lava flow towards the Ceniza ravine, as well as the appearance of strong avalanches and pyroclastic density currents similar to those that occurred on July 4th. However, it could happen in any of the volcano's other canyons, such as Santa Teresa and Las Lajas.
INSIVUMEH maintains instrumental and visual monitoring of volcanic activity through seismic and acoustic stations, web cameras and volcanological observers located around the Fuego volcano.
Source: Insivumeh – Special volcanological bulletin of July 10, 2022, 10:44 a.m. local time
At Semeru, in activity level 3 / siaga, the seismicity of the last two days is marked by a large number of distant tectonic earthquakes: 80 on July 9, with an amplitude of 5-41 mm, S-P 15-22 seconds and a earthquake duration of 24-190 seconds; and 32 on July 10, with an amplitude of 7-40 mm, S-P 11-21 seconds and an earthquake duration of 20-106 seconds.
The eruption earthquakes are, respectively on July 9 and 10, 38 earthquakes, with an amplitude of 10 to 22 mm and an earthquake duration of 45 to 100 seconds & 58 earthquakes, with an amplitude of 10 -22 mm and an earthquake duration of 42-175 seconds.
The PVMBG recommends:
- carry out no activity in the southeastern sector along Besuk Kobokan, up to 13 km from the summit (the center of the eruption). Beyond this distance, the community does not conduct activities within 500 meters of the bank (river edge) along Besuk Kobokan due to the potential for expansion of hot clouds and lava flows. lava up to a distance of 17 km from the summit.
- do not move within a radius of 5 km from the crater/summit of Mount Semeru because it is subject to the danger of stone throwing (incandescent).
- to remain aware of the potential for hot cloud avalanches (APG), lava avalanches and lahars along the rivers/valleys that originate at the summit of Mount Semeru, especially along Besuk Kobokan, Besuk Bang, Besuk Kembar and Besuk Sat as well as potential lahars in the rivers a small river which is a tributary of Besuk Kobokan.
Sources: PVMBG, MAgma Indonesia
This July 10, between 4:47 p.m. and 4:51 p.m., five earthquakes were detected at Mýrdalsjökull, which houses the Katla. The two largest of them were M2.7 and M2.8 but the other smaller. Earthquakes are shallow and are likely caused by precipitation and warmer weather which can lead to increased water pressure which encourages seismic activity.
Source: IMO
A 23-year-old American tourist has fallen into the crater of Vesuvius, the volcano that dominates Naples, Italian media report.
The incident happened on Saturday after the tourist and three of his relatives decided to bypass the volcano's visitor entrance and take a forbidden route to the summit.
The man, who fell several meters into the crater after losing his balance, was rescued by carabinieri and treated for his minor injuries by emergency services.
The tourist and his family were then summoned by the police, along with two other visitors, for taking the prohibited route which was clearly marked as very dangerous and prohibited... minor injuries, but hefty fine!
Source: wantedinrome.com/news