Publié le par Bernard Duyck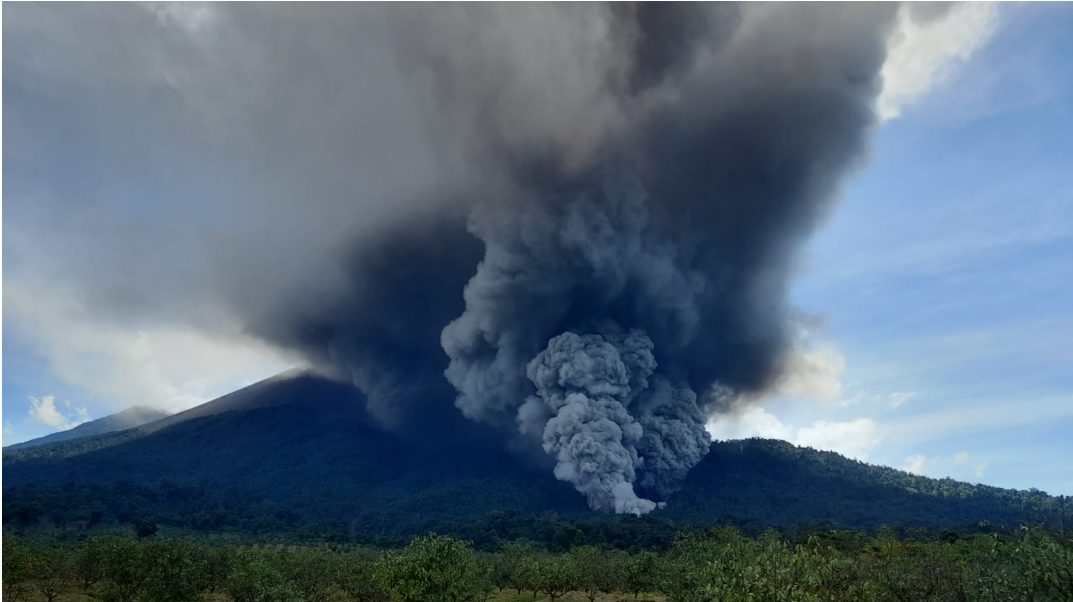 Fuego - pyroclastic flow descending the barranca Ceniza - photo special bulletin Insivumeh04.07.2022 / 10:20 a.m. - one click to enlarge
The effusive activity of the Fuego volcano recorded a gradual increase from the night of July 2 this year, accompanied by periods of constant and abundant degassing that last from a few minutes to a few hours.
This generated the formation of a new lava flow more than 1000 meters long in the direction of the Ceniza ravine, also generating, according to the recordings of the seismic stations and what is reported by the Fire Volcano Observatory (OVFGO ) , a pyroclastic flow in the barranca Ceniza and with a high probability that they also descend into nearby ravines, such as Trinidad.
At this time, you can see tall columns of ash coming from the crater and curtains of ash that reach up to 5,000 meters high, formed by the descent of pyroclastic flows that travel about 6 km. Low to moderate train locomotive type noises are heard almost constantly around the volcano. This will continue to cause fine ash to fall in communities near these ravines, such as Panimaché I and II, Morelia, Santa Sofia, Yucales, Palo Verde, El Porvenir, La Rochela, Guadalupe, El Zapote.
This activity can generate new lava flows in more ravines, as well as produce violent ash-laden explosions. It is likely that pyroclastic flows will continue to be generated, which could affect communities near the ravines of Ceniza and Trinidad, such as La Rochela, La Asunción, Guadalupe, Zapote, which is why you should not stay near or in the barrancas of the volcano.
Sources: Insivumeh, special volcanological bulletin #056-2022 & Conred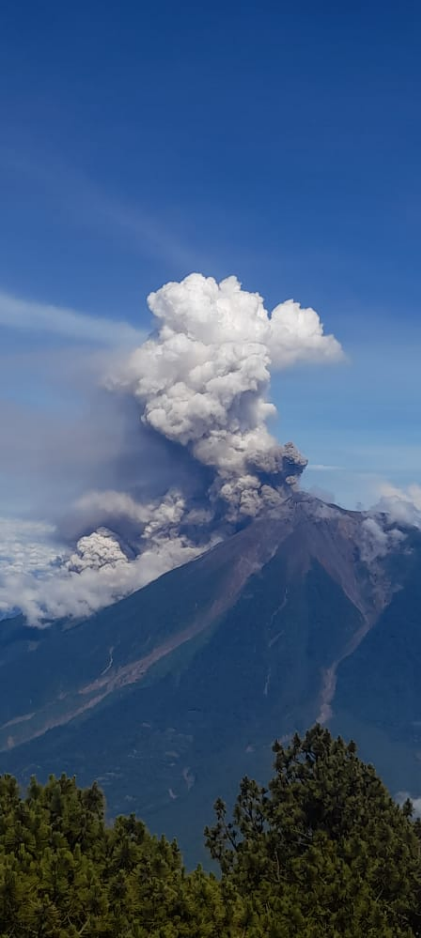 Fuego - pyroclastic flow descending the barranca Ceniza, view of the Agua volcano - photo special bulletin Insivumeh04.07.2022 / 10:20 a.m. - one click to view
An extrusive-effusive eruption continues at Bezymianny, characterized by strong fumarolic activity, incandescence of the lava dome, and hot avalanches that accompany this process.
Satellite data from KVERT showed a thermal anomaly over the volcano.
The Aviation Color Code is yellow.
Source: KVERT
"Tajogaite Volcano" was the name chosen by the majority of participants in the promoted process of "Revivir El Valle" to name the last recorded eruption in Cumbre Vieja, La Palma, during a consultation attended by 4,283 people from the island of La Palma and outside the island.
Commonly, the name of the volcano is the one with which it is most named by the local population, by its closest inhabitants, who are those to whom the greatest recurrence in the use of its name is attributed.
Source: rtvc