Publié le par Bernard Duyck
According to KVERT reports, the explosive activity of Karymsky experienced an increase on July 13, 2022.
Himawari-8 satellite data from 13.07 to 10.50 a.m. showed an ash plume up to 8,500 meters a.s.l. extending to the southwest of the volcano.
After the eruption at 10:50 a.m. on July 13, the ash cloud continues to be observed at a distance of 350 km southwest of the volcano, at 3,000 m. amsl.
On 14.07 / 00:56, KVERT reports moderate explosive activity of the volcano which continues. Satellite data showed an ash cloud drifting southeast from the volcano,
3000m. amsl. Distance from ash plume/volcano cloud: 369 km.

Moderate activity of the volcano continues. Ash explosions up to 12 km (39,400 ft) a.s.l. could occur at any time. Ongoing activity could affect international and low-flying aircraft. The color code for aviation remains orange.
Sources: KVERT, VAAC Tokyo, Mirova
Karymsky - Volcanic ash advisory on 13.07.2022 / 3:00 p.m. and on 14.07.2022 / 06:00 a.m. - Doc. VAAC Tokyo - one click to enlarge the thumbnails
In Mayotte, seismic and volcanic activity has changed little.
The sinking and the movement of the island towards the east are considered by REVOSIMA as not significant during the last 12 months.
Since January 2021, there have been no new lava flows observed.
New releases of gas have however been spotted, a.o. in the Fer à Cheval area, 10 km off Petite Terre.
The next MAYOBS 23 mission, from July 09 to 27, 2022, aboard the Marion Dufresne vessel will make it possible to continue monitoring eruptive activity and underwater relief, seismic activity and fluid emissions, and to check if there have been any new castings since October 2021.
Sources: REVOSIMA – Mayotte volcanological bulletin June 2022 & MAYOBS 23 campaign from July 7 to 27, 2022
An article appeared in the AGU, titled "Volume, effusion rate and lava transport during the 2021 Fagradalsfjall eruption: results from near real-time photogrammetric monitoring".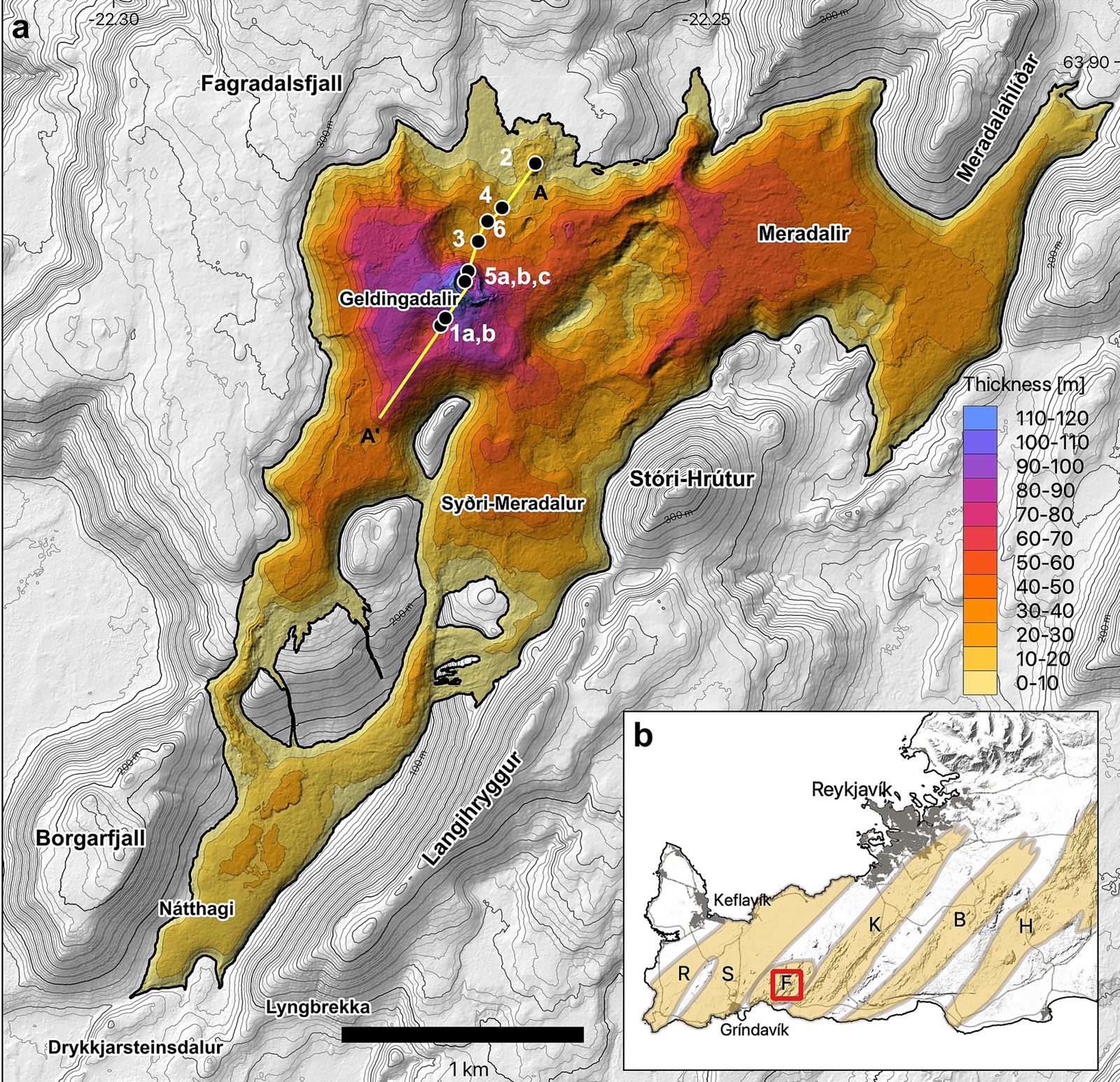 Fagradalsfjall - (a) Thickness map of vent products during the eruption of Fagradalsfjall as of September 30, 2021. Vents are marked with dots and numbered chronologically after opening time. The location of the topographic profile (A-A′) in (c) is marked with a yellow line. Bottom topography is based on IslandsDEM v0. (b) Map of the Reykjanes Peninsula. The red box indicates the area displayed in (a). Densely populated areas are marked in grey. Volcanic systems (Sæmundsson & Sigurgeirsson, 2013) are marked in orange and designated by a capital letter according to their name; R, Reykjanes; S, Svartsengi; F, Fagradalsfjall; K, Krysuvík; B, Brennisteinsfjöll; H, Hengil. - Doc.AGU / Gro B.M. Pedersen, & al. - one click to enlarge

Fagradalsfjall - Topographic profile along vents from NE to SW (location in [a]). - Doc.AGU / Gro B.M. Pedersen, & al. - one click to enlarge
The effusive basalt eruption at Mount Fagradalsfjall lasted from March 19 to September 18, 2021, ending a 781-year quiescent period on the Reykjanes Peninsula, Iceland.
At the end of September 2021, 33 near real-time photogrammetric surveys were carried out using satellite and aerial images, generally processed in 3 to 6 hours. The results provide unprecedented temporal datasets of lava volume, thickness and effusion rate. This allowed a rapid assessment of the evolution of the eruption and the risks for populated areas, important infrastructure and tourist centers. The lava flow field has an average lava thickness greater than 30 m, covers 4.8 km2 and has an apparent volume of 150 ± 3 × 106 m3. The average global outflow rate from March to September is 9.5 ± 0.2 m3/s, varying between 1 and 8 m3/s in March-April and increasing to 9-13 m3/s in May-September. This is rare for recent Icelandic eruptions, where the highest discharge usually occurs in the opening phase.
Full text following the link in source.
Source: Volume, effusion rate and lava transport during the 2021 Fagradalsfjall eruption: near real-time photogrammetric monitoring results
Gro B.M. Pedersen, & al.-
Full text following this link:
https://agupubs.onlinelibrary.wiley.com/doi/10.1029/2021GL097125