Publié le par Bernard Duyck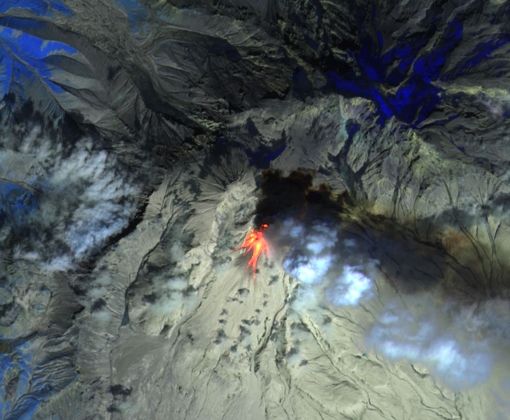 Sheveluch - thermal anomalies at the dome and its avalanches - Sentinel-2 bands 12,11,8A image from 07.21.2022 / 00:36 - via Mounts Project - one click to enlarge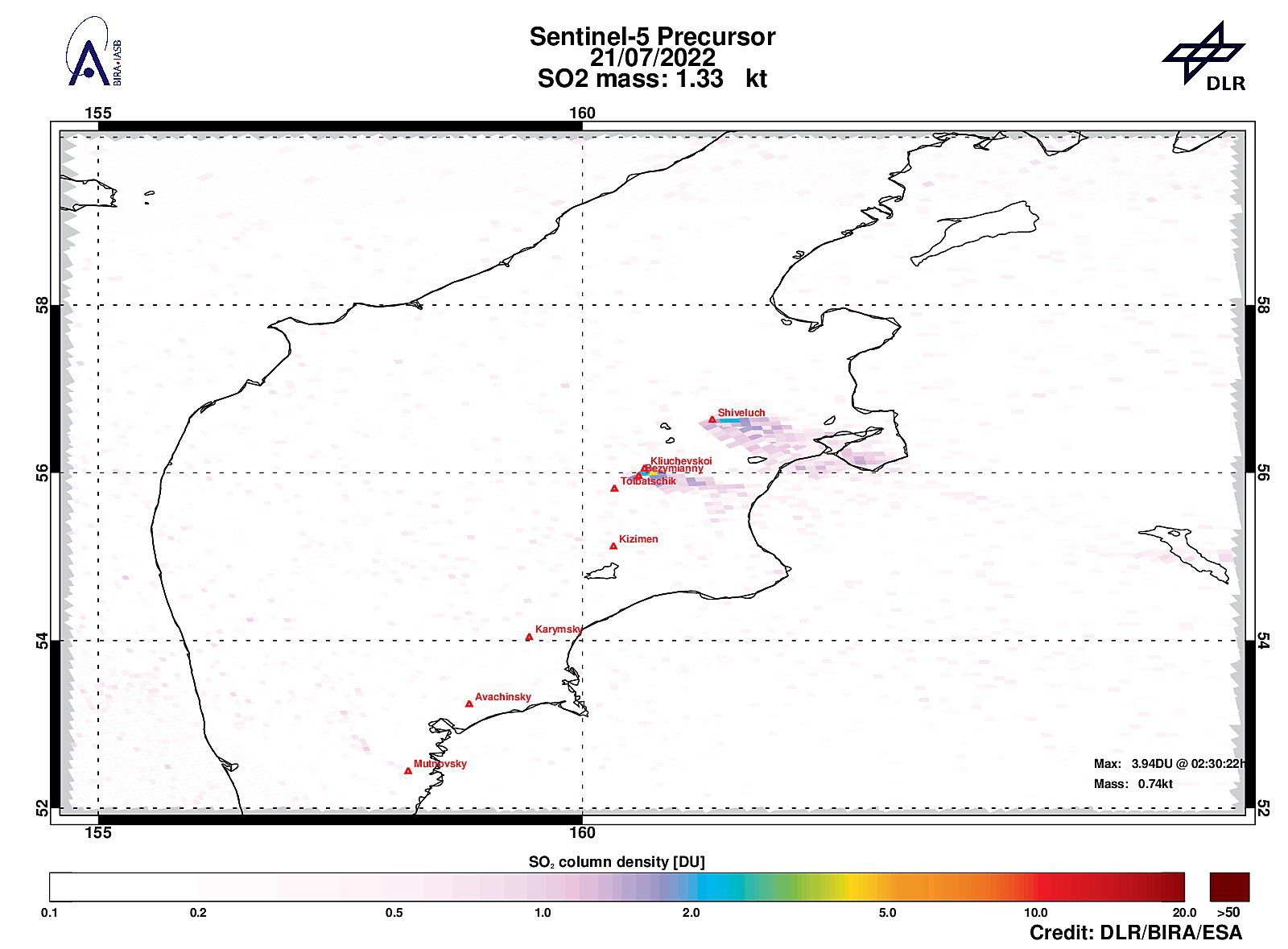 Sheveluch - enhanced SO2 signal of 3.94 DU at a distance of 8.7 km from the Kliuchevskoi. Other nearby sources: Bezymianny, Tolbatschik, and Sheveluch. - Doc. Sentinel-5P Tropomi/DLR/BIRA/ESA - one click to enlarge
Growth of the Sheveluch lava dome continues, strong fumarolic activity, and lava dome incandescence, explosions and hot avalanches accompany this process. Video and satellite data from KVERT showed a resuspended ash plume up to 4,500 m a.s.l. extending southeast of the volcano for a distance of 65 km.
The extrusive eruption of the volcano continues. Ash explosions up to 10-15 km a.s.l. could occur at any time. Ongoing activity could affect international and low-flying aircraft. Aviation color code remains orange.
Sources: KVERT, VAAC Tokyo, Mirova, Mounts Project
The seismicity of the Rincón de la Vieja volcano on July 19 is similar to that of yesterday. Geodetic measurements do not show any significant deformation of the volcanic edifice. The tremor which showed a frequency of 4 Hz disappeared around 06:00 today.
Cloudiness prevents observation of the crater. South-westerly wind (4 m/s).
Activity Level : 2 /Warning
Source : Ovsicori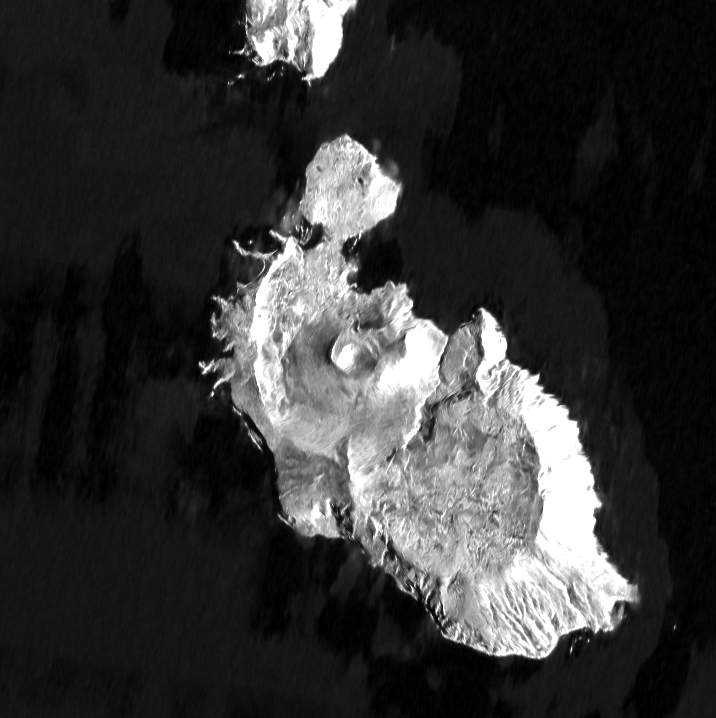 Vulcano - image Sentinel-1 SAR intensity VV filt (2022-07-16), descending (124) from 16.07.2022 - via Mounts Project - one click to enlarge
The temperatures recorded at the fumaroles on the edge of the crater of La Fossa of Vulcano, between July 11 and 17, show very stable values ​​with a weekly average of 376°C.

The CO2 flux in the crater area remains at medium-high values. CO2 fluxes at the base of the La Fossa cone and in the Vulcano Porto area: The CO2 fluxes recorded in the Rimessa and P4max sites show a slight downward trend, but remain at values ​​higher than the basal values, so that in the Faraglione site there are values ​​close to the background.
The SO2 flux remains at a medium-high and stable level.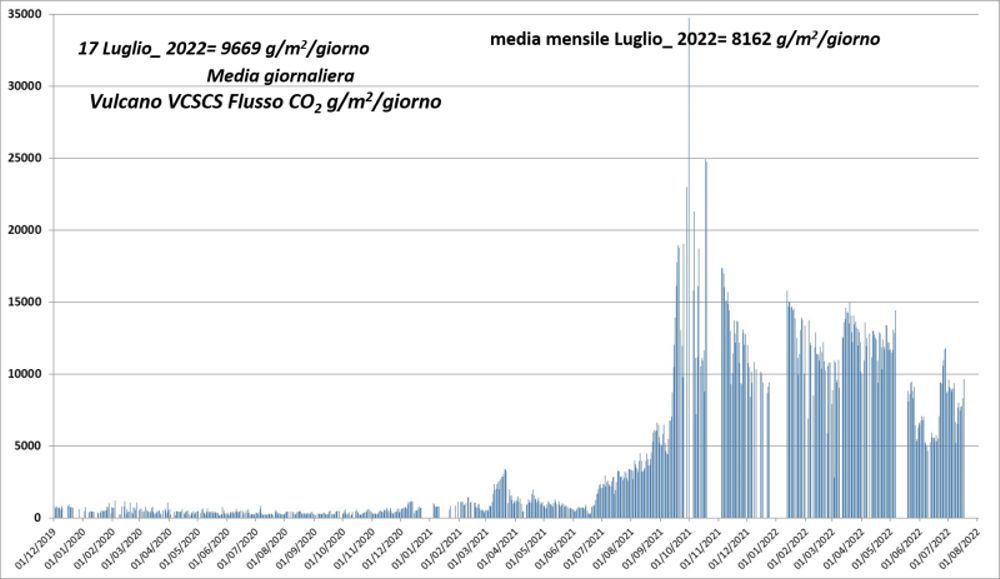 Vulcano - automatic recording of the diffuse flow of CO2 from the ground in the site located east of the fumarolic zone (VSCS site) – Doc. INGV OE 17.07.2022
Low rate of occurrence of local micro-seismicity with a spectral peak greater than 1 Hz. Moderate increase in the daily number of low frequency events (VLP).
No earthquake with Ml >= 1.0 was located last week in the Vulcano region.
The networks of GNSS and clinometric stations did not register any significant changes.
Source: INGV OE
In recent days, electrical conductivity has increased at Jökulsá on Sólheimasandur and is abnormally high compared to the season. There is a lot of water in the river and sulfur smells have been reported in the area. In recent days, several small earthquakes have been detected at Mýrdalsjökull in the Sólheimajökull catchment. This is a sign that geothermal water is leaking from the glacier, but there is no indication of new water growth. However, tourists and tour operators in the region are advised to be vigilant.
Source : IMO 19.07.2022