Publié le par Bernard Duyck
The Fuego volcano observatory, the OVFGO, reports a weak plume at a height of 4,800 meters above sea level which disperses in a west and south-west direction. Incandescent pulses were observed at a height of 200 meters above the crater, these generate avalanches on the edge of the crater of weak to moderate characteristics. Faint sounds similar to those of a train locomotive continue to be heard constantly.
The lava flow towards the barranca Ceniza has a length of about 1.2500 meters according to the image of the Landsat-9 satellite.
It generates, at the flow front, constant weak to moderate avalanches. During the descent of these avalanches, an ash curtain is raised with a height of 500 meters from the surface, which is scattered to the west and southwest.
As a result of this activity, ash falls are reported in the areas of Panimaché I, Morelia, Santa Sofía, El Porvenir, Sangre de Cristo, Finca Palo Verde, Yepocapa and others. Due to the variability of the wind, there is a probability of ash fall in communities northwest of the volcano, such as Quisaché and neighboring communities.
Source : Insivumeh 30.07.2022 / 07:39 local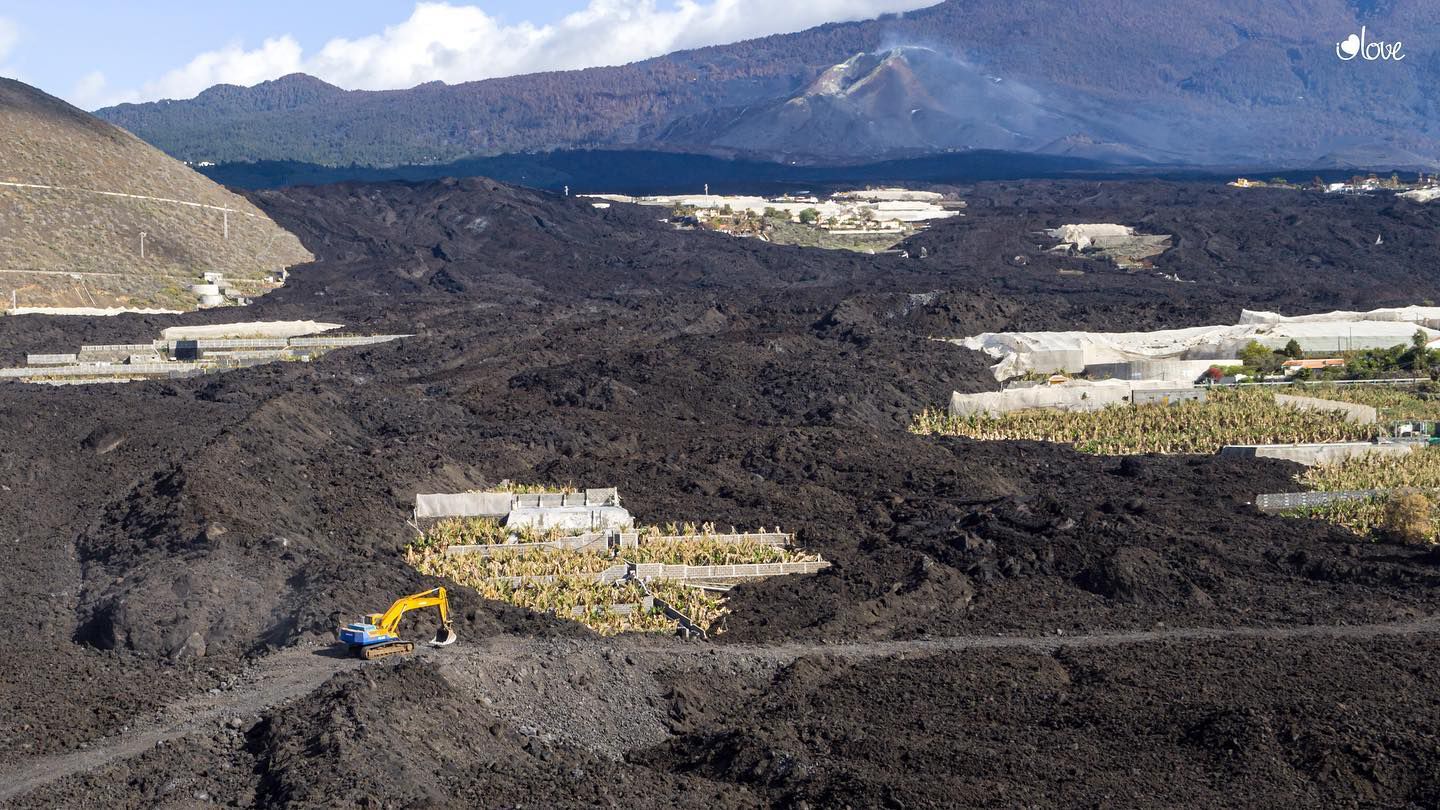 La Palma - opening of a road in the Tajogaite lava flows / Cumbre vieja - photo archives I Love the World
The Cabildo de La Palma will open the La Laguna - Las Norias highway to traffic, in both directions, continuously and without vehicle type restrictions, starting next Monday, August 1, between 6:30 a.m. and 10:00 p.m. , reports the institution in a press release. Pedestrian access is prohibited.
The opening in both directions of traffic, in the established time slot, maintains a series of rules with which traffic has been regulated, such as the prohibition to stop along the route of the road. A speed limit of 20 km/h will be established and there will be permanent monitoring on the road.
Source: https://www.eldiario.es/canariasahora
Around noon on July 30, a powerful series of earthquakes with lots of small seismic activity started just northeast of Fagradalsfjall, a short distance north of Fagradalsraun.
The strongest earthquake in the series was measured at a magnitude of 4.0 at 2:03 p.m. Earthquakes are now measured at a depth of about 5-7 km.
Tremors were recorded in Reykjanesbær, Grindavík, Höfðuborgarsvæðinu and as far as Borgarnes. It is believed that these earthquakes are due to a flow of magma which is located northeast of Fagradalsfjall at a depth of 5 to 7 km.
Because of this seismic swarm, there is an increased risk of rockfalls. Several earthquakes have already been measured above magnitude 3, and in earthquakes like this, landslides can occur. There have been no reports of recent rockfalls in the area yet. If there are more powerful earthquakes, the probability of a rockfall increases. People are advised to be careful on steep slopes, near steep cliffs, and to avoid areas where rocks may cave in. The National Police Commissioner, in cooperation with the Suðurnesj Police Commissioner, has declared a level of uncertainty
Civil Defense notification and a yellow VONA for Krisuvik have been issued. The National Weather Service is monitoring progress closely.
Fagradalsfjall - location and magnitude of earthquakes on 07.30.2022 / 5.20 p.m. and 07.31.2022 / 07.55 a.m. - Doc. IMO - one click to enlarge
As of July 31/7am, IMO has already located more than 2,500 earthquakes, relating to the seismic swarm in the Reykjanes Peninsula NE of the 2021 eruption site at Fagradalsfjall.
No signs of a volcanic eruption were seen on Met Office gauges, or any other signs that an eruption has started or is currently imminent, the Met Office says. (mbls)
Note : A magnitude 4.2 earthquake was measured on July 29, 2022 at 10:58 p.m. south of the Mýrdalsjökull glacier, followed by around ten earthquakes of lesser magnitude. It was felt at Mýrdalshreppur.
The Mýrdalsjökull caps the Katla volcano.

Sources: IMO & mbls