Publié le par Bernard Duyck
This week, between July 1 and July 7, 60 lava avalanches were observed at Merapi, in a dominant southwest direction towards the Bebeng River with a maximum slip distance of 2,000 m.
At the southwest dome, growth is observed, and its volume is calculated at 1,645,000 m³. During this time, the central dome cannot be observed as it is mostly obstructed by smoke. However, based on the analysis of photos from the Deles5 camera station, no change in the height of the dome was observed, so the volume of the dome is calculated to remain at 2,582,000 m³.
The intensity of seismicity this week is still quite high. Mount Merapi's deformation that was monitored using EDM and GPS this week showed no significant changes.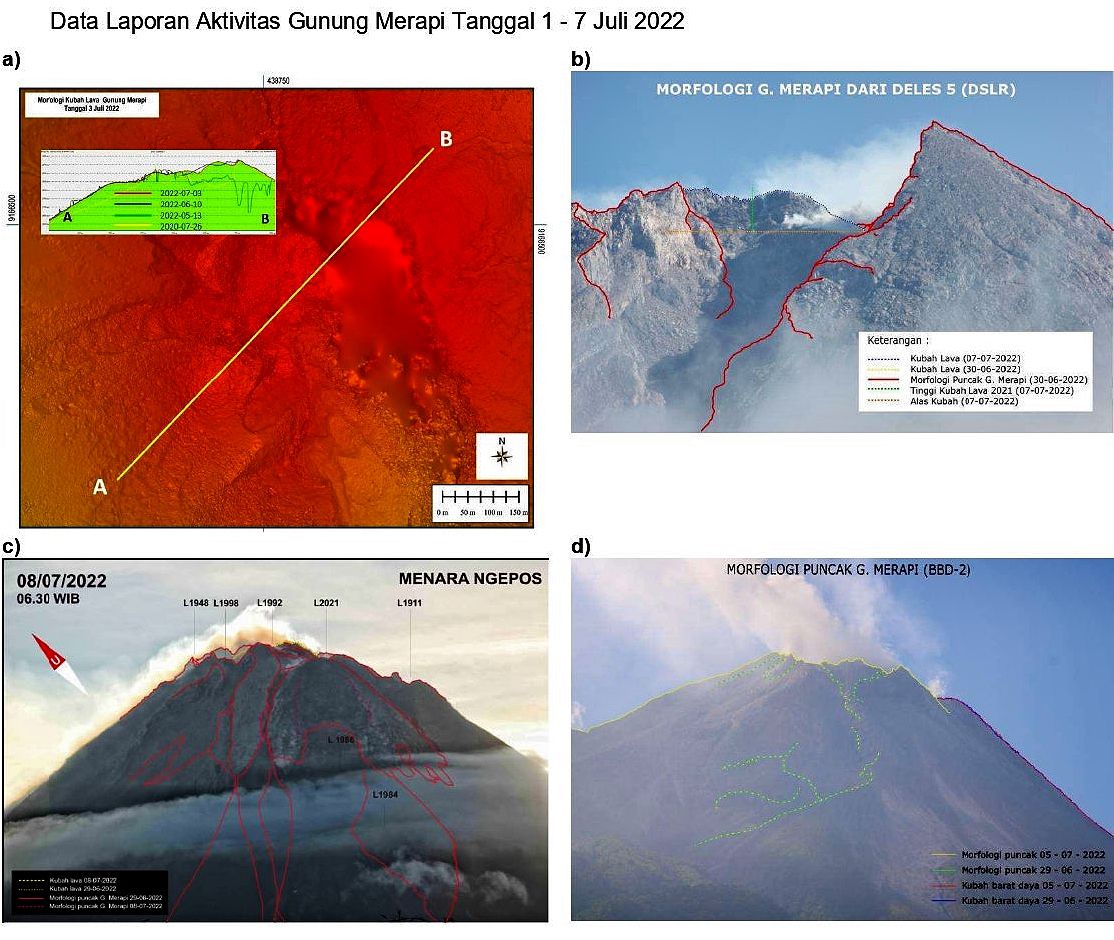 The activity level remains at 3 siaga.
The current potential danger consists of lava avalanches and hot clouds in the south-southwest sector covering the Boyong river for a maximum of 5 km, the Bedog, Krasak, Bebeng river for a maximum of 7 km. The southeast sector covers the Woro River for a maximum of 3 km and the Gendol River for a maximum of 5 km.
Meanwhile, the ejection of volcanic material in the event of an explosive eruption can reach a radius of 3 km from the summit.
Source: BPPTKG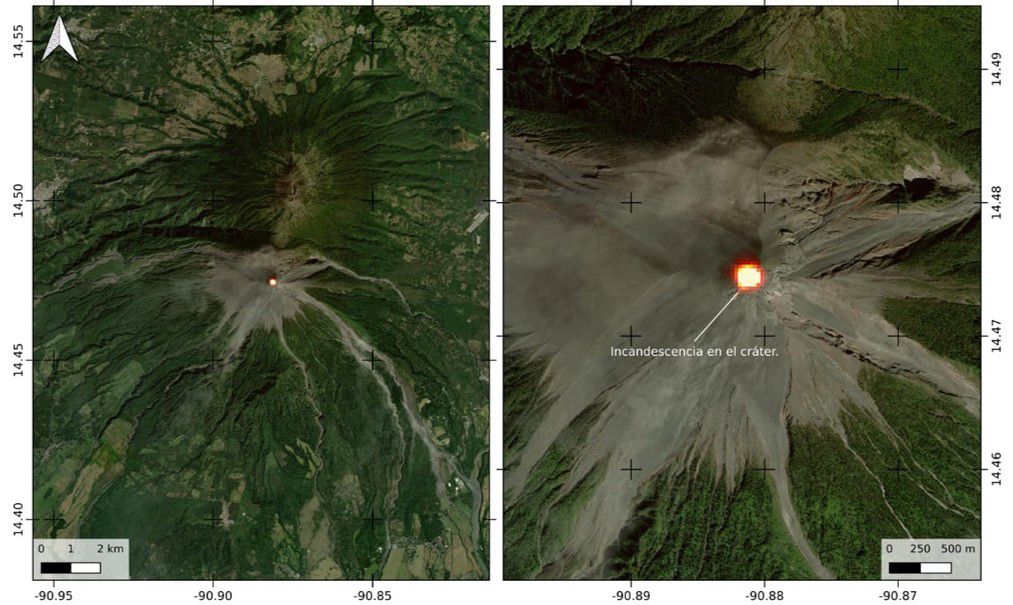 Fuego - incandescence in the crater 08.07.2022 / 10:28 - WhatsApp-Image via Conred - one click to enlarge
The Fuego volcano observatory - the OVFGO - reports a weak white fumarole at a height of 4,500 meters above sea level which is spreading west and southwest.
There were 4 to 7 weak and moderate explosions per hour, these generate a column of ash at a height of 4,500 to 4,800 m. asl which stretches about 10-15 km to the west and southwest due to the wind pattern. During the night and early in the morning, incandescent pulses are observed at a height between 150 and 200 meters above the level of the crater. The explosions produce the descent of weak and moderate avalanches in the contour of the crater towards the ravines of Ceniza, Santa Teresa, Taniluya and Trinidad. Weak and moderate rumblings were generated which are at the origin of a weak shock wave which vibrates the houses near the volcano.
Following the explosions, ashfall is recorded in Panimaché I, Panimaché II, Morelia, Santa Sofía, Finca Palo Verde, Sangre de Cristo and other communities located west of the Fuego volcano.
Sources: Insivumeh, Conred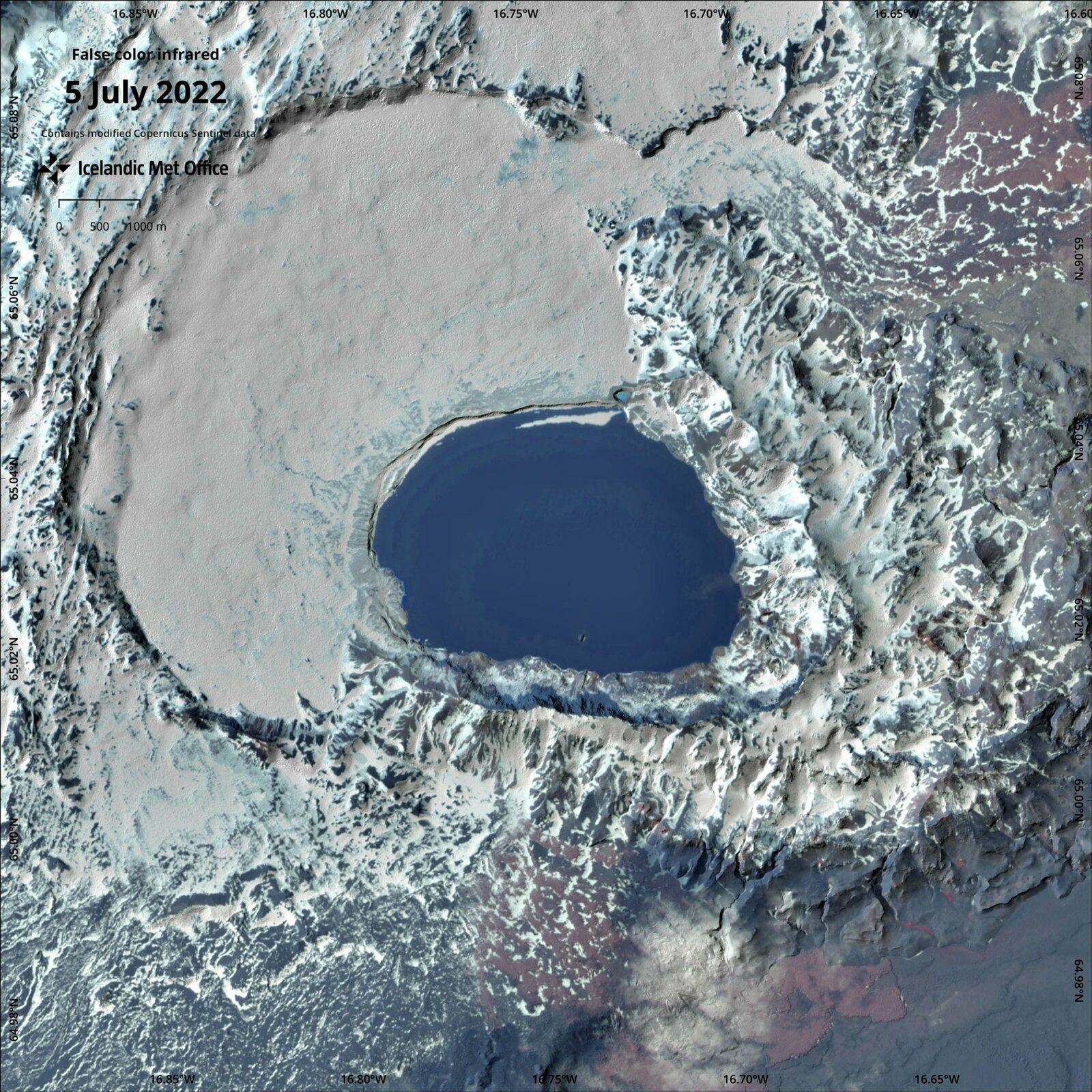 The crater lake of Askja, cleared, in an environment which remains heavily snow-covered – Sentinel-2 image 07.07.2022 via IMO - one click to enlarge
"Magma is accumulating a few kilometers deep below Askja," says Kristín Jónsdóttir, nature conservation specialist at the Icelandic Meteorological Office.
"Inflation at Askja is 30mm since the last update, and 33cm since its first measurement in early August 2021 and has remained stable.
We can say that it is a typical precursor to an eruption, but nothing at the moment indicates that it is imminent background activity," explains Kristín.
Then the accumulation of magma may even stop without an eruption. "If we were approaching an eruption, we would expect seismic activity to increase, and that's something we haven't seen."
The center of the expansion is at the western end of Öskjuvatn near Ólafsgígur, but there is no evidence that it has changed. It's snowed a lot in the area recently, but there's no reason to go out there and read the meter. Data is centralized daily from sensors powered by wind and solar energy.

Source: Kristín Jónsdóttir , via mbls.is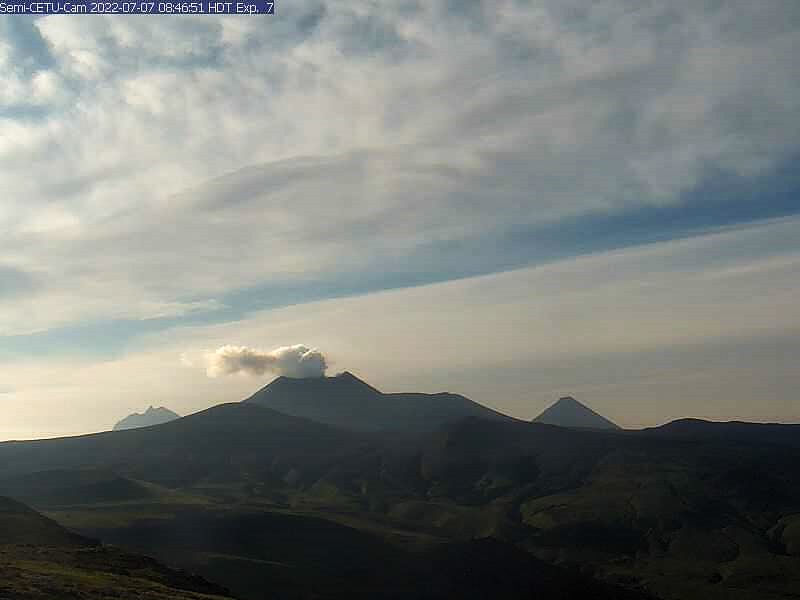 Semisopochnoi - gas and vapor emissions from Mt. Cerberus on 07.07.2022 / 08:46 HDT - CETU / AVO-USGS webcam - one click to enlarge
No ash emission or explosive activity has been detected at Semisopochnoi since June 12. Seismic activity continues, but at low levels. Thus, the Aviation Color Code and Volcano Alert Level are lowered to YELLOW/ADVISORY.
Emissions of steam and sulfur dioxide from the active north crater of Mount Cerberus continue.
Small eruptions producing minor ash deposition near Mount Cerberus' active north crater and ash clouds generally below 10,000 feet (3 km) above sea level have characterized recent activity. and could start again without warning.
Semisopochnoi is monitored by local seismic and infrasound sensors, satellite data, web cameras, and remote infrasound and lightning networks.
Source: HVO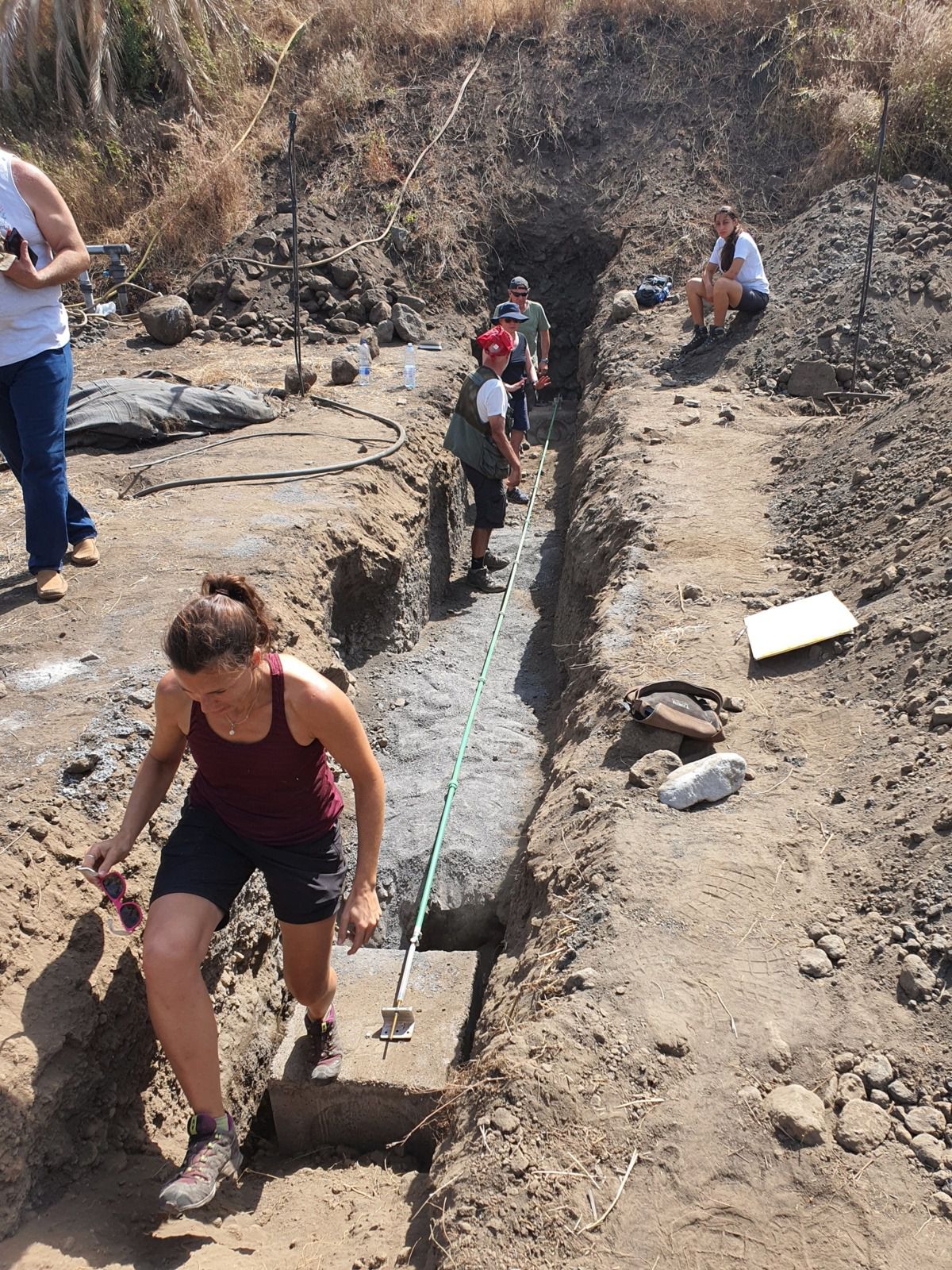 Etna - installation of a creepmeter on one of the faults on the east side - Doc. INGVoe & GFZ Potsdam July 2022
Last week, thanks to a collaboration between GFZ Potsdam and INGV OsservatorioEtneo, two creep meters (creepmeters), very precise sensors, were installed to measure slip on one of the faults on the east side of Etna.
They measure horizontal motion using a wire stretched across a fault.
Source: INGVvulcani