Publié le par Bernard Duyck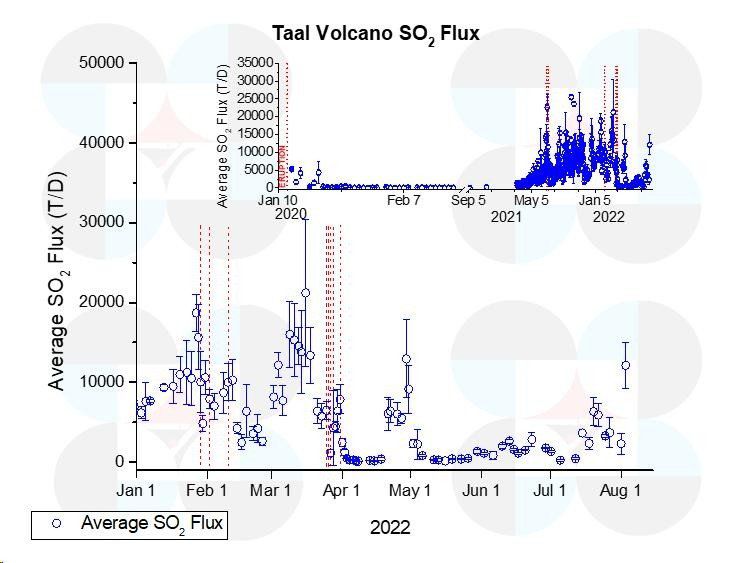 Taal volcano - sulfur dioxide or SO2 flux data for 2022 and since the 2020 eruption (inset). - Doc. Phivolcs 03.08.2022
Four episodes of volcanic tremor, which lasted from 2 to 7 minutes, have been detected in Taal Volcano in the past 24 hours, the Philippine Institute of Volcanology and Seismology announced on Tuesday. The flow of sulfur dioxide averaged 12,125 tons/day on August 3. A prolific degassing in the main crater of Taal has been perceptible for three days; it causes hot volcanic fluids to rise in the lake and emit steam-rich plumes that rise 2,400 meters from Volcano Island.
Phivolcs director Renato Solidum Jr. told the Philippine News Agency that the tremors had nothing to do with the magnitude 7 earthquake that shook northern Luzon last week.

The alert level remains set at 1 (low level disturbances).
Below Alert Level 1, sudden steam-driven or phreatic explosions, volcanic earthquakes, minor ashfall and volcanic gas expulsions could threaten areas within the Taal Permanent Hazard Zone.
Entry into the permanent danger zone, especially around the main crater and the Daang Kastila fissure, remains prohibited. Occupancy and boating on Lake Taal is also prohibited.
Sources: Phivolcs, PNA Philippines, CNN PH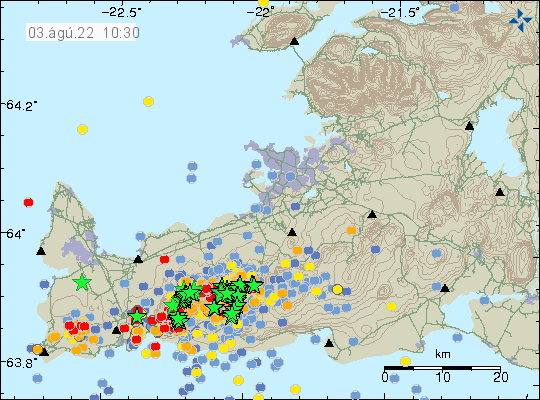 Reykjanes Peninsula - seismicity / location and magnitude of earthquakes as of 08.03.2022 / 10:30 a.m. - Doc. Icelandi Met Office
Update on the situation in the Reykjanes Peninsula:
a magnitude 5.0 earthquake occurred at 2:27 a.m. on August 2, 2022, just west of Lake Kleifarvatn. The earthquake was widely felt in the southwest of the country. Seismicity increased on the Reykjanes Peninsula around 11 p.m. last night. The activity is now located just west of Lake Kleifarvatn.
Grímsvötn's color code was changed to yellow this 02.08 due to multiple M>1 events detected this afternoon, the largest Mw 3.6 event at 14:24 UTC. This means that the seismicity of the volcano is higher than normal activity, which requires increased monitoring of the area.
The largest earthquake since the start of the seismic swarm on Saturday was of a magnitude 5.4 which occurred on Sunday at 5:48 p.m. It was located just 3 km NE of Grindavík. A total of 15 events of magnitude greater than 4 have been detected and they are located from Mount Þorbjörn to Lake Kleifarvatn.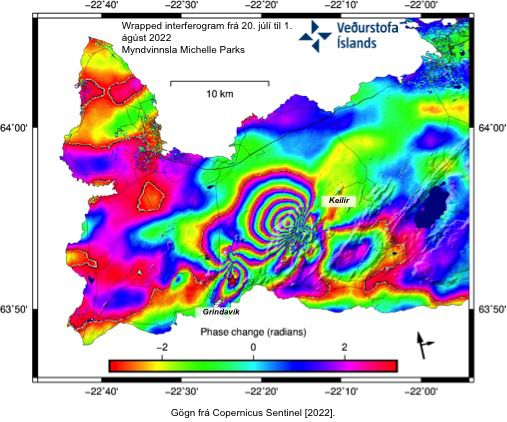 Reykjanes Peninsula - InSAR image made from Sentinel-1 satellite images and covering the period from July 20 to August 1, 2022 - Doc. IMO
A small glow visible on mblfrettir's camera turned out to be a small moss fire, origin to be determined.
The probability of an eruption increased in the Reykjanes peninsula in the late afternoon, with the presence of magma at 1km depth according to Vedurstofan. Surface deformation also continues.
At 05:32 on August 3, a magnitude 4.6 earthquake was located east of Fagradalsfjall. The earthquake was felt in Grindavík, Reykjanesbær, the capital region, and Selfoss.
Deformation and seismicity appear to be slowing down. This pattern was observed last year, just before the eruption.
Sources: IMO & Icelandic volcanoes
The I.G.Peru mentions the maintenance of the activity of Sabancaya, between July 25 and 31, 2022, at moderate levels, with an average of 27 daily explosions, accompanied by plumes of gas and ash up to 2,300 m. above the top.
Seismicity is up slightly, with a total of 320 earthquakes of volcanic origin associated with the circulation of internal magmatic fluids, and VT earthquakes, related to rock fracturing.
No significant deformation anomalies; eight thermal anomalies were identified, with a max. of 21 MW, associated with the presence of a lava dome in the crater.
The alert remains in naranja, with the maintenance of an inaccessible zone of 12 km radius around the crater.
Source: I.G.P.