Publié le par Bernard Duyck
The behavior of Merapi has changed somewhat in recent days, with the increase in the number of hybrid earthquakes for a week and volcanic earthquakes for three days.
The seismicity of August 28 is characterized by:
- 62 avalanche earthquakes, with an amplitude of 3 to 38 mm and an earthquake duration of 14.9 to 227.5 seconds.
- 15 emission earthquakes, with an amplitude of 3 to 4 mm and an earthquake duration of 8.2 to 20.4 seconds.
- 48 hybrid/multiphase earthquakes with an amplitude of 2-18 mm, S-P 0.4-0.6 seconds and an earthquake duration of 4.3-8.3 seconds.
- 13 shallow earthquakes, with an amplitude of 26 to 75 mm and an earthquake duration of 6.9 to 23.7 seconds.
- 73 deep volcanic earthquakes, with an amplitude of 3-11 mm, S-P 0.3-1 second and an earthquake duration of 5.6-11.2 seconds.
- 4 distant tectonic earthquakes.
Activity level 3 / standby, with recommendations:
1. Current potential hazards are lava avalanches and hot clouds in the south-southwest sector covering Boyong River up to 5 km, Bedog River, Krasak, Bebeng up to 7 km. The southeast sector covers the Woro River for a maximum of 3 km and the Gendol River for a maximum of 5 km. Meanwhile, the ejection of volcanic material in the event of an explosive eruption can reach a radius of 3 km from the summit.
2. The community must not carry out any activity in the potentially dangerous area.
3. The public should anticipate disturbances caused by volcanic ash from the Mount Merapi eruption and be aware of the dangers of lahars, especially when it rains around Mount Merapi.

Sources: BPPTKG, PVMBG, Magma Indonesia
As of August 28, Poas Volcano has no eruption.
A very weak tremor of fluctuating amplitude, broad spectrum and dominant frequency of 4.6 Hz is recorded. Today, August 28 from approx. 8 a.m., this tremor showed a tendency to increase toward higher frequencies.
Low frequency and very low amplitude LP type volcanic earthquakes are recorded, in fewer numbers than those recorded in the previous weeks. LP earthquakes are associated with the transport of fluids such as water, gas, steam.
Naranja fumaroles and others in the eastern sector of the crater show low activity. The ratio measured between CO2/SO2 gases shows a slight increase and values ​​similar to those recorded during the first half of the month. SO2 gas remains stable at less than 4 parts per million. The concentration of SO2 gas in the ambient air from the visitor's point of view does not exceed the value of 2 parts per million.
No significant deformation of the volcanic edifice is recorded with GPS GNSS instruments, that is to say that no magma is detected rising near the surface.
The hyperacidic lake appears relatively calm, with a milky green color, a temperature of 38 degrees Celsius (near Boca A or the old dome) and an extreme acidity close to zero: pH=0.08. The lake's hyperacidic water is saturated with excess dissolved SO2 gas, which is typical of the lake constantly receiving sulfur-containing magmatic gases from the depths.
The active crater remains clear this morning with prevailing winds blowing south (IMN data).
Activity Level: Warning (2)
Source: Ovsicori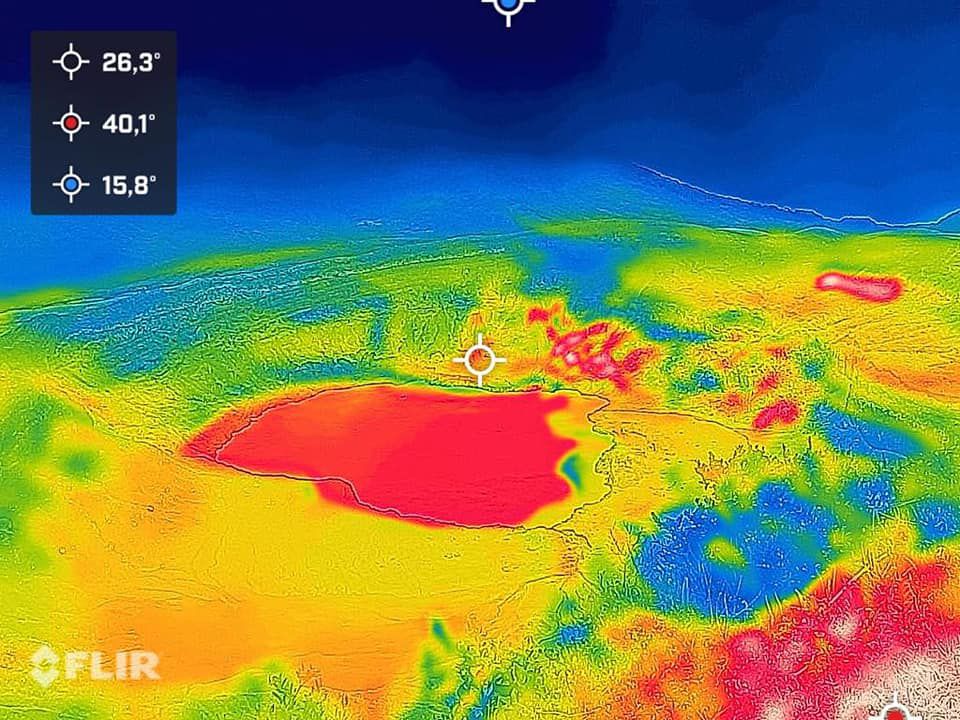 Poas - IR image at FLIR camera of Laguna Caliente on 28.08.2022 - Ian Gogfrey BA Global Business BS Management via Maria Martinez
The Sentinel-5P Tropomi satellite has been recording sulfur dioxide emissions for a few days in Nishinoshima, in the Ogasawara Islands.
On August 29, 2022, a sulfur dioxide signal of 3.33 DU was spotted southwest of the volcanic island.
Source – Sentinel-5P Tropomi / DLR / BIRA / ESA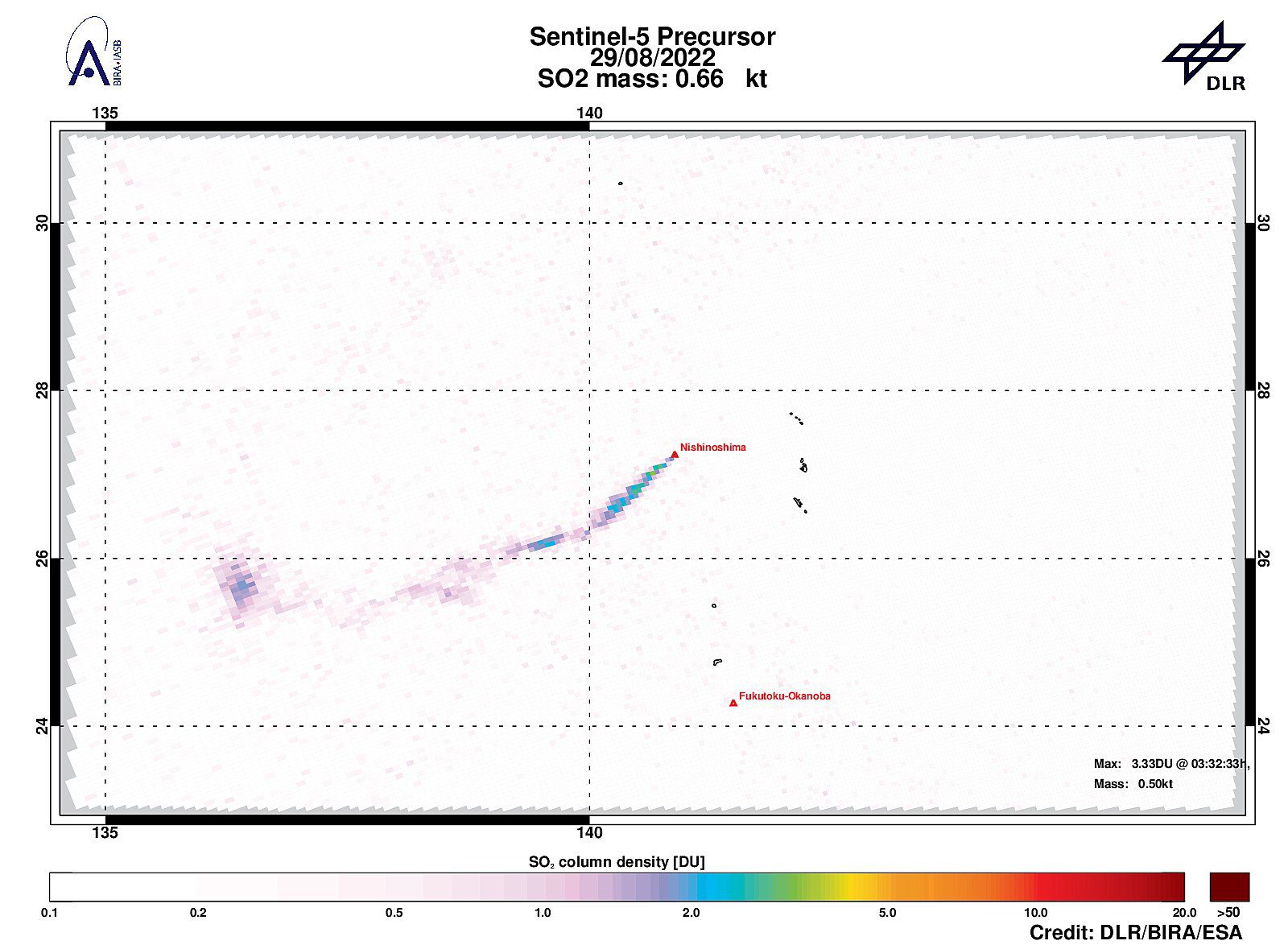 Nishinoshima - 29.08.2022 - A sulfur dioxide signal of 3.33 DU was spotted southwest of the volcanic island. image Sentinel 5P - Tropomi / DLR / BIRA / ESA
Now a week has passed since the volcanic eruption at Meradalur entered a quiescent phase. There is no evidence that the eruption is likely to start again. The Icelandic Meteorological Office is, however, hesitant to make an official statement at this time. An alert phase is still in effect. The eruption began on August 3.
If the eruption does not start again, it is clear that it was a small total eruption. The eruption lasted 18 days. Its lava only covered 1.2 square kilometers and it mostly slid over lava due to the volcanic eruption last year. Its area is estimated at 11 million cubic meters.
In comparison, lava from the eruption at Geldingadalur covered 4.8 square kilometers and the total area estimated at 150 million cubic meters.
But it was rather the shortest lava eruption to occur in Iceland since the final eruption of Krofluelda in September 1984. However, short-lived volcanic eruptions have occurred in recent decades, but these eruptions were either explosive or mixed eruptions (explosions with lava flow).
Sources: Icelandic media