Publié le par Bernard Duyck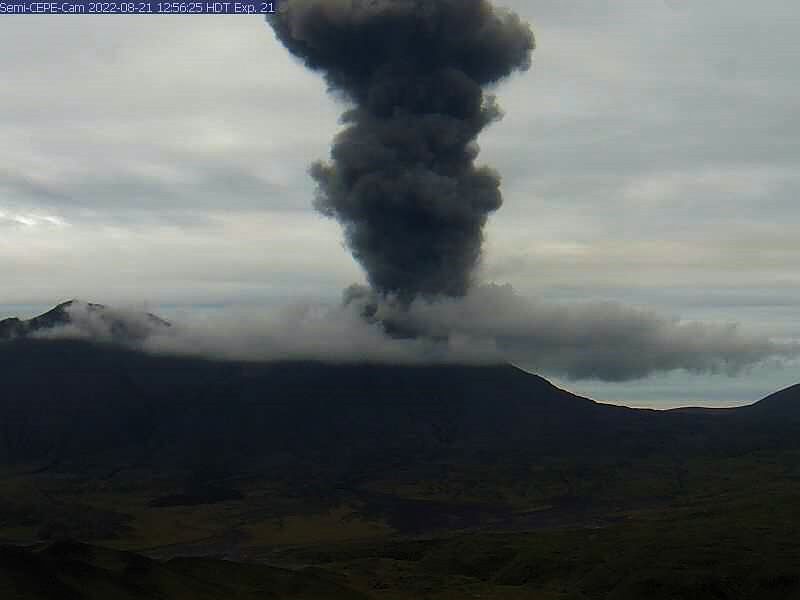 Ash plume from Cerberus North crater at Semisopochnoi 9 minutes after the start of the eruption - August 21, 2022 21:56 UTC - Doc. AVO webcam via Loewen, Matt - one click to enlarge
A short-lived explosion occurred at Semisopochnoi's Cerberus crater at 1:47 p.m. AKDT (21:47 UTC) on 2022.08.21 that produced ash emissions observed in local webcams. Ash emissions ceased at 2:16 p.m. AKDT (22:16 UTC). The ash plume was not visible above weather clouds in satellite images, so it was less than 6 km above sea level. This event is similar to eruptive activity observed during last year at Semisopochnoi, but was the first confirmed ash show since June 12, 2022. The Aviation Color Code and Volcano Alert Level are raised to ORANGE/WATCH.
Small eruptions producing minor ash deposition near the active north crater of Mount Cerberus and ash clouds generally below 10,000 feet (3 km) above sea level characterized the recent activity and more ash-producing events could recur with little warning.
Source: AVO
There was an eruptive episode at Gunung Ibu on Sunday August 21, 2022 at 6:58 p.m. WIT with the height of the ash column observed at ± 600 m above the peak (± 1925 m above sea level). The column of ash was observed to be gray in color, thick, towards the west. This eruption was recorded on the seismograph with a maximum amplitude of 26 mm and a duration of 65 seconds.
The alert remains at 2/waspada.
Source: Magma Indonesia

Mayon - evolution of the morphology of the summit between June 6 and August 20, 2022 - Doc. Phivolcs - one click to enlarge
A notice of raising the status of Mayon Volcano, Philippines, from Alert Level 0 (Normal) to Alert Level 1 (Low Level Unrest), was issued at 4:00 p.m. on August 21, 2022 by the Phivolcs
Since Mayon Volcano's Alert Level status was lowered from Alert Level 1 to Alert Level 0 on July 30, 2021, the monitored parameters are generally unremarkable. However, daily visual and camera monitoring of the summit crater revealed that the remaining lava dome emplaced towards the end of the 2018 eruption underwent a change in morphology and a slight extrusion of approximately 40,000 m³ between the 6 June and August 20, 2022.
Ground deformation observed by Global Positioning Systems (GPS), Precise Leveling (PL), Electronic Tilting and Electronic Range Finder Monitoring (EDM) followed slight short-term inflation of the volcano edifice, especially on the northwest and southeast slopes, since April 2022.
On the other hand, the last SO2 emission measured on August 12, 2022 was on average 688 t/d, close to reference levels.
Short-lived peaks in the number of low-frequency volcanic earthquakes were recorded on May 26 and June 20, 2022, but for most of this year only baseline seismic activity was detected.
These observational parameters indicate that pressurization induced by volcanic gas at shallow depths of the edifice may occur, causing the expulsion of the summit dome of Mayon.
In view of the above, PHIVOLCS-DOST is now raising the alert status of Mayon from Alert Level 0 to Alert Level 1. This means that the volcano is exhibiting abnormal conditions and has entered a period of unrest. The public are reminded that entry into the 6 km Permanent Danger Zone or PDZ should be strictly avoided due to an increased risk of a sudden steam or phreatic eruption, as well as permanent risk of rockfall. , avalanches and ash bursts at the summit area, this can happen without warning. In addition, people living in valleys and active river channels are warned to remain vigilant against flows and sediment-laden lahars in the event of prolonged and heavy rains caused by the onset of the rainy season. PHIVOLCS-DOST is closely monitoring Mayon Volcano activity and any new developments will be immediately communicated to all concerned.

Source: DOST-PHIVOLCS bulletin 21.08.2022 / 4:00 p.m.
The eruption has fallen asleep in Meradalur ! ...during the night of August 20-21, the volcanic eruption at Meradalur completely collapsed after experiencing a steady decline for the past few days. At the same time, it seems that all the glow disappeared from the crater around 5 am on the morning of 21.08. The degassing from the crater is also visibly less, and the vent is therefore likely closed.
It can therefore be said that the eruptive rupture has started, but only time will tell if the eruption will resume. You can still see a small lava flow in the lava bed to the east of the crater, but it's probably residual lava from underground lava channels that found its way. Based on the turbulence of the eruption, it is unlikely to be "fresh" magma rising through the eruption channel.
Sources: IMO, Oroapuls, Eldfjallafræði og náttúruvárhópur Háskóla Íslands, Hraun,vedur,is