Publié le par Bernard Duyck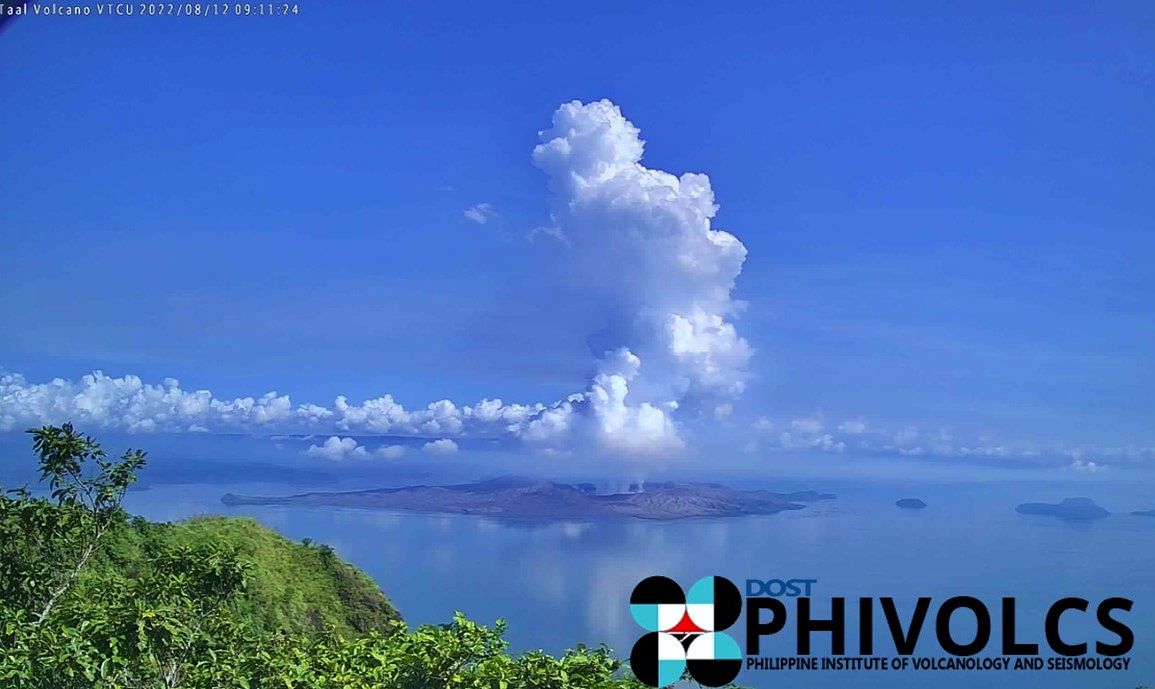 Taal - Steam-rich plume emitted from Taal Main Crater taken by Cuenca Station, Batangas (VTCU) on 2022.08.12 / 09:11 - one click to enlarge
Taal Main Crater emitted 13,572 tons per day of volcanic sulfur dioxide on 11.08.2022, causing volcanic smog or vog in Caldera Taal.
Volcanic gas is estimated to be blown into the air from east to northwest based on data from the DOST-PAGASA air parcel track. The average SO2 flux from July 15, 2022 fell to 7,818 tonnes per day, with an increase of an average of 1,289 tonnes per day between May and July 15, 2022.
Since the beginning of August there has been degassing with noticeable upwellings in the main crater lake of Taal, blowing thick smoke here which last night rose 2,800 meters above TVI . Volcanic smog or vog also engulfed the western part of the Caldera yesterday with thickening from 9 a.m. to 2 p.m. and brought a smell of sulfur to Banyaga, Agoncillo, Poblacion 5, Boso-boso, and Gulod, Laurel and Poblacier, Talisay. There was also crop drying in Cabuyao, Laguna, likely caused by acid rain.
Five volcanic tremor events that lasted 3-8 minutes over the past day.
DOST-PHIVOLCS reminds the public that Alert Level 1 has been raised at Taal Volcano, which means the volcano is not in a normal state and eruption activity or threat is not past.
Source: Phivolcs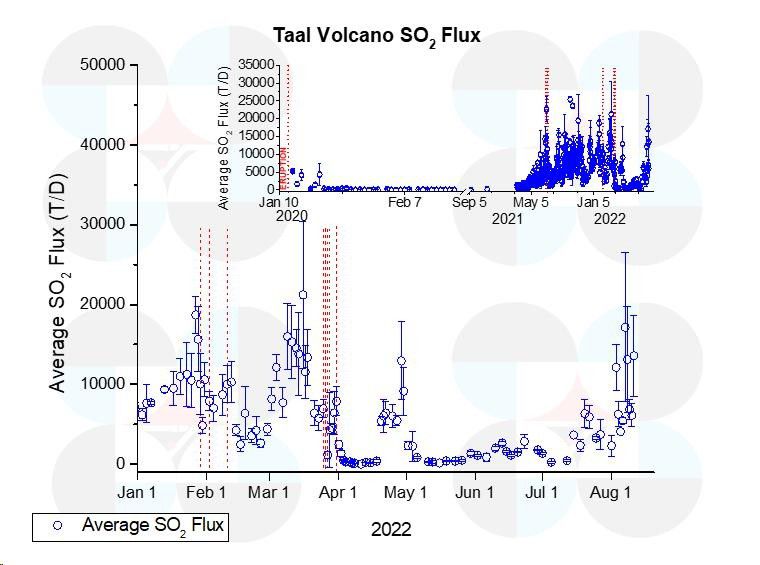 Taal Volcano - Average SO2 flux measurements obtained with the Flyspec V3 campaign in 2022 and since 2020. The red line marks the phreatomagmatic eruption; the blue bars are the standard deviation of the measurements. SO2 levels drop to 13,572 tonnes per day. - Doctor. Phivolcs - one click to enlarge
In recent days, Etna has been emitting spectacular gas plumes (mainly water vapour), causing some apprehension among local residents. In fact, the extremely humid air these days causes water vapor to condense, making the plume more visible.
Sources: Boris Behncke & Salvatore Lo Giudice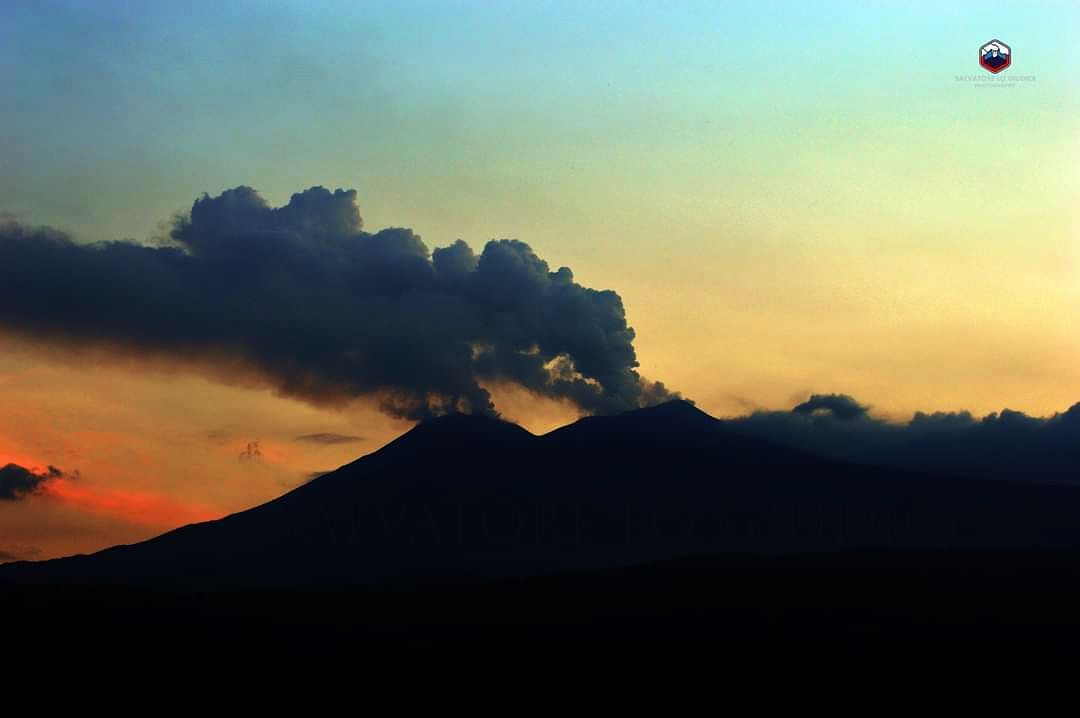 Etna - major degassing on 11.08.2022 - photo Salvatire Lo Giudice via Etnanews - one click to enlarge
The monitoring network in Whakaari included two sites with earthquake and pressure sensors (to detect explosive waves), three cameras, two SO2 (sulphur dioxide) gas scanners and two GNSS antennas to measure ground deformation .
Since the December 9, 2019 eruption, the grid on the island has not been maintained and power supplies, sensors and cameras have degraded or been ineffective over time. Our near real-time capability is largely dependent on earthquake and pressure sensors on the island. The first of them failed in April 2021 and the second at the end of last week.
The loss of the second earthquake and pressure sensor reduces our ability to closely monitor the volcano in near real time. Until we are able to maintain our equipment and power supplies on the island, we will increase the frequency of our gas measurement and observation flights to the island.
Lots of fumarole activity on the August 10 flight (via Brad Scott)
The Volcanic Alert Level remains at Level 1 and the Aviation Color Code remains green.
Source: GeoNet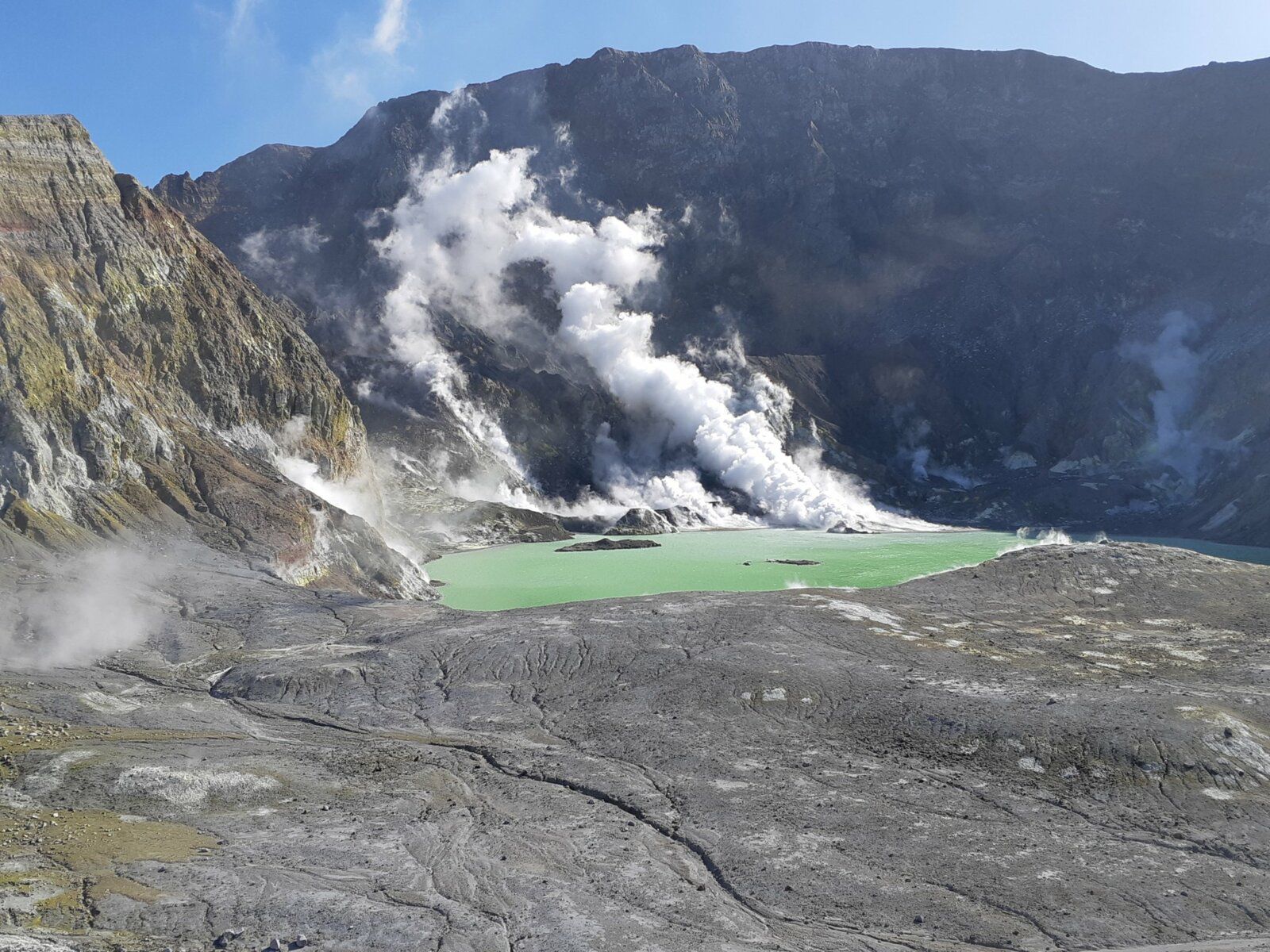 Whakaari / White island - fumarolic activity on 10.08.2022 - photo during last flyby via Brad Scott - one click to enlarge
The lava outpouring in Meradalur focuses on the middle of the ancient fissure. There is still a lava pond but it has become a bit smaller as the lava flow thickens.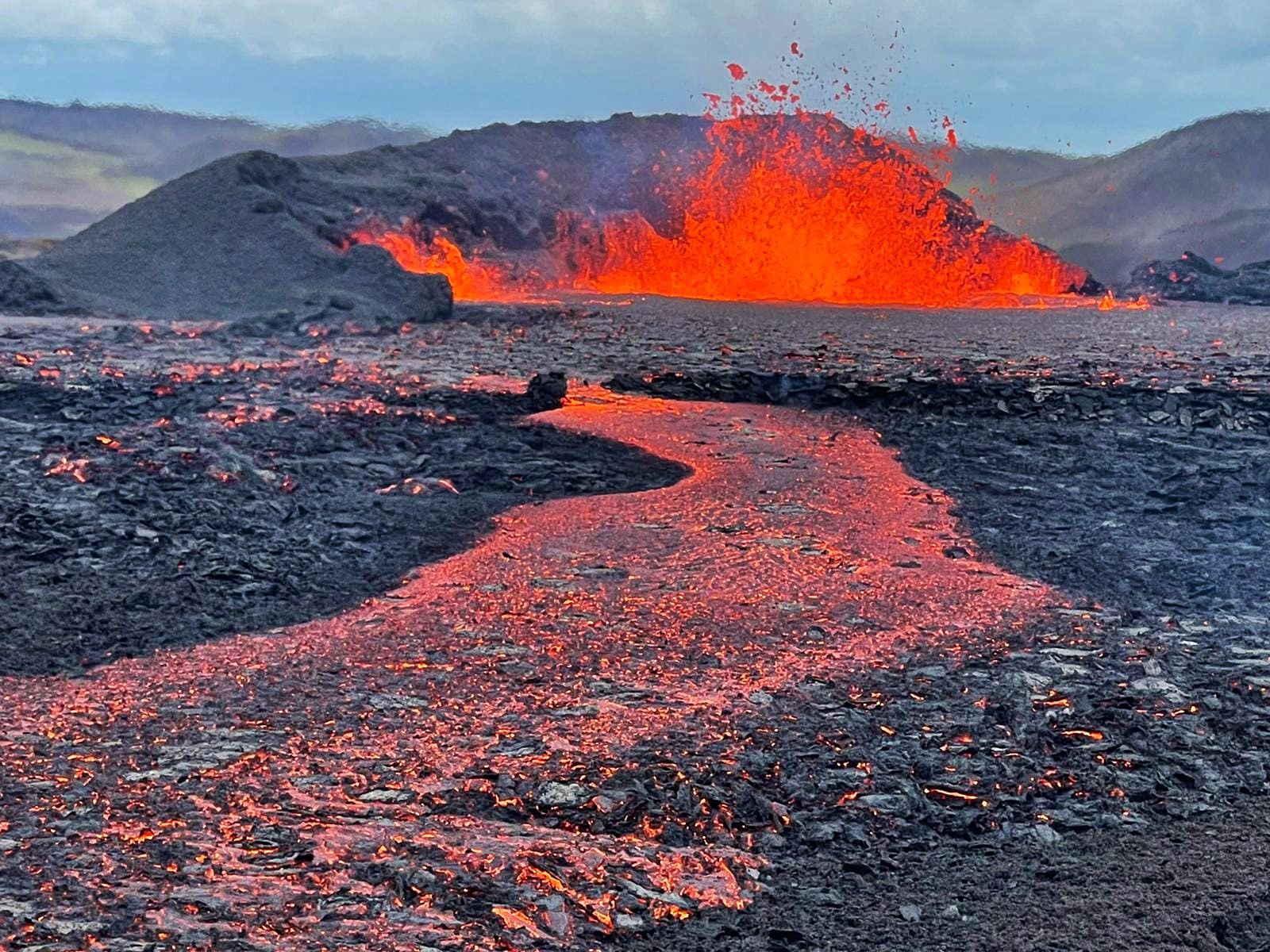 Meradalur - lava lake outlet and spatter rampart / cone - photo 11.08.2022 Eldfjallafræði og náttúruvárhópur Háskóla Íslands - one click to enlarge
Vent activity appears to be similar to yesterday, although producing somewhat taller lava fountains than before and the crater rims around the central segment of the fissure continue to grow. Northward lava flow in well-defined channels is dominant. Meanwhile, lava flows in eastern Meradalir have subsided.
Almannavarnir (civil protection agency) plans to build lava barriers to protect the coastal road anyway.
Source: Eldfjallafræði og náttúruvárhópur Háskóla Íslands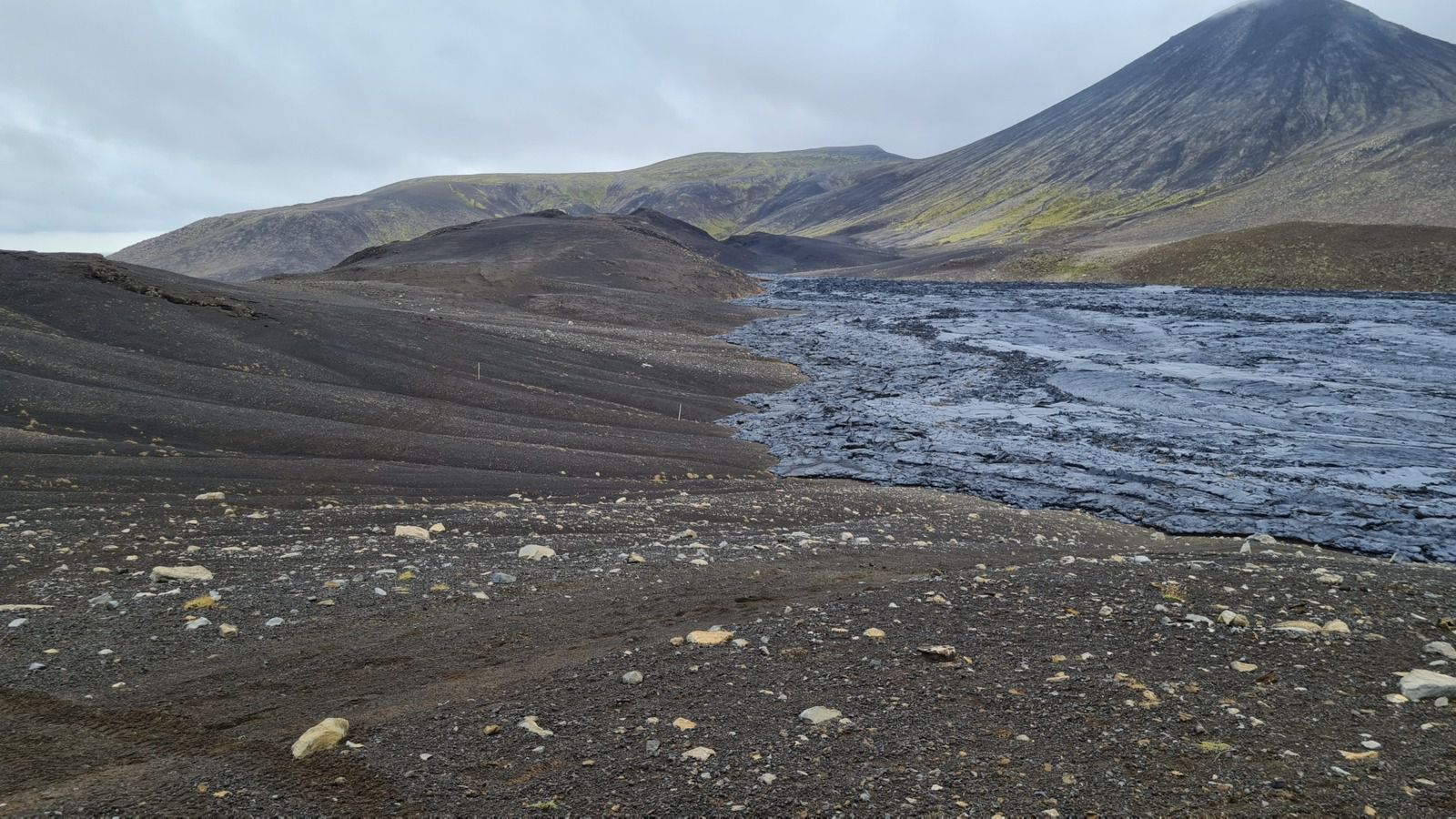 Meradalur - the lava has filled all the depressions - photo 11.08.2022 Eldfjalla- og náttúruvárhópur Suðurlands - one click to enlarge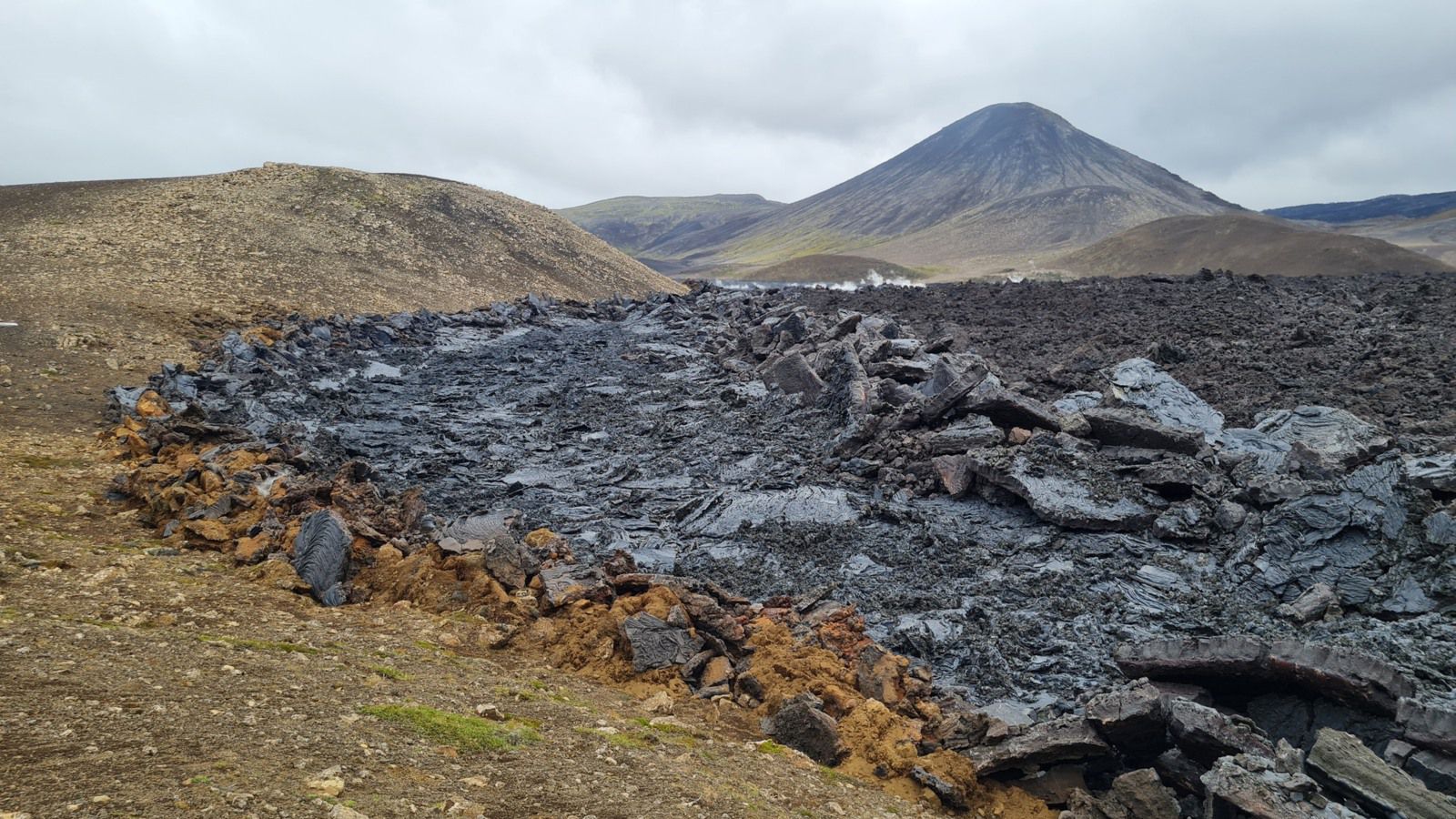 Meradalur - The lava came up to the pass and cleared the lava from the slab with it - photo 11.08.2022 Eldfjalla- og náttúruvárhópur Suðurlands - one click to enlarge