Publié le par Bernard Duyck
After the difficult ascents of Dukono and Ibu, in the Moluccas archipelago, our friends pass on the island of Siau, in the Indonesian province of North Sulawesi, dominated by the Karangetang, also called "Api Siau".
The activity of the day was weak, characterized by a weak degassing brought down on the summit.
The Karangetang volcano is located in Siau Tagulandang Biaro (Sitaro) regency, North Sulawesi, about 125 km NNE of the most NE point of the island of Sulawesi.
The stratovolcano contains five summit craters along an N-S line. It is one of the most active volcanoes in Indonesia, with over 40 eruptions recorded since 1675 and many additional small eruptions that have not been documented in historical records (Catalogue of Active Volcanoes of the World: Neumann van Padang, 1951). Twentieth-century eruptions have included frequent explosive activity sometimes accompanied by pyroclastic flows and lahars. Lava dome growth has occurred in the summit craters; the collapse of the lava flow fronts produced pyroclastic flows. (Global Volcanism Program)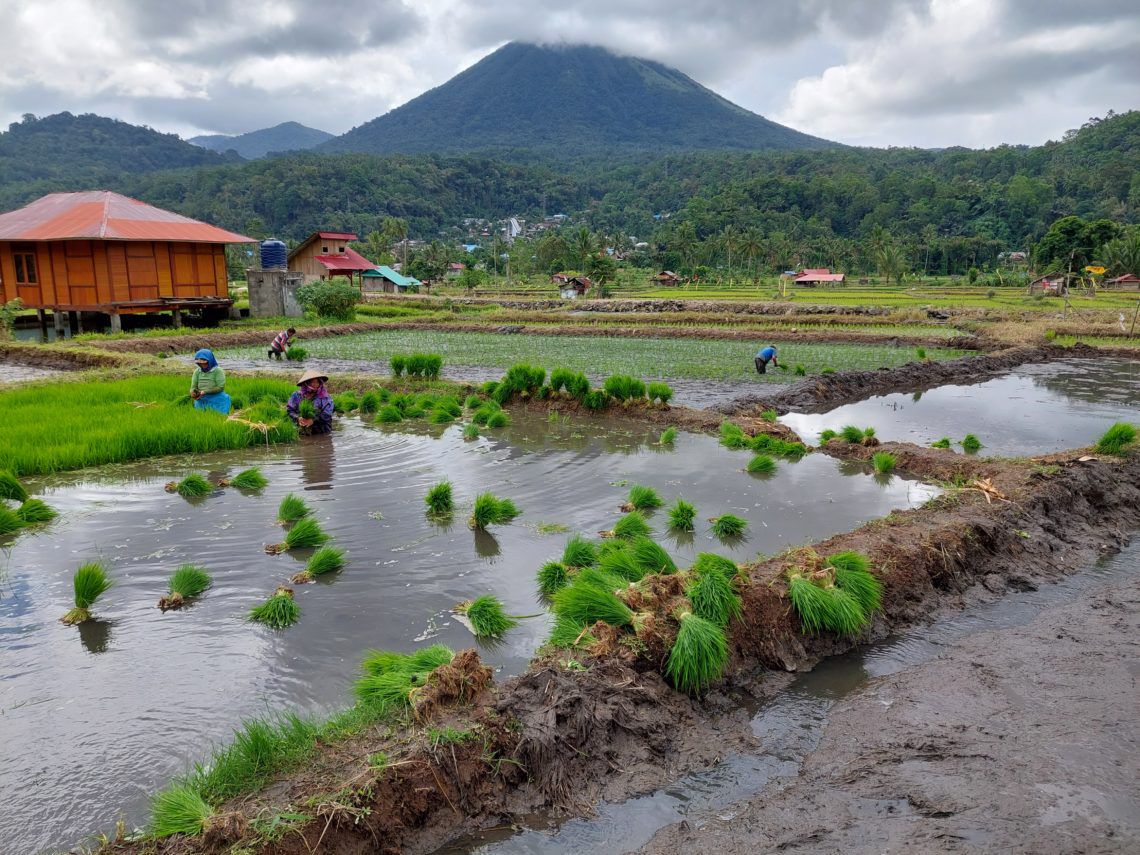 The Lokon surrounded by rice fields ... volcano and fertility - photo © J-M M. - one click to enlarge
Then, on Sulawesi itself, the climb to Lokon was made by the bed of the river.
The Tompaluan crater, 150 x 250 m. located in the saddle between Lokon and Empung, is still degassing strongly … sulfur dioxide and large bombs form the environment.
Lokon - the active crater in the saddle between Lokon and Empung - fumaroles and sulfur gases - photo © J-M M. - one click to enlarge
The Lokong-Empung volcanic complex, rising above the Tondano Plain in North Sulawesi, comprises four peaks and one active crater. Lokon, the highest peak, has a flat top with no crater. The morphologically younger Empung cone 2 km to the NE has a 400 m crater. wide and 150 m. depth that last erupted in the 18th century. A ridge extending over 3 km. to the WNW of Lokon includes the Tatawiran and Tetempangan peaks. All eruptions since 1829 have originated from Tompaluan Crater, in the saddle between Lokon and Empung. These eruptions primarily produced weak to moderate ash plumes that occasionally damaged cropland and homes, but lava domes growth and pyroclastic flows also occurred (Global Volcanism Program)
The group then moved on to Lake Linow, a volcanic lake located outside Tomohon, near Manado. Several hydrothermal vents spit hot gas from the edges and depths of the lake.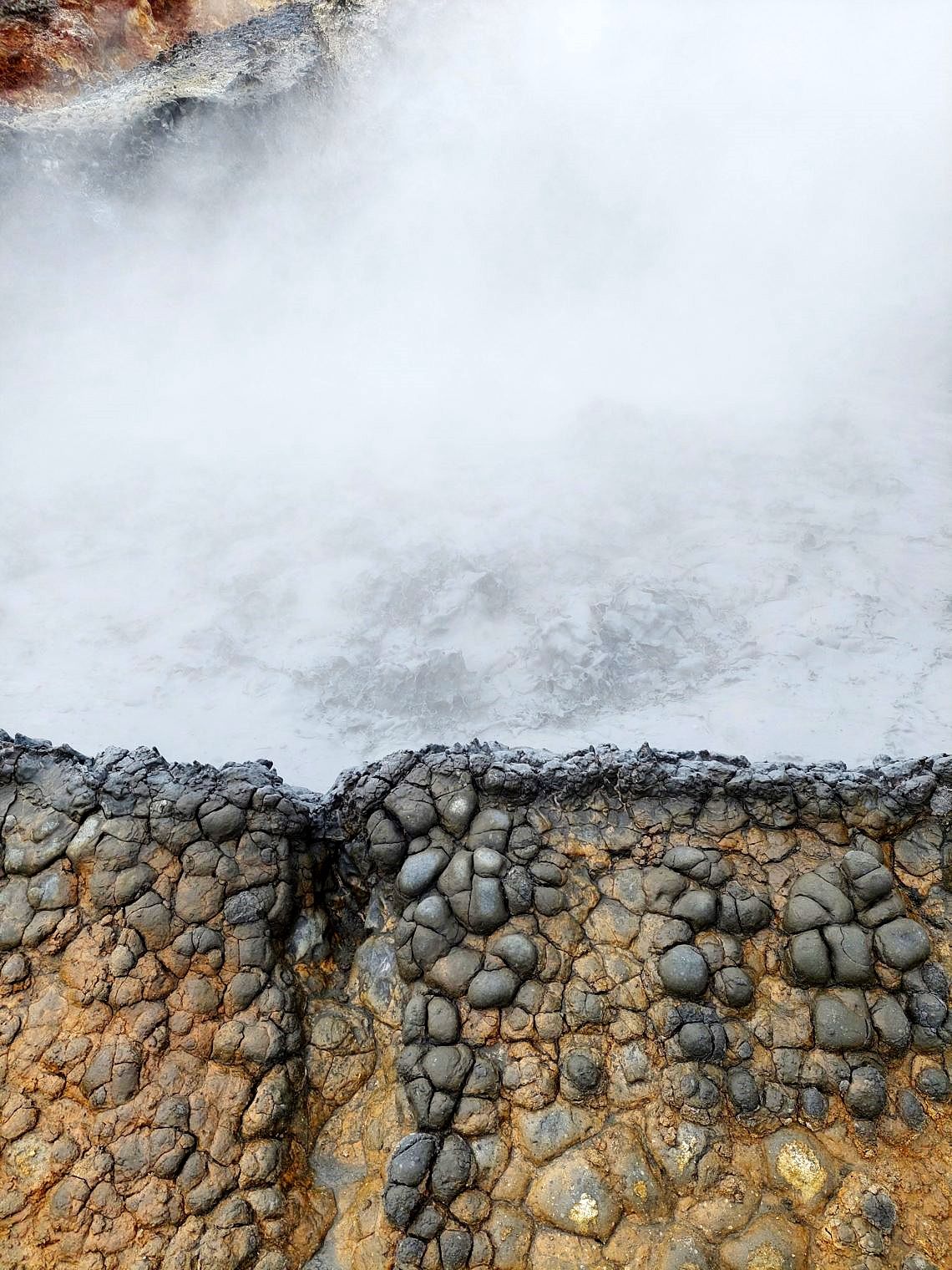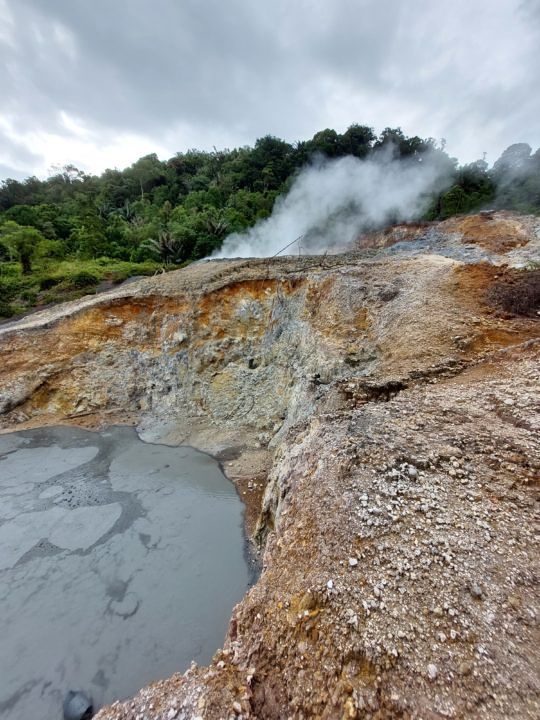 Surroundings of Lake Linow - fumaroles and mud pots, mofettes - photo © J-M M. - one click to enlarge