Publié le par Bernard Duyck
After a flight of a hundred steps, Dominique, Aris and Jean-Michel reach the crater of Mahawu volcano, a still active volcano (listed in the catalog of the Global Volcanism Program). A mini episodic acid lake occupies part of the bottom of the crater.
The lying Mahawu volcano immediately east of Lokon-Empung volcano is the northernmost of a series of young volcanoes along a line SSW-NNE near the caldera margin of the Quaternary Tondano. Mahawu is capped by a 180m wide and 140m deep crater which sometimes contains a small crater lake and has two pyroclastic cones on its N flank.
Its historical activity has been limited to occasional small explosive eruptions recorded since 1789. In 1994 fumaroles, mud pots and small geysers were observed along the shores of a crater lake.
The next day, a road "with hundreds of turns" leads them to the Soputan volcano, one of the most active volcanoes in Sulawesi.
Little visible that day ... only a clearing reveals the summit at 1,785 meters.
The volcano is in level 2 / waspada activity, with a recommendation not to exercise any activity within a radius of 1,500 m from the summit.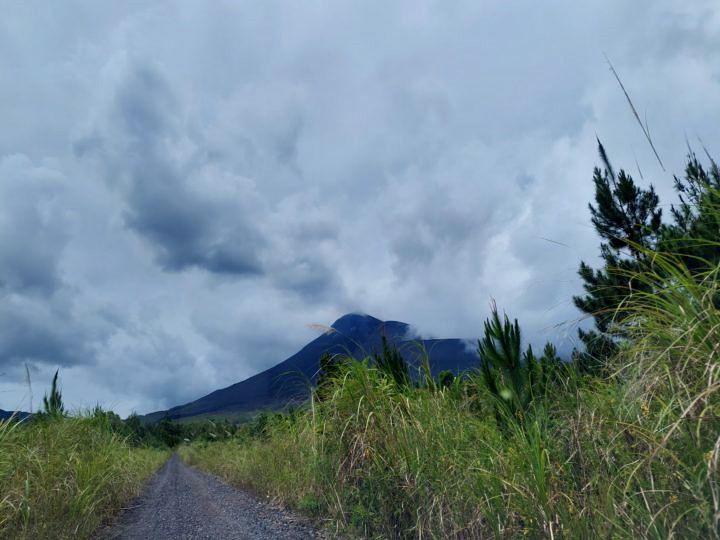 The Soputan volcano - with its summit visible during a clearing - photo © J-M M. - oneclick to enlarge
The young, largely unvegetated volcano is the only active cone of the Sempu-Soputan volcanic complex, which includes the Soputan, Rindengan and Manimporok caldera (3.5 km ESE).
Kawah Masem, a maar, formed in the western part of the caldera and contains a crater lake; sulfur has been extracted from fumarolic areas of the maar since 1938.
Recent eruptions have originated at both the summit crater and Aeseput, a major NE flank vent that formed in 1906 and was the source of large, intermittent lava flows until 1924.
A small tour on the side of one of these great flows is essential, but it will remain in a foggy atmosphere.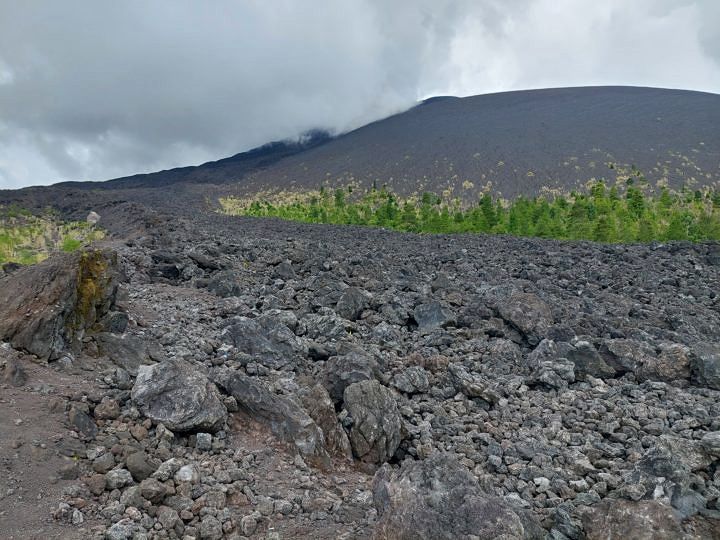 Soputan and one of its flows - Last eruption: from March 23 to April 2, 2020 - photo © J-M M. - click to enlarge
A short day of relaxation after these numerous volcanic ascents... without however giving up volcanism, because on a beach, where a fishing house sits, they discover an area where two types of sand mingle: black sand of volcanic origin, and another clear, almost white, of coral erosion origin.
The icing on the cake: the Tetetana flower garden, on the hill of the same name, where the flowers compete with the very green landscape, with a view of Manado.
Another time for other adventures.
Sources:
- Dominique and Jean-Michel ( https://kilauea.info/2022/07/22/)
- Aris Yanto, guide, graduate in Volcanology University of Kehidupan (contact@idtreks.com - https://www.instagram.com/arisvolcano/)
- Global Volcanism Program – Mahuku and Soputan.