Publié le par Bernard Duyck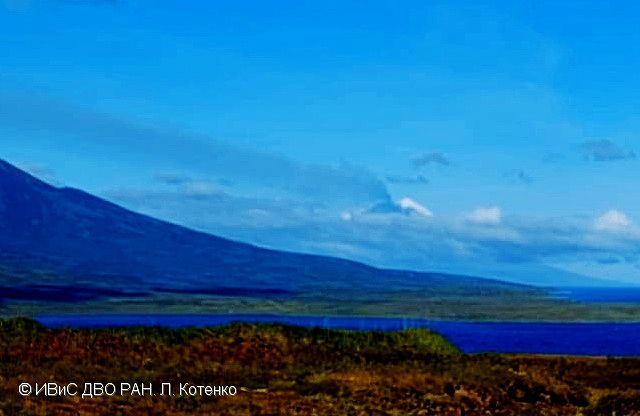 The Alaid volcano, seen from Shumshu Island. on 09.17.2022 - gas and ash emission - photo L. Kotenko / IVS FEB RAS - click to enlarge
The aviation code for Alaid, in the northern Kuriles, has been raised another notch, to orange, compared to September 15, when an explosive Strombolian eruption began probably around 00:39 UTC.
On September 18, a gas plume containing a certain amount of ash was observed at 2,500-2,600 meters asl. extending towards the ESE of the volcano.
Activity continues at a moderate level. Ash explosions could occur at any time up to 6,000 meters asl and impact aviation.
Sources: KVERT, Mirova, VAAC Tokyo, article on this blog yesterday
Alaid - high thermal anomalies and radiative power on 18.09.2022 / 02:40 - Doc. Mirova - one click to enlarge
Surface and internal activity levels in Sangay, Ecuador, remain elevated and unchanged.
The seismic count was carried out on the basis of 18 hours of operation of the SAGA reference station, with 620 Explosion earthquakes (EXP), 5 Long Period earthquakes (LP), 23 episodes of emission tremor (TREMI).
The Washington VAAC reported 3 ash emissions at heights of 870 meters above the crater, heading west and 1 other ash emission that reached 1470 meters above crater level, heading west, this within the last 24 hours.
The FIRMS system records 1 thermal anomaly and the MIROVA system records 2 moderate thermal anomalies during the last 24 hours.
The alert level remains at Amarillo.
Source: IGEPN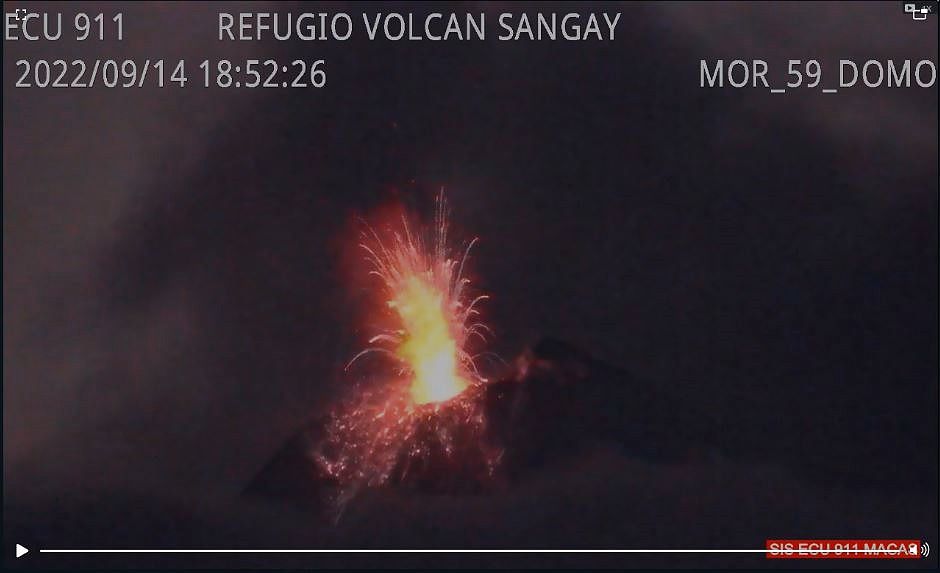 Sangay - last webcam image of activity before cloud cover on 14.09.2022 / 6:52 p.m. - webcam ECU 911 / IGEPN
Eruptive activity continues at Ili Lewotolok with two episodes on September 16, respectively at 05:37 WITA and 11:51 WITA.
Another episode occurred this Saturday, September 17, 2022 at 08:19 WITA, accompanied by a thick plume of gray to black ash observed at ± 1000 m above the peak (± 2423 m above sea level) , drifting southwest. This eruptive episode was recorded on a seismograph with a maximum amplitude of 2.5 mm and a duration of 78 seconds.
The activity level remains at 3 / siaga; it is recommended that the community around Mount Ili Lewotolok as well as visitors/climbers/tourists do not carry out activities within 3 km radius of the summit/crater of Mount Ili Lewotolok, 3.5 km radius for the southern sector -east, radius 4 km for the east and north-east sectors.
Sources: PVMBG, Magma Indonesia