Publié le par Bernard Duyck
The Home Reef submarine volcano in the central Tonga Islands re-emerged above sea level on Saturday, September 10, 2022.
The detection was first made by VOLCAT on September 10 at 01:39, and confirmed by Sentinel-2 images at 12:29.
The eruption is fumarolic, and releases gases more than a kilometer high; no volcanic ash is detected.
Home Reef submarine volcano eruption &t& first detected by VOLCAT on 10.09.2022 / 01:39 - Doc. Tonga Geological Services - one click to enlarge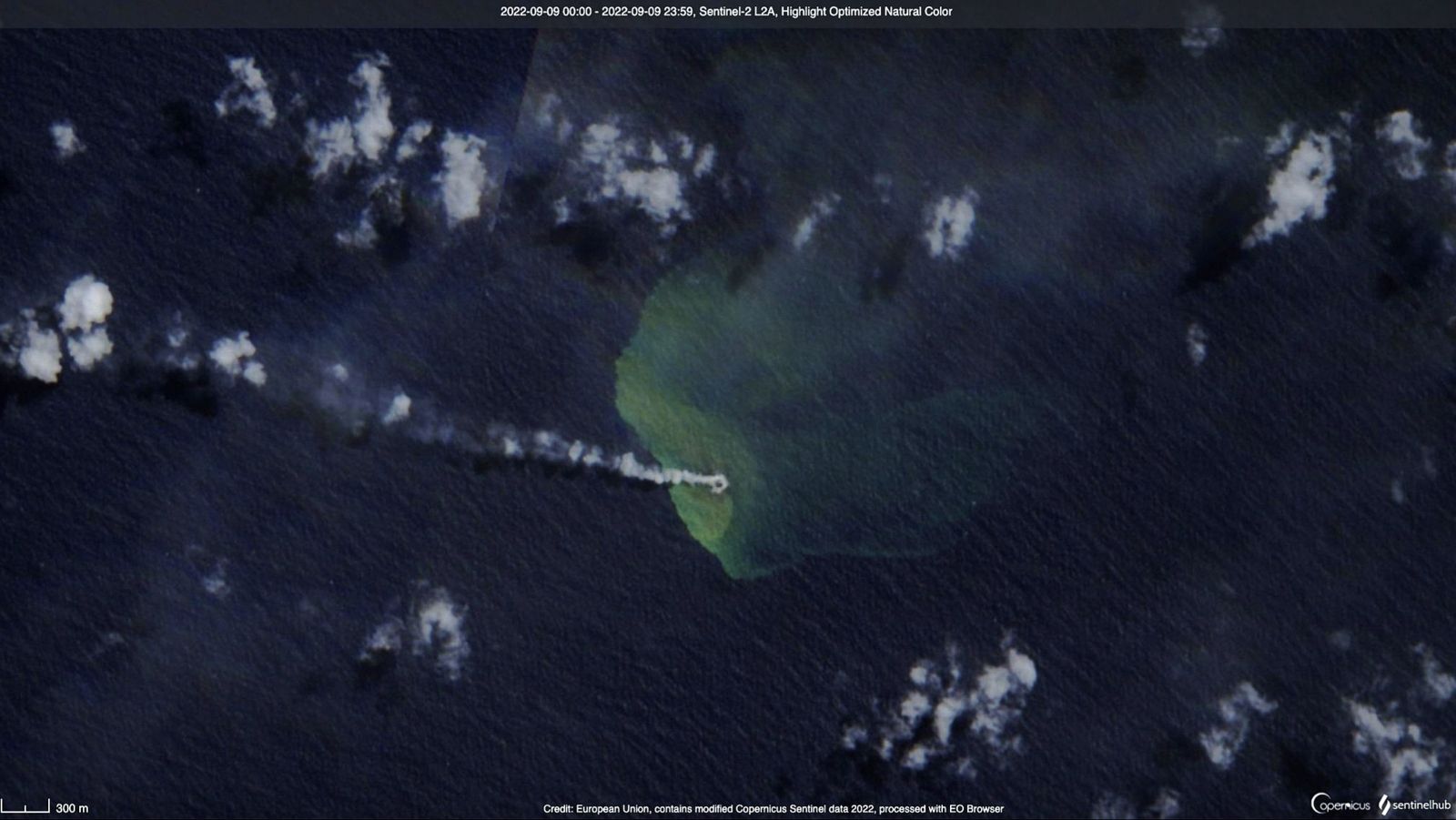 Home Reef - image Sentinel-2 L2A highlight optimized natural color from 10.09.2022 / 1:59 p.m. - Doc. Copernicus / via Tonga Geological Services - one click to enlarge
Home Reef is located 25 km away. southwest of Late island, and 22 km. northeast of Lateiki.
Its re-emergence forms an area of ​​approximately 1 acre / 4056 m², with a diameter of 70 meters and an estimated elevation of 10 m. above sea level.
Last eruption in 2006.
The danger is for maritime navigation, which must remain 3 km away. from Home Reef.
Source: Tonga Geological Services, Government of Tonga.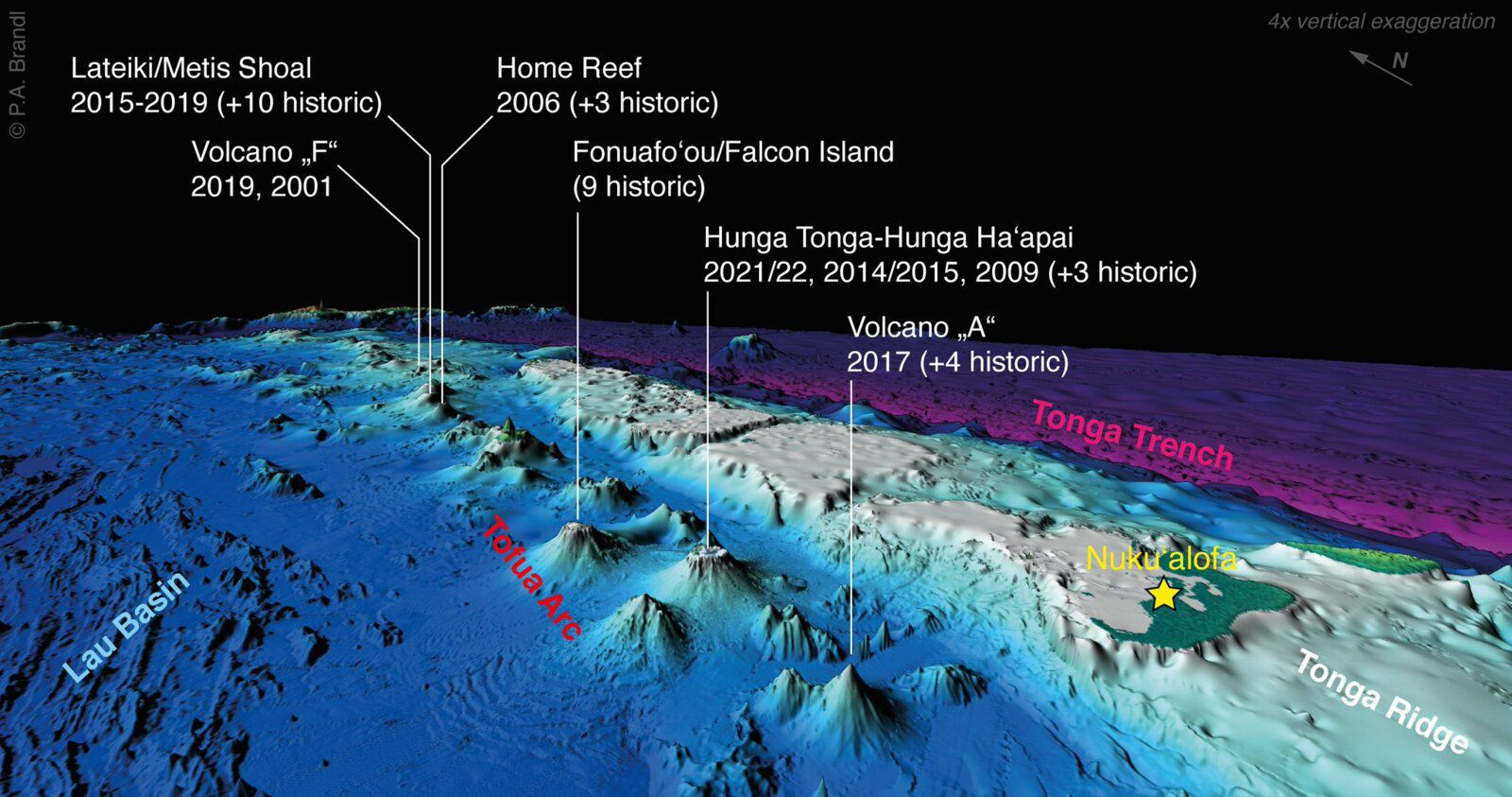 3D bathymetric model of the island arc of the Tonga Archipelago, with known volcanic eruptions since 2000 - Brandl Philipp - one click to enlarge
The sequence of earthquakes beneath the central part of Lake Taupō (Taupō-nui-a-Tia), New Zealand, continues at a rate of about 40 to 50 earthquakes per week. Since the start of the sequence in May 2022, the pace has increased from 30 events per week to more than 40 per week. We have now located more than 650 earthquakes less than 30 km deep.
The M 4.2 earthquake on Saturday morning September 10 is the biggest event this year in Taupō. It was reported felt by 1242 people. The next two largest earthquakes were both magnitude 3.6; the first was recorded on May 17 and the other on July 11, 2022. Since 2000 we have located 7 earthquakes greater than magnitude 4 below the lake, the largest was a M 5.0 on September 4, 2019 located near Motutaiko Island. Saturday's earthquake was 8 km northeast of this 2019 quake.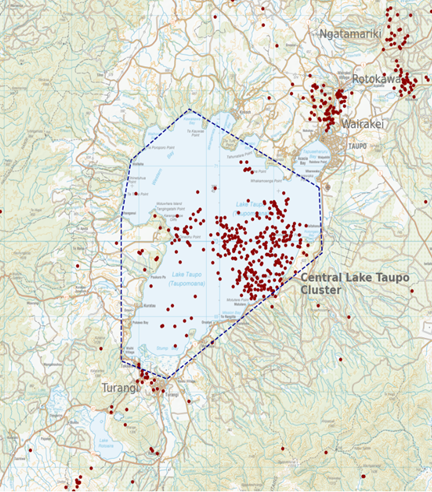 Earthquakes located by GeoNet in the Lake Taupō region from January 1 to September 12, 2022. All earthquakes presented here were located less than 30 km deep. There are over 650 earthquakes shown on the map - Doc. GeoNet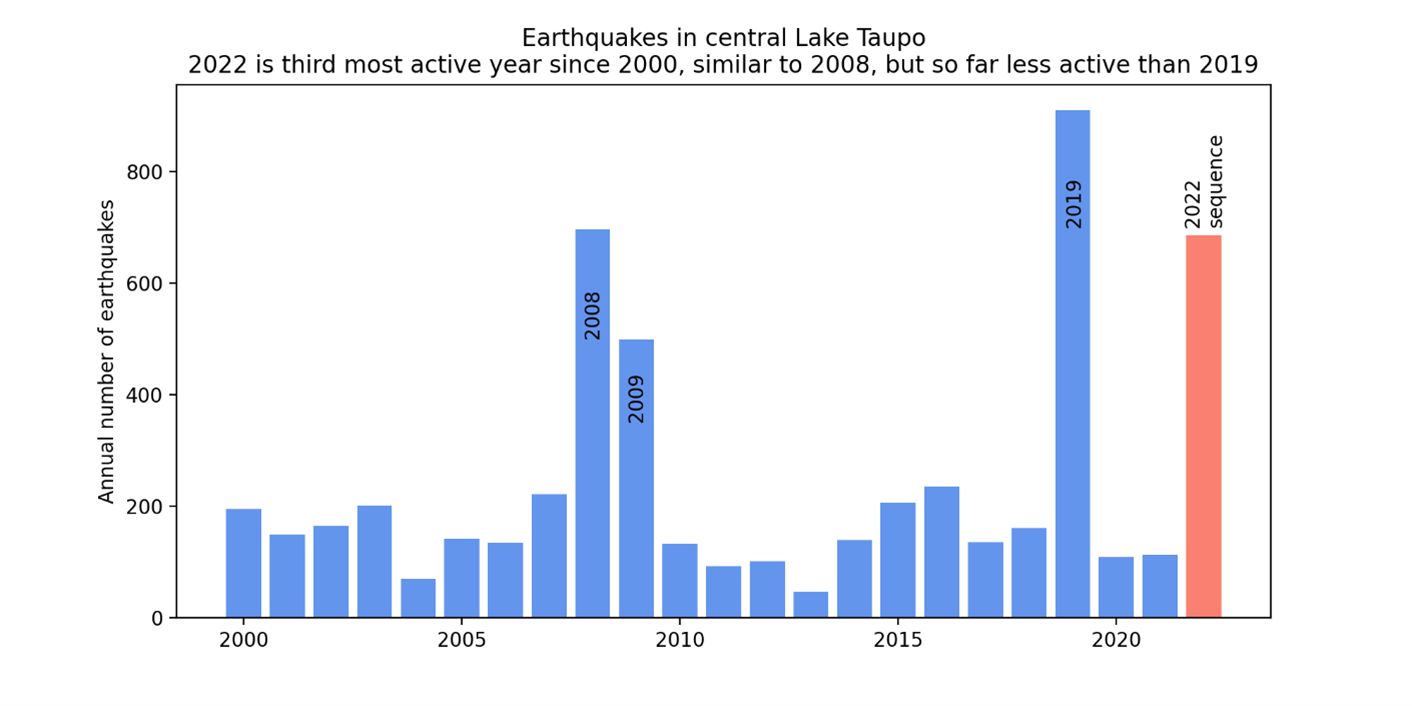 Earthquakes detected and located in the dotted area delineated on the map every year since 2000. The sequence of earthquakes of 2022 stands out, at this point the numbers exceed the sequences of 2009, are almost equal to those of 2008 and remain lower than those of 2019. - Doc. GeoNet - one click to enlarge
In addition to seismic activity, GeoNet continuously monitors ground deformation around Taupō. Following the 12 mm uplift observed from lake leveling data, deformation data from GNSS (GPS) instruments around the lake also show a signal indicating horizontal deformation. Numerical modeling indicates that the horizontal extension is consistent with a source of deformation in the main region of seismic activity.
The Taupō Volcanic Center is part of the Taupō Volcanic Zone, a tectonically highly active region with numerous known faults and active volcanism. Activity in this region is often linked to a mix of regional deformation processes and the separate magmatic systems beneath the volcanoes, which has helped inform our view that Volcanic Alert Level 0 is currently appropriate for the volcanic center of Taupō, and remains at level 0.
Source: GeoNet – 14.09.2022
During the week of September 5-11, normal Strombolian-type explosive activity was observed at Stromboli. The total hourly frequency of explosions varied on low values, from 3-5 events/h. The intensity of the explosions was low and medium in both the North Crater area and the Center-South Crater area.
Weak and infrequent (sometimes simultaneously) ash emissions were observed from at least 2 vents located near the S2 crater, sometimes associated with little coarse material.

The seismological parameters monitored do not show any significant variations.
The soil deformation monitoring networks in operation on the island did not show any significant variations during the period studied.
The flow of SO2 at an average and increasing level; the flux of CO2 from the soils in the summit zone is on average values.
The C/S ratio in the plume settles on average values ​​(9.5)
Isotope ratio of dissolved He in heat sinks: there is no update from the July 27, 2022 sampling.
Thermal activity observed by satellite in the summit area was weak.
Source : INGV OE - put online on 13.09.2022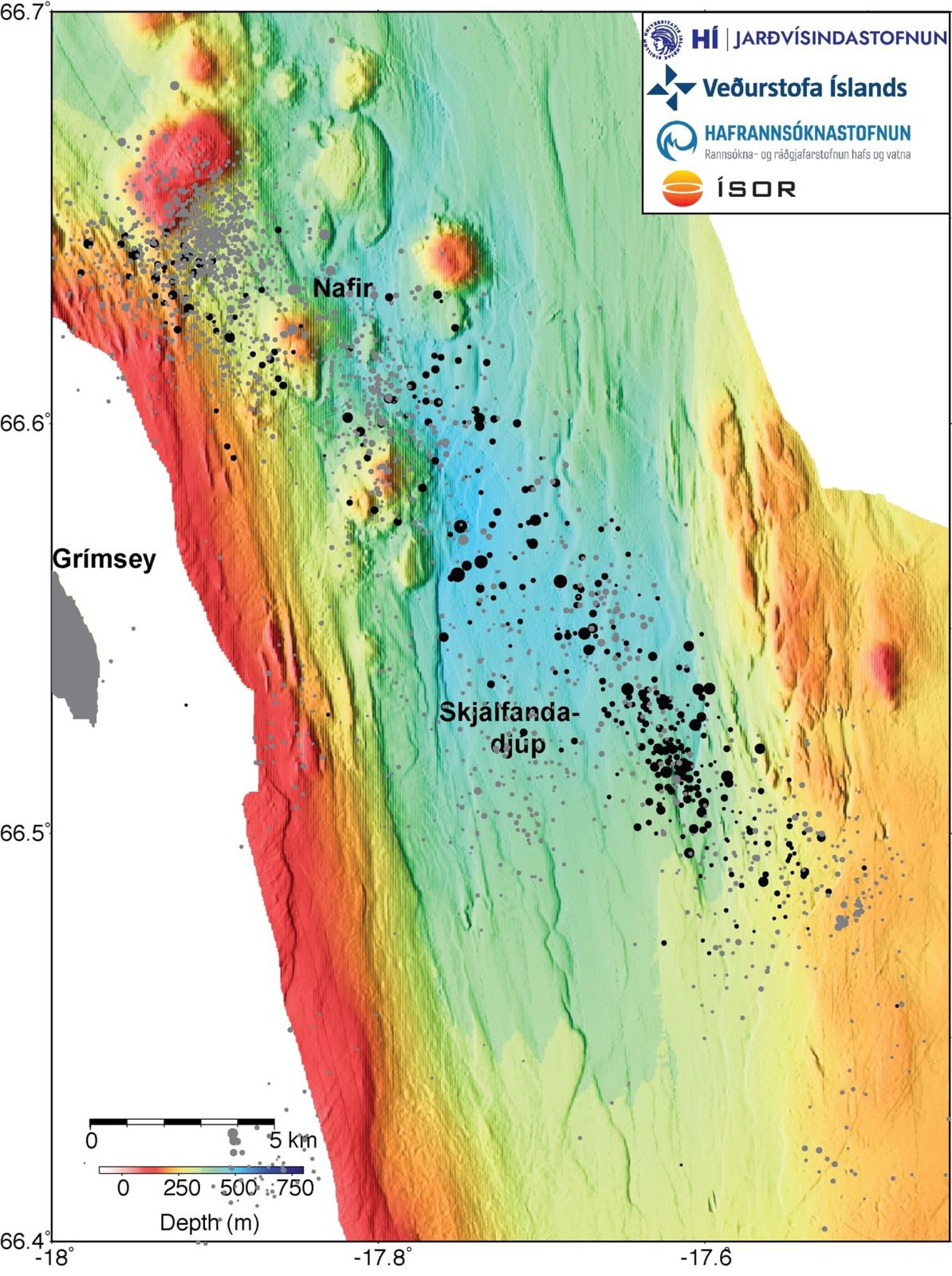 Map of the seabed of the epicenter of the earthquake in Grímsey - earthquakes reviewed by IMO in black and in black and earthquakes 2020-2022 in gray - Doc. via Jarðvísindastofnun Háskólans / 13.09.2022
More than 8250 earthquakes have been detected since the start of activity in Grímsey. The largest earthquake detected was an M4.9 on September 8 at 04:00. The largest earthquakes were widely felt in northern Iceland. The last major seismic swarm in this area dates back to February 2018.
A seabed map of the earthquake's epicenter in Grímsey has just been uploaded The map shows recent earthquakes according to the IMO seismic table in black and 2020-2022 earthquakes in gray , drawn according to their size. The northernmost part of the ridge north of Grímsey originates at Nafirnar. In this volcanic area, you can see mountains and lava formed after the ice age. The Grímsey earthquake started on the south side of Nafnar, then moved southeast along a broad north-trending sag at Skjálfandadjupi, then back to Nafnar.
The Department of Civil Protection and Emergency Management announced a level of uncertainty for ongoing seismic activity in North Iceland on September 9, 2022.
Source: IMO 13.09.2022 / 15:17 GMT & Jarðvísindastofnun Háskólans