Publié le par Bernard Duyck
During the last 24 hours, 70 exhalations have been detected at Popocatépetl, accompanied by water vapor, volcanic gases, ashes and sometimes incandescent fragments, as well as 167 minutes of low amplitude tremor and three volcano-earthquakes. tectonics were recorded today at 3:33 a.m., 3:34 a.m. and 3:36 a.m., with magnitudes of 1.7, 1.6, and 1.8, respectively.
The Popocatepetl volcano in Mexico presented 3 explosions on September 9, respectively at 03:44, 05:22, and 06:13; the latter was accompanied by an eruptive column of more than 2,000 meters above the crater, with dispersion towards Puebla-Morelos. They seem to be due to seismic energy and amplitude.

The volcanic alert is unchanged at Amarillo Phase2
Sources: Cenapred & webcams from Mexico
Anak Krakatau volcano is clearly visible this September 9, 2022, until it is covered by fog 0-III. The main crater's observable plume is white, with fine to medium high intensity about 25-100 meters from the summit. The weather is cloudy to cloudy, the wind is weak in the north, northeast and northwest.
Seismicity is characterized on September 9 by:
- 2 emission/gust earthquakes, with an amplitude of 6-7 mm, and the duration of the earthquake was 15-21 seconds.
- 22 low frequency earthquakes, with an amplitude of 3 to 11 mm and the duration of the earthquake is 3 to 9 seconds.
- 5 shallow volcanic earthquakes, with an amplitude of 3 to 10 mm and an earthquake duration of 5 to 10 seconds.
- 3 deep volcanic earthquakes, with an amplitude of 30-48 mm, S-P 2.2-3.6 seconds and an earthquake duration of 9-13 seconds.
- 4 episodes of continuous tremor, with an amplitude of 0.5 to 10 mm, dominating 2 mm.
The level of activity at 3/siaga, with a recommendation for communities/visitors/tourists/climbers not to approach Anak Krakatau or engage in activities within 5 km of the active crater.
A Volcanodiscovery group approached the dome and noticed its incandescence and the presence of numerous fumaroles.
Sources: PVMBG, Magma Indonesia, Mounts project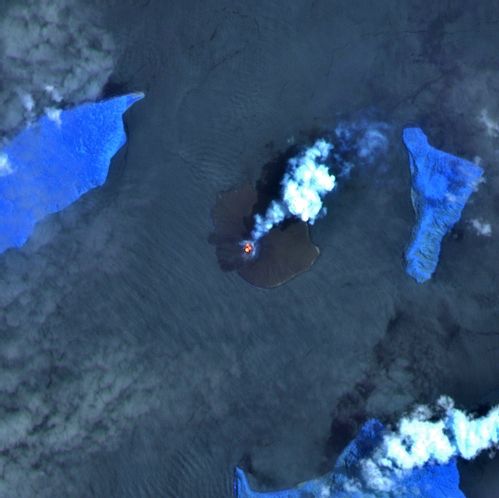 Anak krakatau - plume and incandescence at the lava dome on 09.09.2022 / 03:05 - image Sentinel-2 bands 12,11,8A via Mounts project
Between September 2 and September 8, 2022, the BPPTKG recorded 20 lava avalanches at Merapi; they were observed in a dominant southwest direction towards the Bebeng River with a maximum slip distance of 1,700 m.
No significant morphological changes were observed at the domes. According to the analysis of the photos, the volume of the southwest dome is 1,624,000 m³ and that of the central dome is 2,772,000 m³.
The intensity of the earthquakes this week is still quite high. 528 Deep Volcanic Earthquakes (VTA), 19 Shallow Volcanic Earthquakes (VTB), 239 Multiphase Earthquakes (MP), 450 Abortion Earthquakes (RF), 76 Blowing Earthquakes (DG ), 1 earthquake and 8 tectonic earthquakes (TT).
The prevailing seismic intensity was in the form of a VTA earthquake which indicated magmatic activity at a depth of >1.5 km from the summit.
Mount Merapi's deformation, which was monitored using EDM this week, showed a distance shortening rate of 0.2 cm/day.
The activity level remains at 3/Siaga, with the usual no-go zones.
Source: BPPTKG
Thousands of earthquakes have been recorded since September 7 in the Tjörnes fracture zone in northern Iceland.
According to Böðvar Sveinsson, a natural disaster expert at the Icelandic Meteorological Bureau, there are no signs of an eruption. There are two seismic zones, the Húsavíkur-Flateyjar fault zone and the Grímsey fault zone, and earthquakes are common in these zones. A similar earthquake occurred there in 2018.
The National Police Commissioner, in consultation with the North East Police Chief, has stated the level of public safety uncertainty due to the earthquake in the north. There is also heightened scrutiny of scenarios which, at a later stage, may lead to a threat to human health and safety, the environment or habitat.
Sources: IMO & RUV
Tjörnes fracture zone - location of earthquakes on 10.09.2022 - magnitude of earthquakes on 09 and 10.09.2022 - Doc. IMO