Publié le par Bernard Duyck
Lava dome growth continues at Sheveluch. Strong fumarole activity, and incandescence of the lava dome, explosions and hot avalanches accompany this process.
Video data from KVERT shows that explosions sent ash up to 5 km above sea level on September 6, and the ash plume extends east-southeast from the volcano for 10 k..
The extrusive eruption of the volcano continues. Ash explosions up to 10-15 km (32,800-49,200 ft) a.s.l. could occur at any time. Ongoing activity could affect international and low-flying aircraft.
The aviation code is orange.
Source: KVERT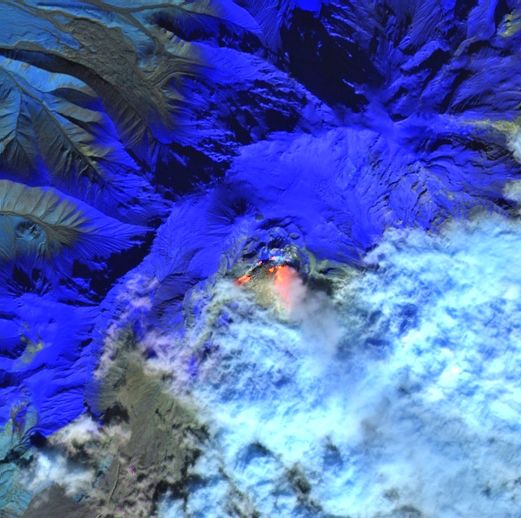 Sheveluch - thermal anomalies as of 06.09.2022 - Sentinel-2 bands 12,11,8A image via Mounts Project - one click to enlarge
Between August 29 and September 4, 2022, eruptive activity remained at moderate levels at Sabancaya; with an average of 58 explosions per day, generating plumes of gas and ash up to 3,000 m. height above the top.
During this period, the I.G.P. detected 394 earthquakes of volcanic origin, associated with the circulation of internal magmatic fluids, as well as VT earthquakes, associated with rock fracturing.
The deformation does not show any significant anomalies. Seven thermal anomalies, from max. 41 MW, have been identified, associated with a lava dome in the crater.
The volcanic alert remains in naranja, with its non-accessible zone of 12 km. radius around the crater.
Source: I.G.Peru
In the Philippines, the Phivolcs reports, on September 6 / 05h, 6 volcanic earthquakes in Kanlaon, and moderate gas emissions at 300 m. height.
The flow of sulfur dioxide is 196 tons per day (as of August 30)
A slight inflation is noticed.
The alert level is 1.
The Taal volcano alert level remains at 1. No volcanic earthquake is mentioned on September 6 / 05h.
Gas plume reaches 300 meters, drifting east; sulfur dioxide emissions are measured at 997 tonnes per day on 05.09.2022.
The deformation is marked by slight inflation of Taal volcano island and the western part of the caldera, while deflation is noted in the eastern part of the caldera
Source: Phivolcs