Publié le par Bernard Duyck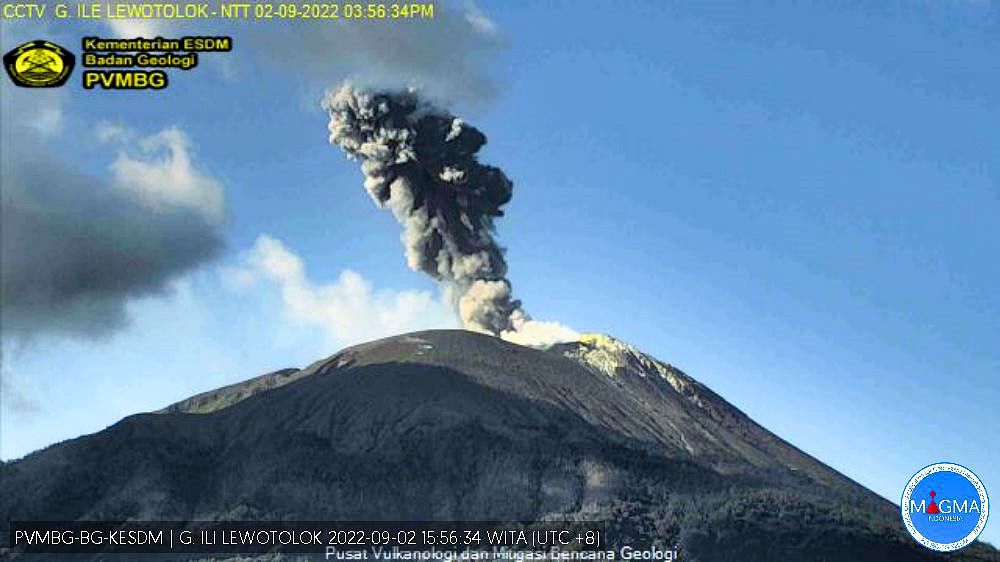 Ili Lewotolok - eruption on Friday, September 02, 2022 at 3:55 p.m. WITA, with an ash plume observed at ± 1500 m above the peak (± 2923 m above sea level). - wrbcam PVMBG / Magma Indonesia - one click to enlarge
Eruptive activity continues at Ili Lewotolok, with a plume of white, gray or black gas of varying intensity, about 25-1500 meters from the summit.
Seismicity is characterized on September 2 by:
- 1 eruption earthquake, with an amplitude of 34.3 mm and an earthquake duration of 34.3 seconds.
- 10 emission earthquakes, with an amplitude of 1.5 to 5.5 mm and the duration of the earthquake from 20 to 91 seconds.
- 1 local tectonic earthquake, with an amplitude of 3.6 mm, S-P 9.5 seconds and an earthquake duration of 33 seconds.
- 3 distant tectonic earthquakes, with an amplitude of 1.2-2.5 mm, S-P 25 seconds and an earthquake duration of 54-136.9 seconds.
At Level III (Siaga) activity level, it is recommended that the community around Mount Ili Lewotolok as well as visitors/climbers/tourists do not conduct activities within 3 km of the summit/crater of the mount. Ili Lewotolok, 3.5 km radius for the southeast sector, 4 km radius for the east and northeast sectors. Residents of Lamawolo Village, Lamatokan Village and Jontona Village should always be aware of the potential threat of incandescent lava flows and avalanches, lava avalanches and hot clouds from the eastern part of the peak/ G. Ili Lewotolok crater
Source: PVMBG, Magma Indonesia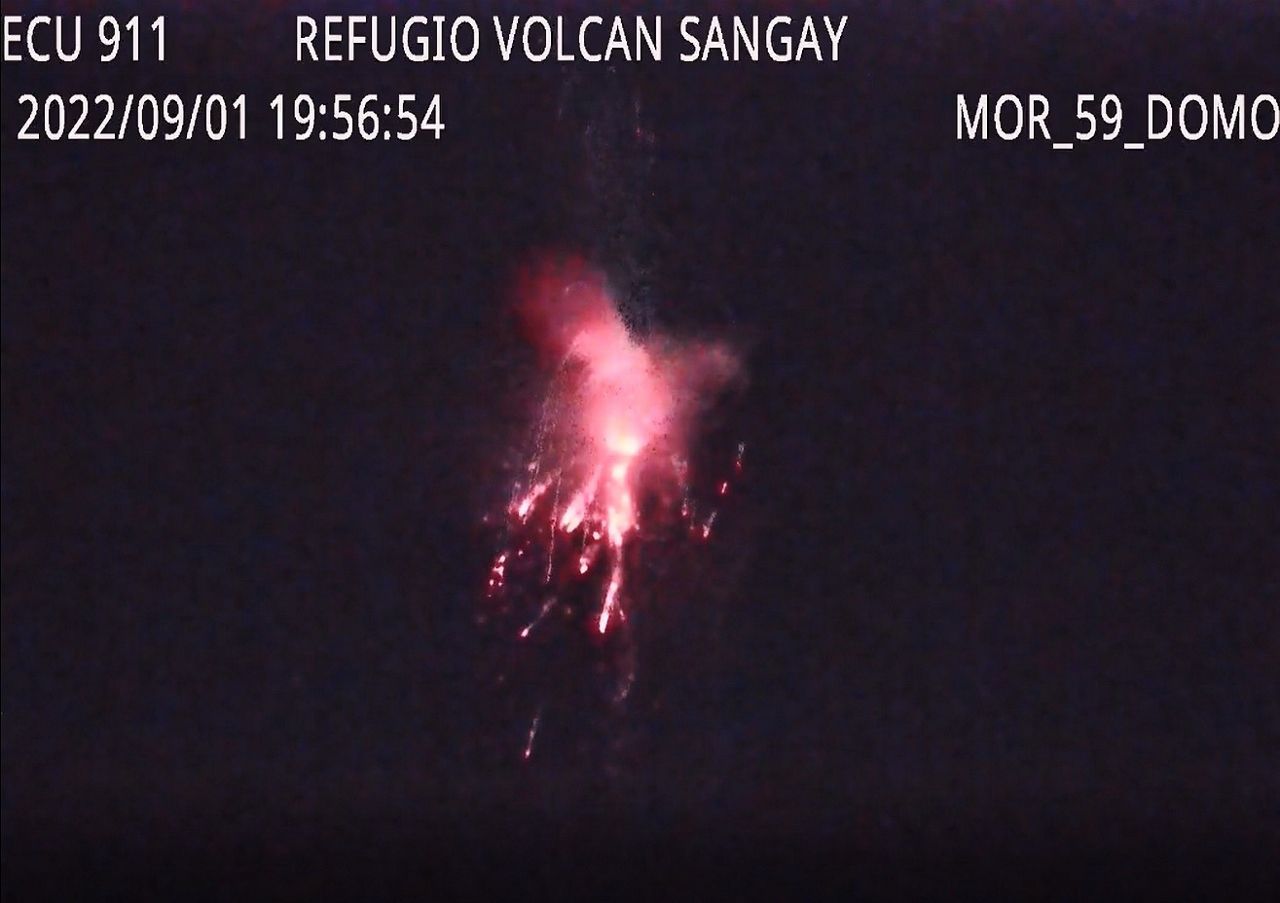 Sangay - incandescence in the crater and rolling of blocks on 01.09.2022 / 7:56 p.m. - webcam ECU911 / IGEPN
In Sangay, continuation of the explosive activity, with 257 explosion earthquakes between September 1 and September 2 at 11 a.m., and 77 episodes of emission tremors.
FIRMS recorded 17 thermal alerts and MIROVA recorded 2 high thermal alerts (396 and 110 MW) in the last 24 hours.The MOUNTS system reported 172.5 tons of SO2, measured on 2022-09-01 at 7:17 p.m.
Through images shared by ECU 911, incandescence was observed in the crater with rolling blocks on the eastern flank.
The volcano alert level remains at Yellow.
Source: IGEPN – daily information 02.09.2022 / 11 a.m.
In La Palma, diffuse anomalous emissions of carbon dioxide and helium are observed in La Bombilla and Puerto Naos.
They are of volcanic origin, according to this evidence:
- The isotopic signature of carbon in carbon dioxide (δ13C-CO2) as a function of the inverse of the concentration of carbon dioxide allows us to differentiate between three main reservoirs or sources of carbon dioxide (atmosphere, volcano-hydrothermal air and biogenic) as well as their respective contributions to carbon dioxide observed at La Bombilla and Puerto Naos. As you can see in the graph itself, all the results of chemical and isotopic analyzes of carbon dioxide from gas samples taken at La Bombilla and Puerto Naos fall near or inside the reservoir or the source of volcanic-hydrothermal origin, and very far from the two other potential sources (biogenic and atmospheric). This is indisputable scientific proof of the volcanic origin of the anomalous diffuse CO2 emissions in La Bombilla and Puerto Naos.
- Helium (He) enrichments were observed inside houses in Puerto Naos. These values ​​exceeded 7,500 (ppb) in some dwellings, whereas these enrichments should be less than 100 (ppb). These significant enrichments in helium gas (He) can only be explained by a source of volcanic origin.

Source: InVolcan
Following the devastating mudslides which descended the mountain during the heavy rains of August 12, 2022, the paths of Stromboli leading to the viewpoints, which had become impassable, were quickly restored by the inhabitants and the excursions for individuals and groups to see the activity of the volcano can resume tomorrow September 3, 2022, according to Italian media.
Visitors are allowed to freely reach an altitude of 290 meters; between 200 and 400 m., you must book a visit with one of the mountain guides.
Source: Italian media