Publié le par Bernard Duyck
The monthly bulletin on the multiparametric monitoring of the Etna volcano for the month of August 2022 has been published on the INGV - Osservatorio Etneo website.
During the month of August 2022, the INGV observed degassing activity, at variable speed, at the level of the summit craters, and frequent roars coming from the Bocca Nuova crater.
The fracturing seismic activity is characterized by the swarm in the western sector, which began on August 29 (28 events with M > 2.0, Mmax 3.3).
The average amplitude of the volcanic tremor is on an average level alternating with short periods at high level.
Variable trend in the rate of occurrence of infrasonic events, which are mainly located in the Bocca Nuova crater area.
The state of inflation of the volcanic edifice persists. There is an increase in speeds at Monte Crisimo stations, along the Pernicana fault system and at Sant'Alfio station.
The flow of SO2 remains at an average level and is increasing moderately. Soil CO2 flux shows average values.
The partial pressure of dissolved CO2 in groundwater shows values ​​in seasonal variability.
He data from the latest sampling show no significant changes from the previous ones, settling on the high level.
The thermal activity observed by satellite in the summit area was weak
Source: INGV OE
The Volcanic Alert Level has been raised at Whakaari/White Island to Level 2 due to loss of real-time monitoring capability and increased uncertainty.
The current volcanic alert level is raised to 2 (at 07.09 at 2 p.m.)
Aviation color code is raised to yellow
The Volcanic Alert Level reflects the current level of volcanic unrest or activity and is not a prediction of future activity. While Volcanic Alert Level 2 is primarily associated with the risk of volcanic unrest (including the discharge of hot volcanic steam and gases, earthquakes, landslides and hydrothermal activity), there is also a rash risk and rashes can still occur with little or no warning.
Source: GeoNet
Manaro Voui is a volcano located on the island of Ambae, Vanuatu. Its current evolution is revealed by a Sentinel-3 image from September 5, 2022, via Philipson Bani
"There was Lake Vui, Lake Manaro Lakua and periodically Lake Manaro Ngoru. Now we have Lake Manaro Lakua, Lake Manaro Ngoru and Vui 1, Vui 2 and Vui 2".
Volcanic activity on Ambae continues in the state of major unrest, with a lower level of activity, consistent with Volcanic Alert Level 2. Ambae's Volcanic Alert Level has been at Level 2 since the December 14, 2021. New analysis suggests that volcanic activity is likely to continue in this lower activity level of a major unrest state, but could increase to a high activity level of a state of major unrest. Volcanic hazards remain in the summit and creek area (eg, remobilization of remnant ash from the 2017 and 2018 eruption and current activity).
The danger zone for life safety in the summit area remains limited to danger zone A (see Ambae caldera safety map below). This danger zone (Danger Zone A) is approximately 2 km in radius from the active 2017-2018 vents. An additional danger zone is in areas with flowing streams during heavy rains.
The latest seismic and observational data from the monitoring system confirmed the ongoing volcanic activity and the constructed cone (end of December 2021) inside Lake Voui remains. The volcano continues to emit volcanic gas and eventually ash which is almost contained in Lake Vui. These observations of current activity are consistent with activity at Ambae Volcano below Volcanic Alert Level 2 indicating "Major Level of Unrest; the danger zone remains 2 km around volcanic vents and in the area of ​​flowing streams. With this current volcanic activity, it's a helpful reminder that eruptions can occur at any level of unrest with little or no warning.

Source: VGO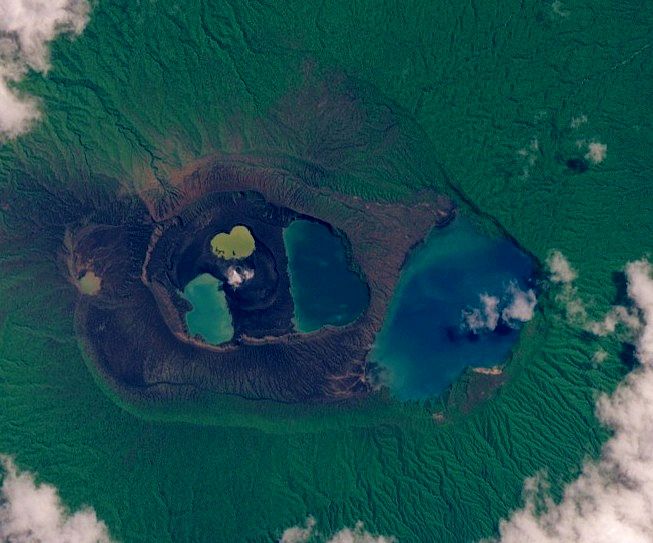 Ambae - Manaro Lakua, Manaro Ngoru and Manaor Vui 1,2,3 lakes - Sentinel-2 image from 05.09.2022 via Philipson Bani - one click to enlarge
Recent photos of Gunung Api Awu, Sangihe / Sulawesi were transmitted by Aris Yanto. They reveal the presence on August 6, 2022 of a lava dome, emitting several fumaroles.
The seismicity of September 5 is characterized by:
- 1 blast/emission earthquake, with an amplitude of 2 mm and an earthquake duration of 20 seconds.
- 2 shallow volcanic earthquakes, with an amplitude of 5 to 34 mm and an earthquake duration of 4 to 16 seconds.
- 5 deep volcanic earthquakes, with an amplitude of 6-50 mm, S-P 0.5-2 seconds and an earthquake duration of 5-30 seconds.
- 10 distant tectonic earthquakes.

The activity level is 2 / waspada, with recommendations:
The public and visitors/tourists should not approach and engage in activities within 3 kilometers of Mount Awu's summit crater.
The community around Mount Awu should remain calm, not be provoked by rumors of Mount Awu activities that cannot be explained. The public should follow the instructions of the Regional Disaster Management Agency for the Sangihe Islands Regency.
Sources: Aris Yanto and Magma Indonesia