Publié le par Bernard Duyck
At Anak Krakatau, eruptive activity over the past two days is on the rise.
The main crater plume is white and gray, with fine, medium to thick intensity, about 25-300 meters from the summit.
Seismic observation:
- 4 eruption earthquakes, with an amplitude of 2-50 mm and an earthquake duration of 17-367 seconds.
- 10 emission earthquakes, with an amplitude of 3 to 19 mm and the duration of the earthquake from 11 to 53 seconds.
- 7 harmonic episodes, with an amplitude of 3 to 6 mm and an earthquake duration of 42 to 174 seconds.
- 21 low frequency earthquakes, with an amplitude of 2 to 8 mm and an earthquake duration of 3 to 15 seconds.
- 1 deep volcanic earthquake, with an amplitude of 51 mm, S-P 2.29 seconds and an earthquake duration of 27 seconds.
- 4 episodes of continuous tremor, with an amplitude of 0.5 to 45 mm, dominating 2 mm.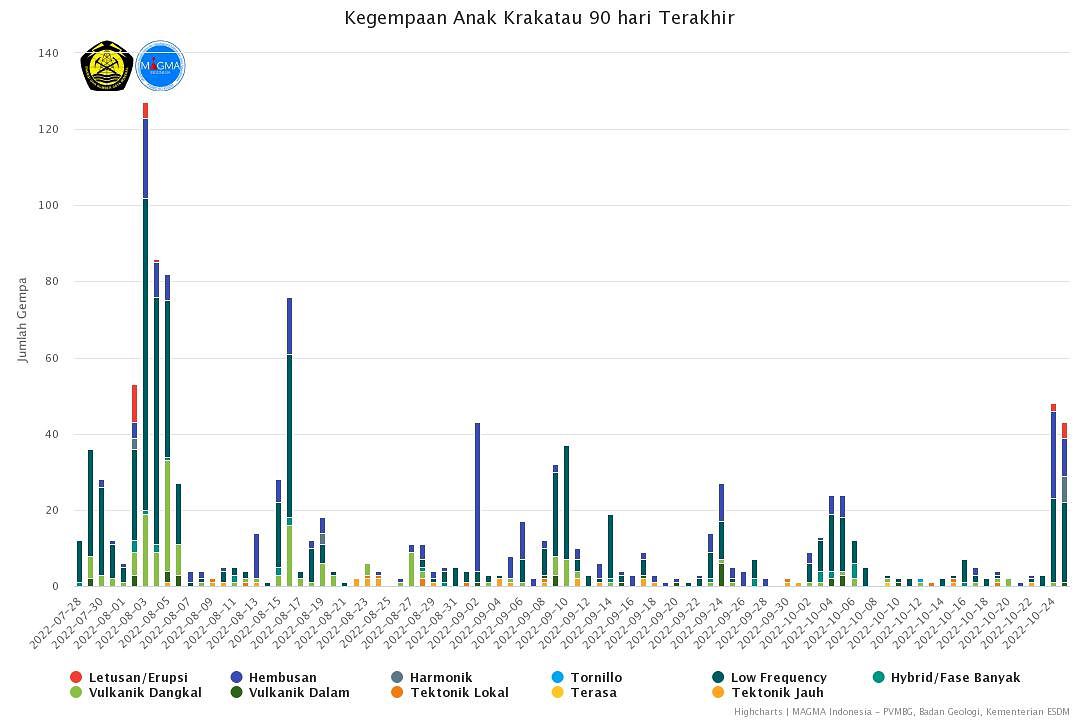 The activity level is at 3 / siaga, with recommendation:
People/visitors/tourists/climbers do not approach Mount Anak Krakatau or engage in activities within 5 km of the active crater.
Sources: PVMBG, Magma Indonesia
Since 11:25 p.m. TL on October 25, 2022, the SAGA seismic station has recorded an increase in seismic energy at the level of the Sangay volcano. This type of high-energy signal (greater than 6,000 counts on average) is similar to that observed during pulses of increased volcanic activity.
At the moment, the GOES-16 satellite is observing an ash emission in a southwesterly direction.
An incandescence is observed, due to the emission of a lava flow on the southeast flank. It is also possible to see the fall of light ash in populated areas near the volcano located to the southwest.
It is recommended to stay informed of official sources in case of new changes.
Source: IGEPN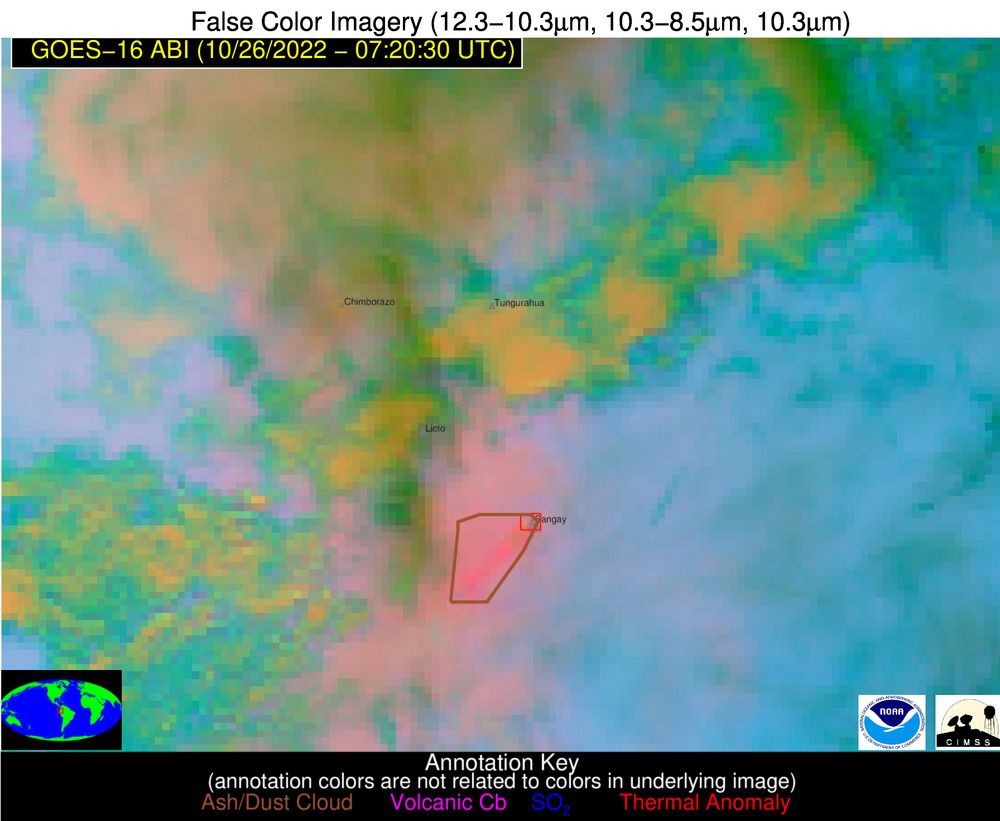 Sangay - dispersion of ashes towards the SW - GOES-16 satellite image of 26.10.2022 / 07:20 UTC - Doc. NOAA CIMSS, via IGEPN
Between October 17 and 23, 2022, INGV OE reports that at Vulcano
the maximum temperature of the fumaroles emitted on the outer edges of La Fossa remain at stable and high values, around 375°C.
The CO2 flux in the crater area remains at medium-high values.
The SO2 flux in the crater area is stable at a moderately medium-high level

Geochemistry of fumarolic gases: The concentration of CO2 and He is constant or slightly increasing and remains at an average level. The carbon isotope ratio is constant at high values ​​and the He isotope ratio is stable at medium levels
The CO2 flux at the base of the La Fossa cone and in the Vulcano Porto area: The CO2 fluxes recorded in the Rimessa, C. Sicilia sites always show values ​​above background levels. The P4max site displays average values, while at the Faraglione site there are values ​​close to the bottom.

Geochemistry of thermal aquifers: in the well of Camping Sicilia there are always high values ​​of temperature and conductivity at medium-low levels; in the Bambara well, the level and conductivity values ​​show no significant variations.

Local seismicity: Low rate of occurrence of local micro-seismicity.
Regional Seismicity: No earthquakes with Ml >= 1.0 were located in the Vulcano region last week.
The GNSS network does not show significant variations.
Source: INGV OE weekly bulletin 25.10.2022
In total, more than 1,400 earthquakes have occurred in the vicinity of Herðubreið / Askja System since the earthquakes began last Saturday. Apart from the largest 4.1M earthquake that struck on Saturday evening, two recorded magnitudes above 3.
According to Kristín Elísa Guðmundsdóttir, a natural hazard specialist at the Icelandic Met Office, there is no unrest there. Although these series of earthquakes are more intense than usual, there are frequent bursts in the area of ​​the Askja system.
Sources: mbls & IMO
Askja system - number and magnitude of earthquakes from 24 to 26.10.2022 / 07:20 - Doc. IMO