Publié le par Bernard Duyck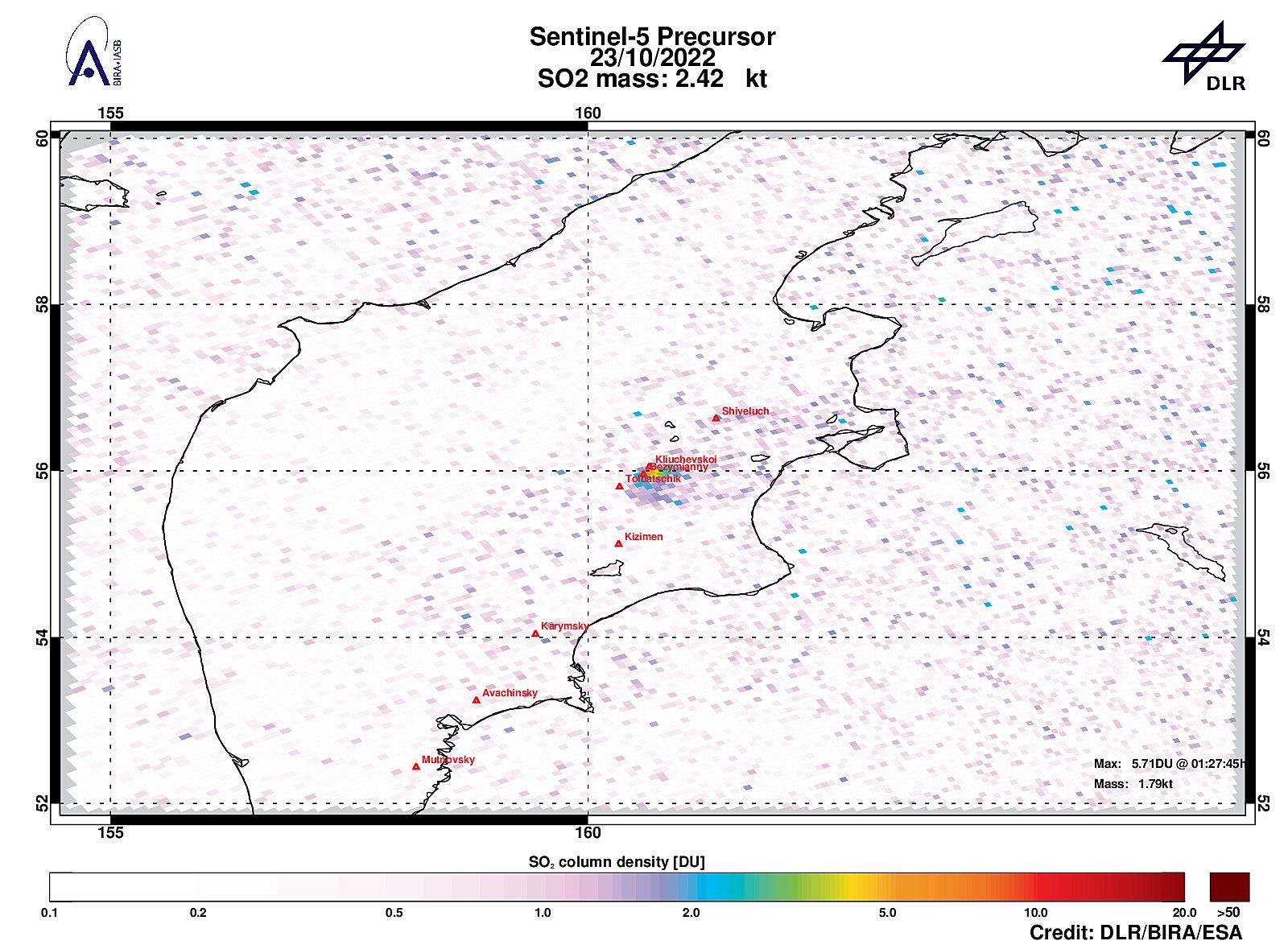 Bezymianny - improved SO2 signal of 5.71 DU at 800m. of the volcano - Sentinel5P Tropomi image of 23.10.2022 - Doc. DLR / BIRA / ESA
In Kamchatka, Bezymianny activity is on the rise. Aviation color code changed from yellow to orange. For the moment, no ash cloud is reported.
The temperature of the thermal anomalies increases gradually; nocturnal incandescence and strong sporadic fumarolic activity were observed on October 22.
On 2022-10-23, Sentinel-5P Tropomi detected an enhanced SO2 signal of 5.71 DU at a distance of 0.8 km from the Bezymianny.
Due to this increase in activity, the aviation code has been raised? Strong ash explosions could occur at any time, accompanied by plumes up to 10-15 km. and affect air traffic.
Source: KVERT
At Kerinci, on Sumatra, the main crater plume was gray on October 22, with moderate to high intensity, about 400-500 meters from the summit.
Seismicity is characterized by:
- 203 emission earthquakes, with an amplitude of 0.5 to 7 mm and an earthquake duration of 10 to 26 seconds.
- an episode of continuous tremor, with an amplitude of 0.5 to 2 mm, dominant at 1 mm.
The activity is at level 2 / waspada. VAAC Darwin's aviation code is orange.
Recommendations:
- Communities around Kerinci Volcano and visitors/tourists are not allowed to climb the summit crater of Kerinci Volcano within 3 km of the active crater (people are prohibited from activities within the danger radius/KRB III ).
- It is best to avoid the flight path around the Kerinci Volcano as at any time it still has the potential for ash eruptions at a height which may interfere with the flight path.
Sources: PVMBG, Magma Indonesia, VAAC Darwin
Some news from the Tonga Islands by the T.G.S.
At Home Reef, there has been no eruption in the last 5 days. The maritime and aviation codes are green.
The latest satellite image, taken on October 20, shows no morphological changes: the island is measured at 268 m. north-south and 283 m. east-west for an area of ​​about 15 acres and a height between 15 and 18 m. asl.
Source: TGS press release #38 of 22.10.2022
Images from Hunga Tonga on October 18 show the island has sunk to 32m. above sea level. Erosion made him lose some 40 m. after the January 15, 2022 eruption.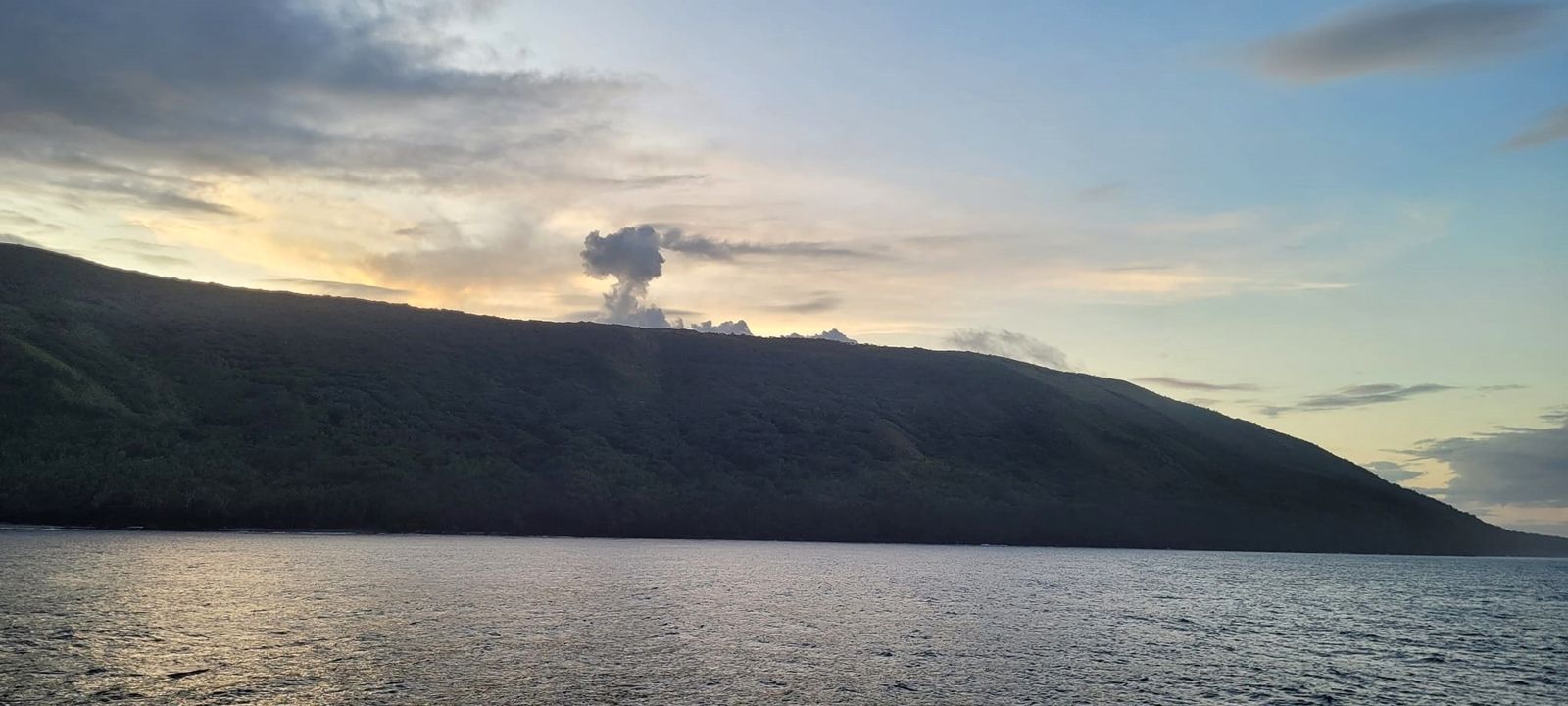 Measurements made on October 14, 2022 of gaseous sulfur dioxide on the east side of the Tofua volcano - Doc. TGS 14.10.2022
Measurements made on October 14, 2022 of sulfur dioxide gas on the east side of the Tofua volcano were 9,000 ppm (parts per million).
This is an indication that the magma chamber is close to the surface. The measurement was taken under the volcanic gas plume drifting east from the cone of the Lofia volcano on Tofua Island.
There is no immediate danger, however, the public is advised to report any particular activity in the area.
Source: Tonga Geological Services
After a series of earthquakes and a jökulhlaup started on October 11 - link - tourists reported a large crack that opened in the middle of the road leading to Grímsfjall on the Vatnajökull glacier, between driving points A1 and A2. It is an abyss capable of swallowing up a car. The coordinates of the hole are: Latitude: 64° 24' 13.476" N - 17° 13' 57.282" W
In addition 4 other crevasses, much smaller, have opened up on the way.
Source: Andri Gunnarsson