Publié le par Bernard Duyck
An explosive eruption began at approximately 15:10 UTC on October 15 at Chikurachki.
An ash plume up to 4.5 km altitude. was noted on satellite images. Satellite data from KVERT showed an extended ash plume about 240 km east-southeast of the volcano.
The plume extends on October 16 to 523 km. ESE of the volcano.
Volcanic activity continues. Ash explosions up to 6 km (19,700 ft) above sea level could occur at any time. Ongoing activity could affect low-flying aircraft. Aviation color code changed from green to orange.
Sources: KVERT & VAAC Tokyo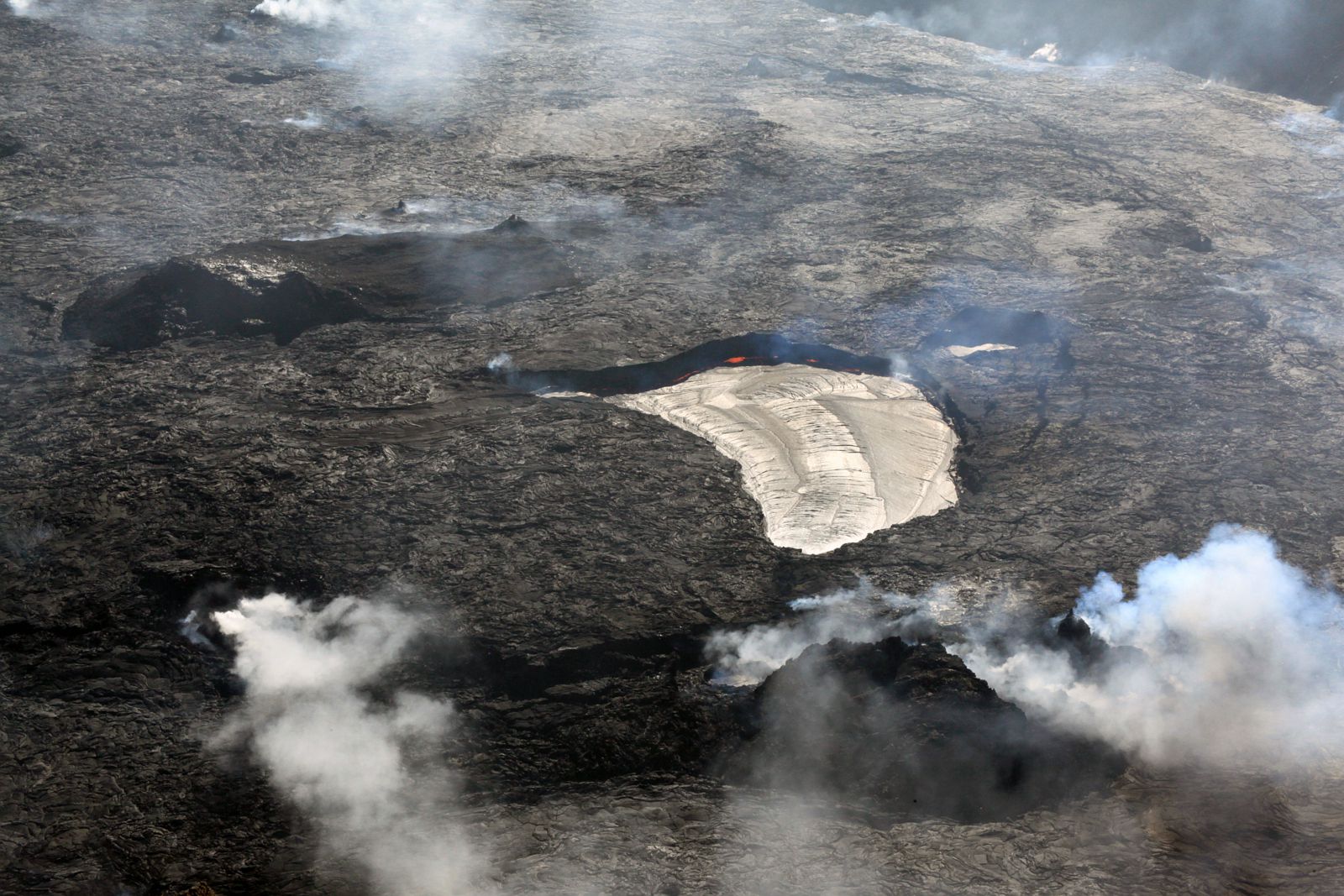 Kilauea - Halema'uma'u crater. The West Vent Complex (smoking cones in the foreground), Halema'uma'u Lava Lake and South Pond (silvery surface in the center) and the Big Island (darker lava in the upper left) and all visible in this view from the western edge. Incandescent lava spatter is visible at the eastern end of the active lava lake. USGS Photo taken by F. Trusdell on the morning of October 12, 2022. / HVO - one click to enlarge
The eruption at Kīlauea Volcano's summit in Halema'uma'u Crater has continued for the past 24 hours. All recent eruptive activity has been confined to the crater. No significant changes were observed at the summit or in either fault zone.
Lava eruption from the west vent into the active lava lake and on the crater floor has continued over the past 24 hours, with the active portion of the lava lake stable.
A flyby measurements from October 5, 2022 indicated that the crater floor had experienced a total elevation of about 143 meters, and that 111 million cubic meters of lava had been effused since the start of this eruption on September 29, 2021.
Summit tiltmeters recorded continued slight inflationary deformation over the past 24 hours. Volcanic tremor remains above background levels. A sulfur dioxide (SO2) emission rate of around 1,800 tonnes per day (t/d) was measured on September 30, 2022.
Source: HVO
The JMA informs us of the activity of the Sakurajima from October 10 to October 14 at 15:00.
At Minamidake's summit crater, 5 eruptions occurred, including 2 explosions. The plume of gas and ash rose up to 1,300m above the crater rim.
Volcanic rocks reached 1,300m to 1,700m from the summit crater Minamidake.
In addition, at the same crater, nocturnal glow was observed using a high-sensitivity surveillance camera.
According to GNSS observations, magma has accumulated in the depths for a long time and volcanic gas (sulphur dioxide) has been released in generally large quantities, so that eruptive activity can be observed at the time. current.
Eruptive activity is thought to continue into the future, centered on Minamidake's summit crater.
The number of earthquakes and volcanic explosions is as follows:
- October 10: 3 earthquakes, 1 explosion
- October 11: 10 earthquakes
- October 12: 15 earthquakes, 1 explosion
- October 13: 5 earthquakes
- October 14: RAS until 3 p.m.
Sources: JMA & VAAC Tokyo
Between October 7 and 14 at 4 p.m. UTC, the OVSM recorded at least 9 volcano-tectonic earthquakes, including one of magnitude 1.2, at Mount Pelée in Martinique.
This superficial seismicity, around 0.4 km. above sea level evening about 1 km. deep below the summit of the volcano, is associated with the formation of micro-fractures.
No other significant changes.
The alert level remains at yellow / vigilance.
Source: OVSM – IPGP weekly bulletin