Publié le par Bernard Duyck
On October 9, 2022 at 07:22 UTC / 09:22 loc., the Stromboli monitoring networks, managed by INGV and LGS, recorded the start of an effusive phase, which caused a collapse of the crater terrace; a pyroclastic flow was generated in the Sciara del Fuoco at 07:23 UTC, advancing a little at sea, and accompanied by a 3-minute seismic signal, and a slight tsunami of 2 cm., recorded at 07:24 UTC.
This pyroclastic flow was followed by other small pyroclastic flows which quickly reached the sea.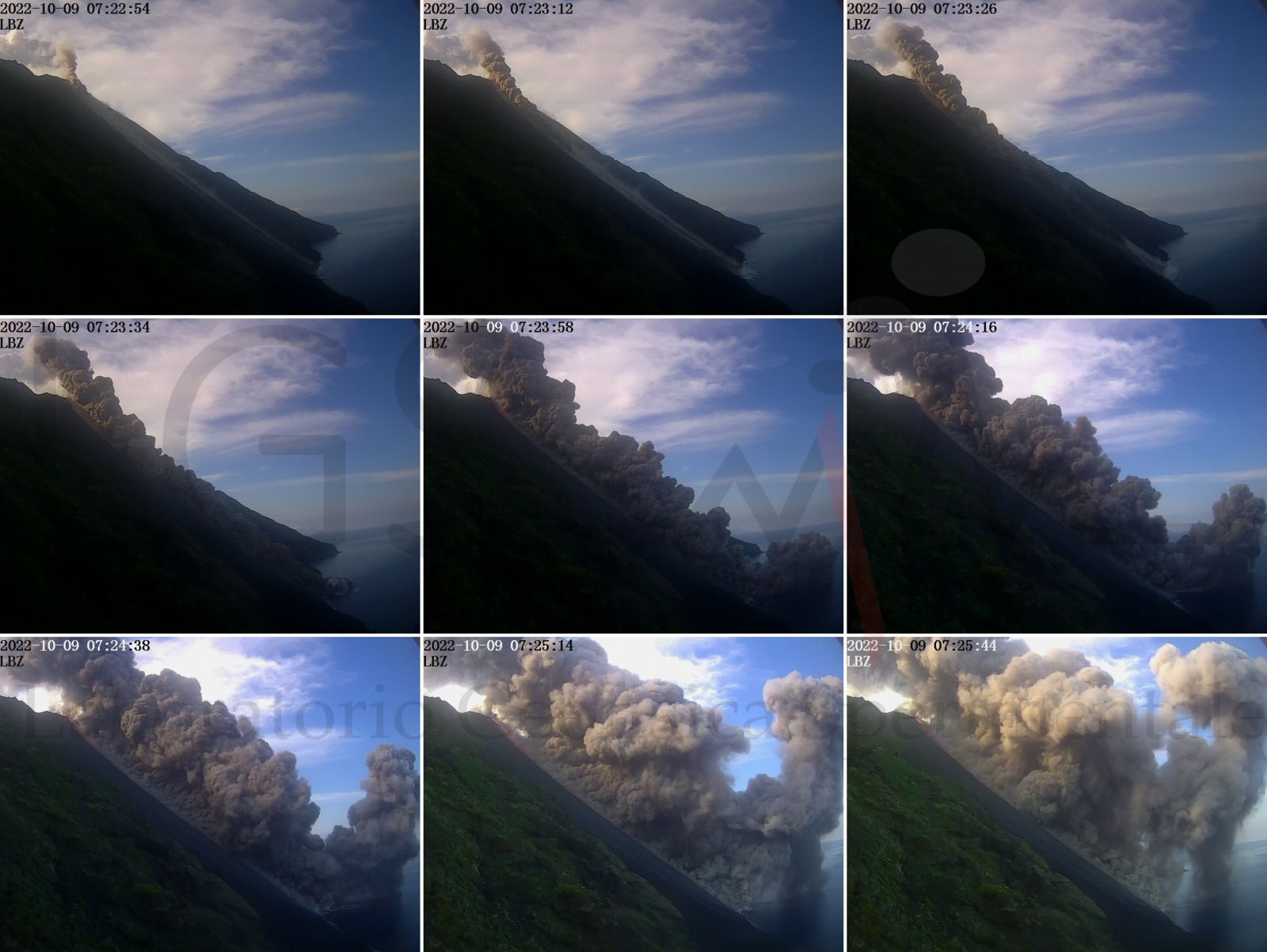 Stromboli - Collapse pyroclastic flow - 09.10.2022 / 07:22 - 07:25 - camera visible LBZ via LGS - one click to enlarge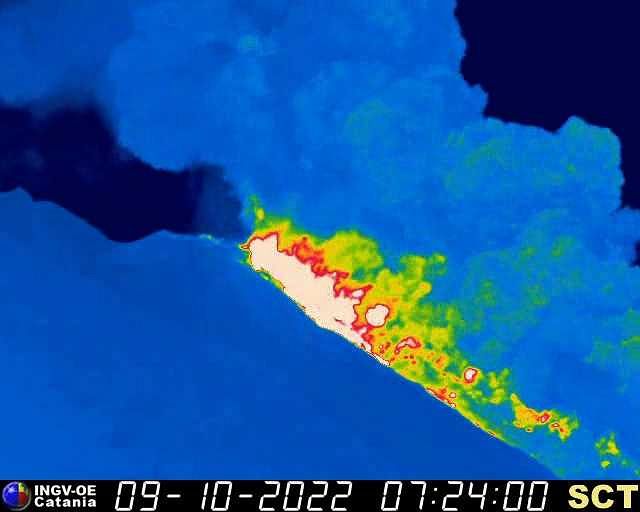 Stromboli - collapse and pyroclastic flow live on 09.10.2022 / 07:24 - cam.therm. SCT / INGV webcam - one click to enlarge
Stromboli - activity of 09.10.2022 - Global News video - https://youtu.be/ksOgYVlPttE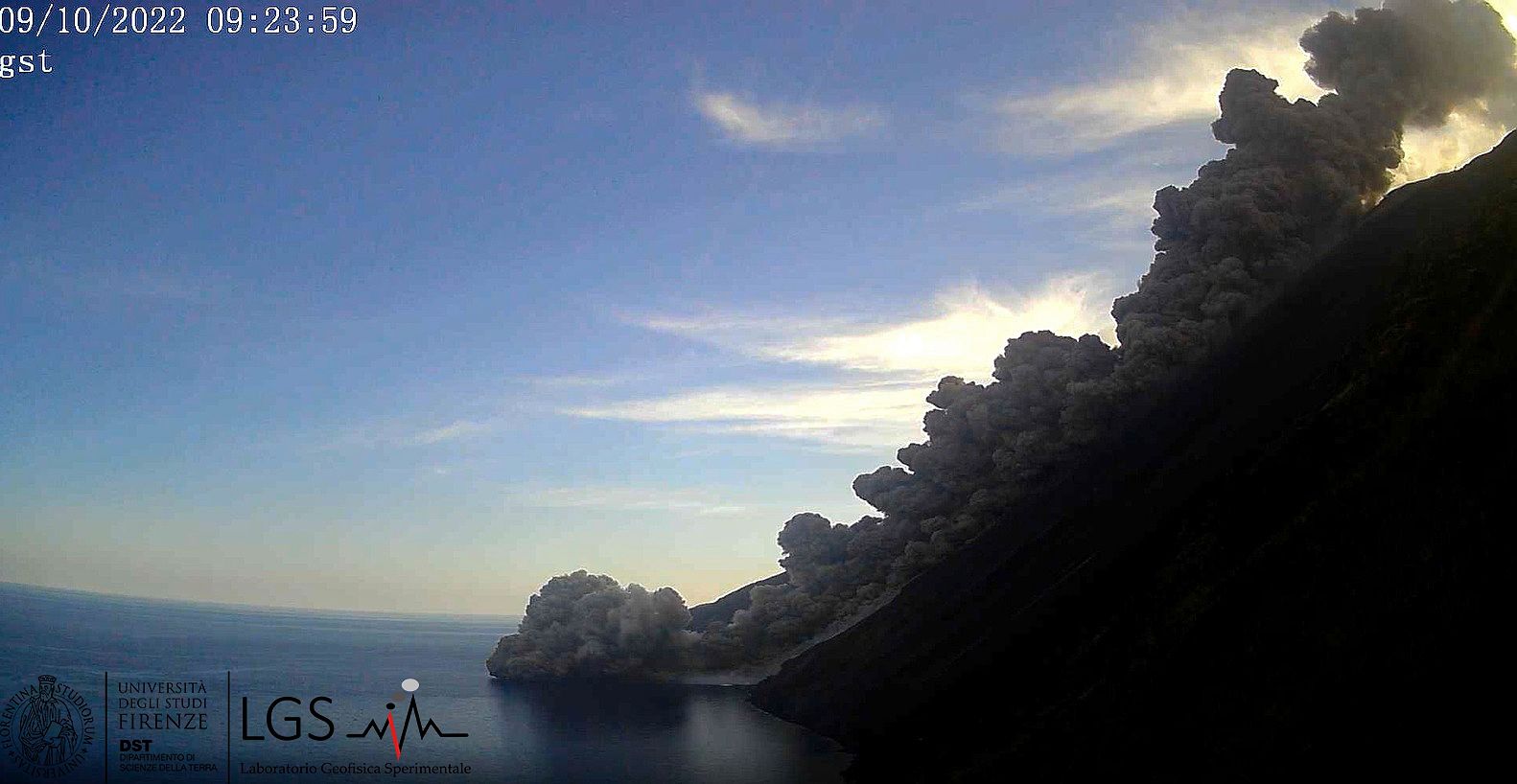 Stromboli - a pyroclastic flow advancing on the sea - 09.10.2022 / 09:23 - Doc. LGS - one click to enlarge
At 10:24 a.m., the INGV observed a well-fed lava flow reaching the coast. Explosive activity showed no significant changes.
Following the event, the monitored parameters showed a further increase in spattering activity localized in the NE crater sector, and accompanied by high tremor values.
The signals from the clinometric network of the TDF station show a very slight variation in intensity (0.05 microradians) between 7:15 and 7:30 UTC. There are no significant variations on the GNSS network.
Sources: INGV OE & LGS/ Laboratorio Geofisica Sperimentale.
Stromboli - 09.10.2022 / respectively at 09:51 a.m. and 12:30 p.m. - webcam therm. SCT / INGV OE - one click to enlarge
The eruption of Nishinoshima continues with this October 8th a massive emission of ash in the atmosphere; the ash plume is seen in the Sentinel-2 image of the day.
On October 9 around 8:20 p.m. (11:20 UTC), the JMA reported an eruptive episode, accompanied by a colored plume at 2,900 meters asl., drifting northwest.
VAAC Tokyo issued several ash scattering notices on October 8 and 9. Several thermal anomalies, between 2 and 10 MW, are mentioned by Mirova.
Sources: JMA, VAAC Tokyo, MirovaSentinel-2 Copernicus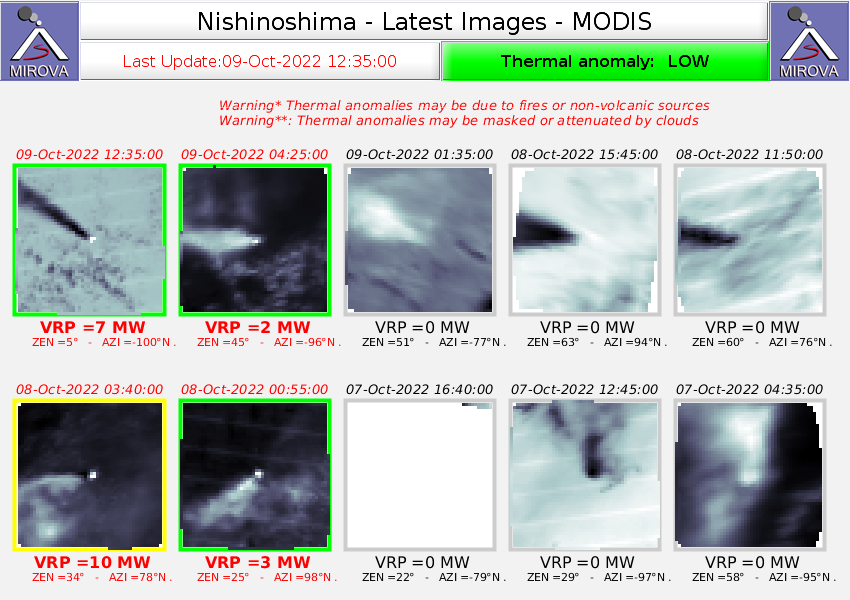 Nishinoshima - thermal anomalies as of 09.10.2022 / 12:35 p.m. - Doc. Mirova_MODIS_Latest10NTI - one click to enlarge