Publié le par Bernard Duyck
The Fuego Volcano Observatory reports 5 to 8 explosions per hour of weak, moderate and some strong characteristics which generate weak and moderate rumblings and a weak shock wave causing vibrations in the roofs and windows of houses near the volcano. They expel a column of ash with a height of 4,600 to 4,800 meters above sea level, which disperses in a west and southwest direction for 20 kilometers.
As a result of these explosions, avalanches of weak, moderate and strong characteristics are generated in the contour of the crater, as well as in the ravines of Ceniza, Santa Teresa, Las Lajas, Honda, part of the material reaching the edge of the vegetation due to this activity, ash remains suspended in the ravines.
At night an incandescent pulse was also observed 200 meters higher above the crater. A noise similar to that of a train locomotive lasting 1 minute is reported.
Ash falls are reported in the communities of Panimaché I, Panimaché II Morelia, Santa Sofía, La Rochela, Ceilán, San Andrés Osuna and others in this direction.
Moderate thermal anomalies are recorded by Mirova, between 17 and 76 MW on October 28 and 29, despite the clouds which partially mask the volcano.
Sources: Insivumeh and Mirova
Fuego / Guatemala - explosions of 28 / 29.10.2022 - video CRELOSA Idis Epcom - https://youtu.be/oOCJ-5qxdO8
The eruption at Kīlauea Volcano's summit in Halema'uma'u Crater has continued for the past 24 hours. All recent eruptive activity has been confined to the crater. No significant changes were observed at the summit or in either fault zone.
Lava eruption from the west vent into the active lava lake and on the crater floor has continued over the past 24 hours. The active part of the lava lake has been stable for the past 24 hours. Flyby measurements on October 5, 2022 indicated that the crater floor had experienced a total elevation of about 143 meters and that 111 million cubic meters of lava had been spilled since this eruption began on September 29, 2021.
Mirova detected high thermal anomalies on October 28 and 29, between 80 and 265 MW.
Summit tiltmeters have recorded inflation over the past 24 hours. Volcanic tremor remains above background levels. A sulfur dioxide emission rate of approximately 700 tonnes per day (t/d) was measured on October 22, 2022.
Current volcanic alert level: Watch
Current Aviation Color Code: Orange
Sources: HVO and Mirova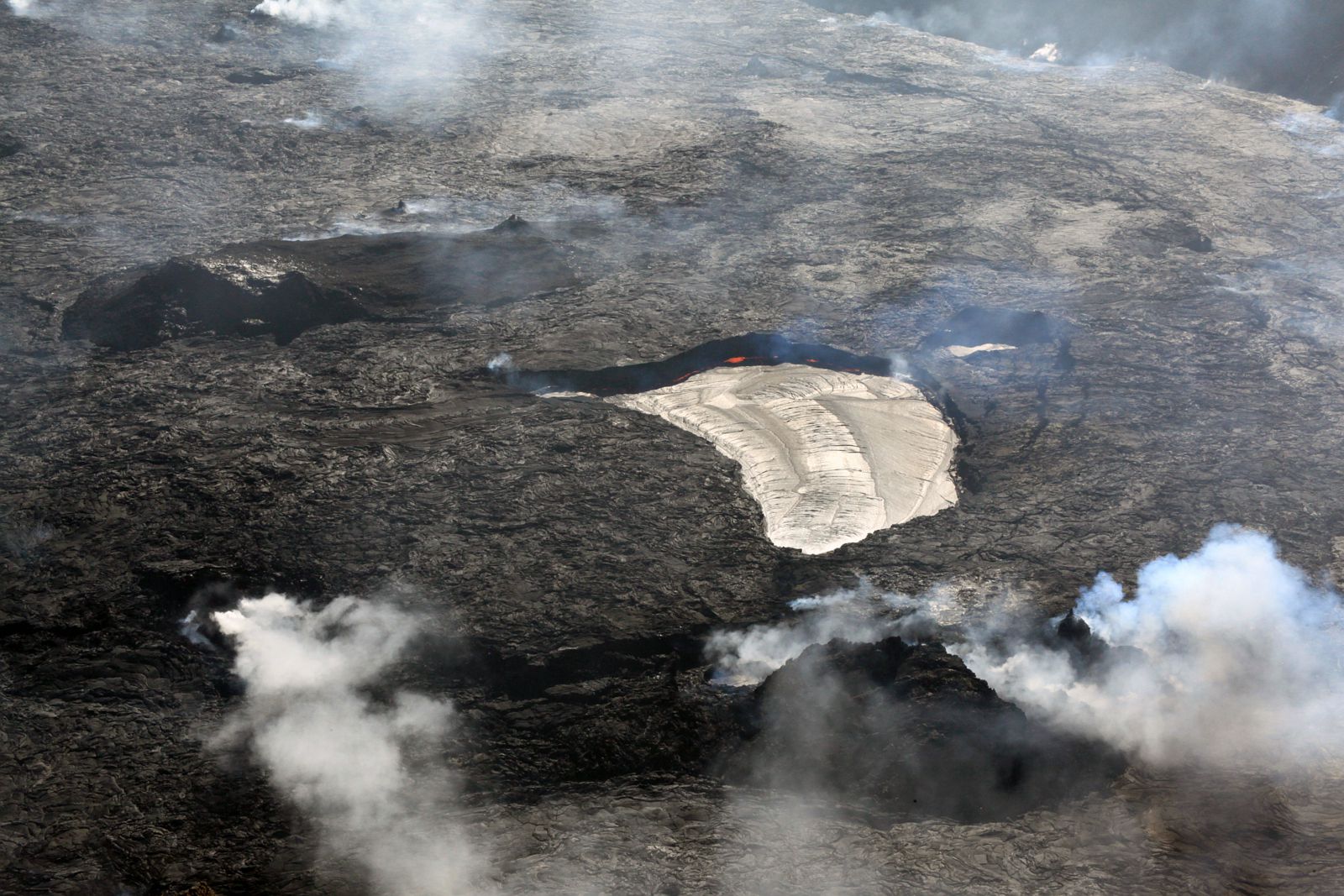 Image of Kīlauea's summit eruption in Halema'uma'u Crater. The West Vent Complex (smoking cones in the foreground), Halema'uma'u Lava Lake and South Pond (silvery surface in the center) and the Big Island (darker lava in the upper left) and all visible in this view from the western edge. Incandescent lava spatter is visible at the eastern end of the active lava lake. USGS Photo taken by F. Trusdell on the morning of October 12, 2022.