Publié le par Bernard Duyck
The recent Communication #32/13.10.2022 from Tonga Geological Services regarding Home Reef reports only 2 eruptions in the last 48 hours. Volcanic activity slowed down on the morning of October 13, and fewer plumes emitted.
The last Sentinel-2 image of October 10 provides information on the measurements of the new island on the 33rd day of eruption: 268 m. north-south, 283 m. east-west, for an area of ​​approximately 60,700 m² / 15 acres, and a height of 15 to 18 m. asl.
The alerts remain unchanged: red for the navy, which must avoid the 4 km radius zone, and yellow for the air trafic.
Source: Tonga Geological Services
Stromboli - video Shooting directed by Tullio Ricci, INGV-Roma 1 ( INGV / UNO ) - https://www.youtube.com/watch?v=o0KDkQU8gvU
On October 12, 2022, the effusive activity of Stromboli continued, with a lava flow which, after eroding a deep incision in the Sciara del Fuoco, formed a real waterfall. The continuous erosion in this very unstable zone has generated numerous pyroclastic flows, which have reached the sea at the base of the Sciara del Fuoco, extending over the sea for a few hundred meters.
These shots with a drone were taken by INGV staff and show, in addition to the lava cascade inside the erosive niche, the entry of pyroclastic flows into the sea, characterized by strong explosive interactions between hot matter and water. We also note the formation of tsunami waves of modest amplitudes, which propagate both towards the sea and towards the coast, locally encountering still hot materials previously deposited.
Shooting directed by Tullio Ricci, INGV-Roma 1
Source: INGV via Marco Neri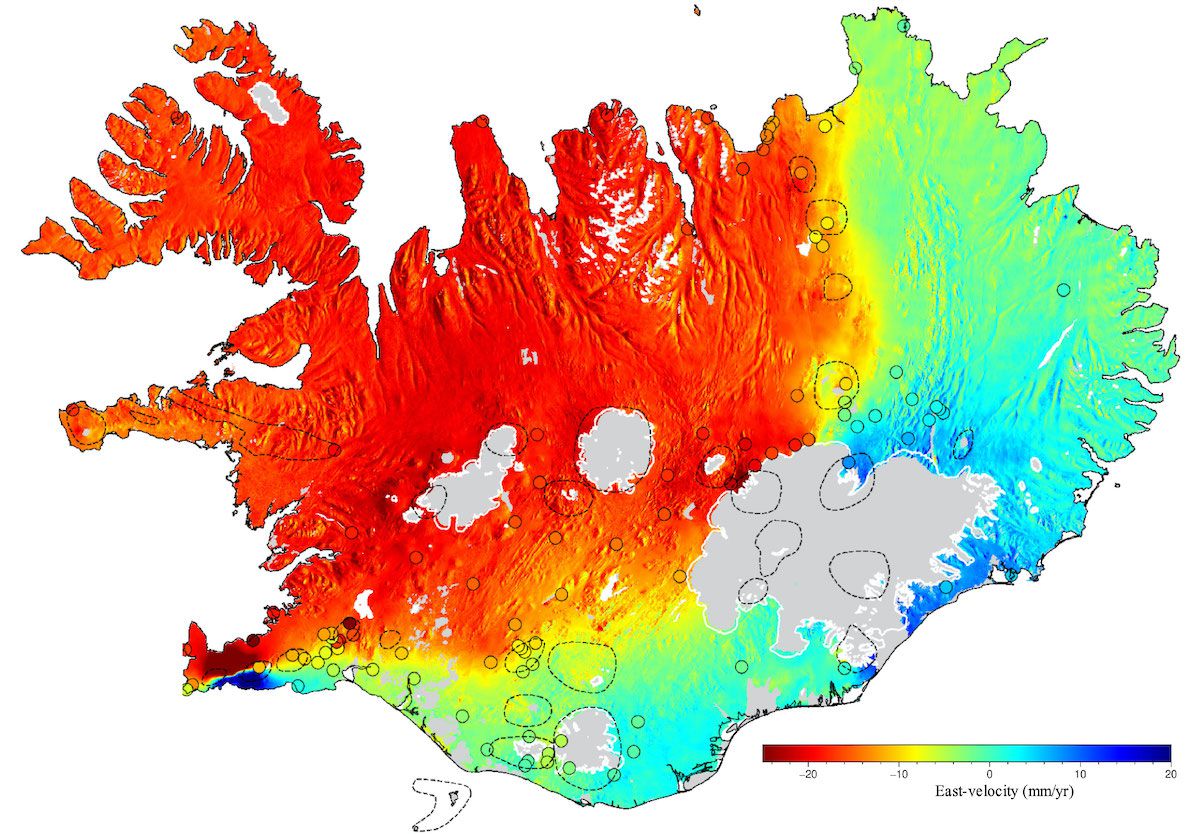 Iceland is growing by almost 2 cm/year - visible from space! Sentinel-1 image (w.r.t. Eurasia) clearly showing the location of the tectonic plate boundary - White lines are edges of ice caps and black dashed lines are edges of central volcanoes - Doc. Iceland Kinematics from InSAR - Yunmeng Cao - Sigurjon Jonsson- Sigrun Hreinsdottir - one click to enlarge
Large-scale ground deformation in Iceland is dominated by extensional plate boundary deformation, where the Mid-Atlantic Ridge crosses the island, and uplift due to glacial isostatic adjustment due to thinning and retreat of glaciers. Here is a summary of the draft article:
Although this deformation is generally stable over several years, it is modulated by smaller-scale transient deformation associated with, for example, earthquakes, volcanic unrest and geothermal exploitation.
Here, we combine nationwide interferometric Sentinel-1 Synthetic Aperture Radar (InSAR) data (from six tracks) from 2015 to 2021 with continuous GPS observations to produce time series of movements across Iceland. InSAR results were enhanced in a two-step tropospheric attenuation procedure, using (1) global atmospheric models to reduce long-wavelength and topography-correlated tropospheric signals, and (2) property modeling stochastics of the residual troposphere.
Our results significantly improve upon previous nationwide InSAR results, which were based on InSAR stacking, as we use more data, better data weighting, and advanced InSAR corrections to produce ground motion time series. instead of just speeds. We merge the three upward and downward trajectory results to estimate the near-east and vertical velocity maps, which clearly show the large-scale extension and GIA deformation. Using a revised model of plate spreading and glacial isostatic adjustment, based on these new ground velocity maps, we remove large-scale, constant deformation from the InSAR time series and analyze transient deformations remaining. Our results demonstrate the importance of (1) attenuating InSAR tropospheric signals over Iceland and (2) resolving deformation time series, not just velocities, as multiple transient deformation processes are present.
Source: Iceland Kinematics from InSAR - by Yunmeng Cao - Sigurjon Jonsson - Sigrun Hreinsdottir (doc. via Sigurjon Jonsson)
Full text at: https://www.essoar.org/pdfjs/10.1002/essoar.10512371.1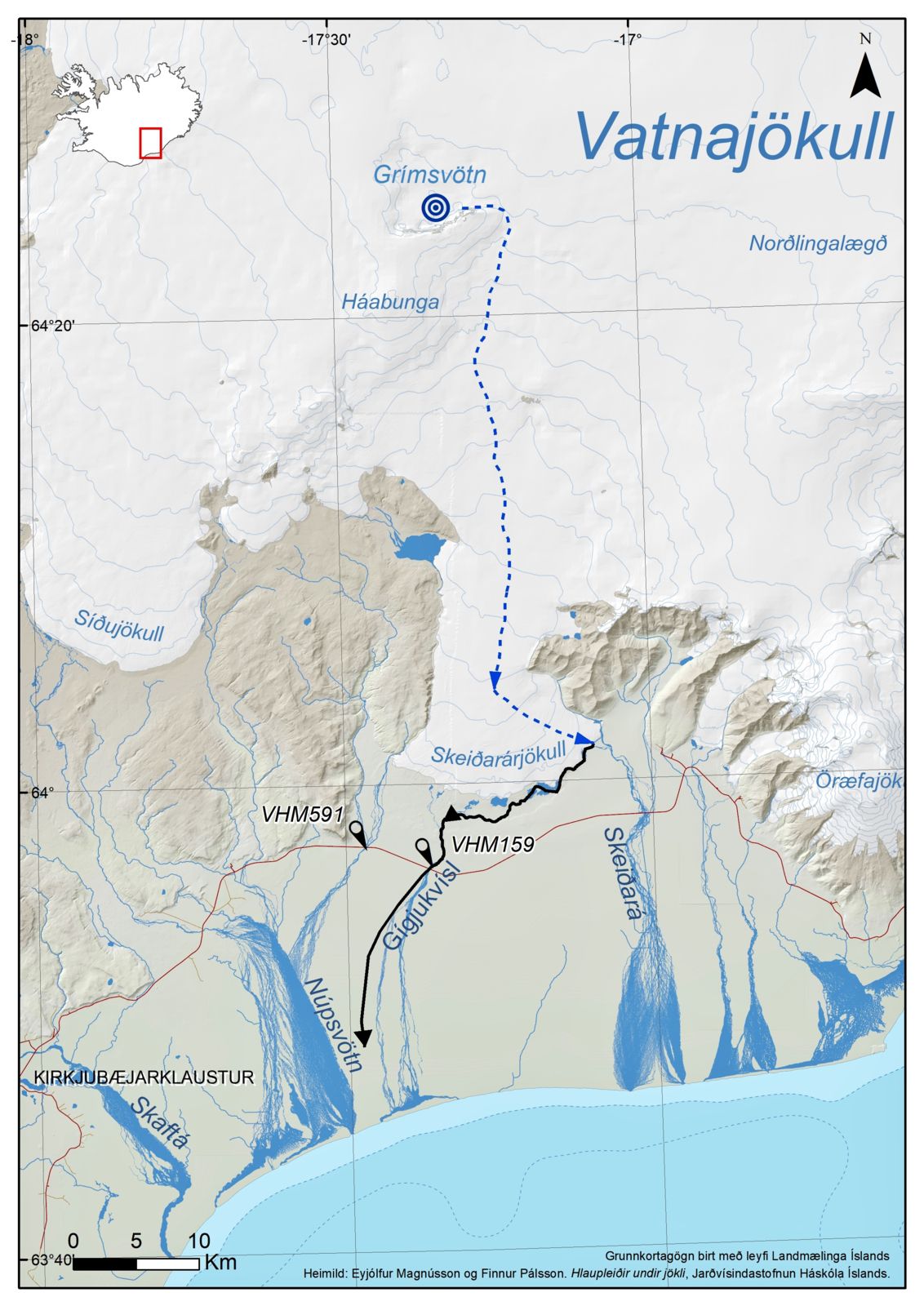 Approximate course of Lake Grimstvötn water under Vatnajökull Glacier It can be assumed that the flow at the bridge over Gígjukvísl will be less than that of the lakes themselves due to attenuation of runoff in the reservoirs in front of Skeiðarjökull. The track outside the glacier is marked in black. VHM159 is the location of a water level gauge at the bridge over Gígjukvísl. (Map design: Bogi Brynjar Björnsson – via IMO)
Still in Iceland
Glacial runoff from Lake Grímsvötn continues and the estimated discharge from there has exceeded 350 m³/s. The depth of the pack ice where the measuring instruments are now is around 11 m against 7 m at the same time yesterday. It is further expected that the outflow from Grímsvötn will reach its maximum in the afternoon of today or next night and will then be close to 500 m³/s.
Since early yesterday morning, there have been signs of running water in Gígjukvísl near Highway 1, both on web cameras and water level gauges. It can be assumed that the flow there will continue to increase and will reach its maximum about 24 hours later than the maximum outflow from Grímsvatten. The peak of this downflow via the main road will therefore be equal to the normal summer flow at Gígjukvísl and will have no effect on structures such as roads and bridges.
Source: IMO - https://www.vedur.is/um-vi/frettir/litid-hlaup-ur-grimsvotnum