Publié le par Bernard Duyck
Mauna Loa worries!
Recent events at Mauna Loa remind us to be prepared for rapid change.
The rapid onset of extreme unrest leading to the 1984 eruption is typical of Mauna Loa eruptions that have been observed over the past two centuries.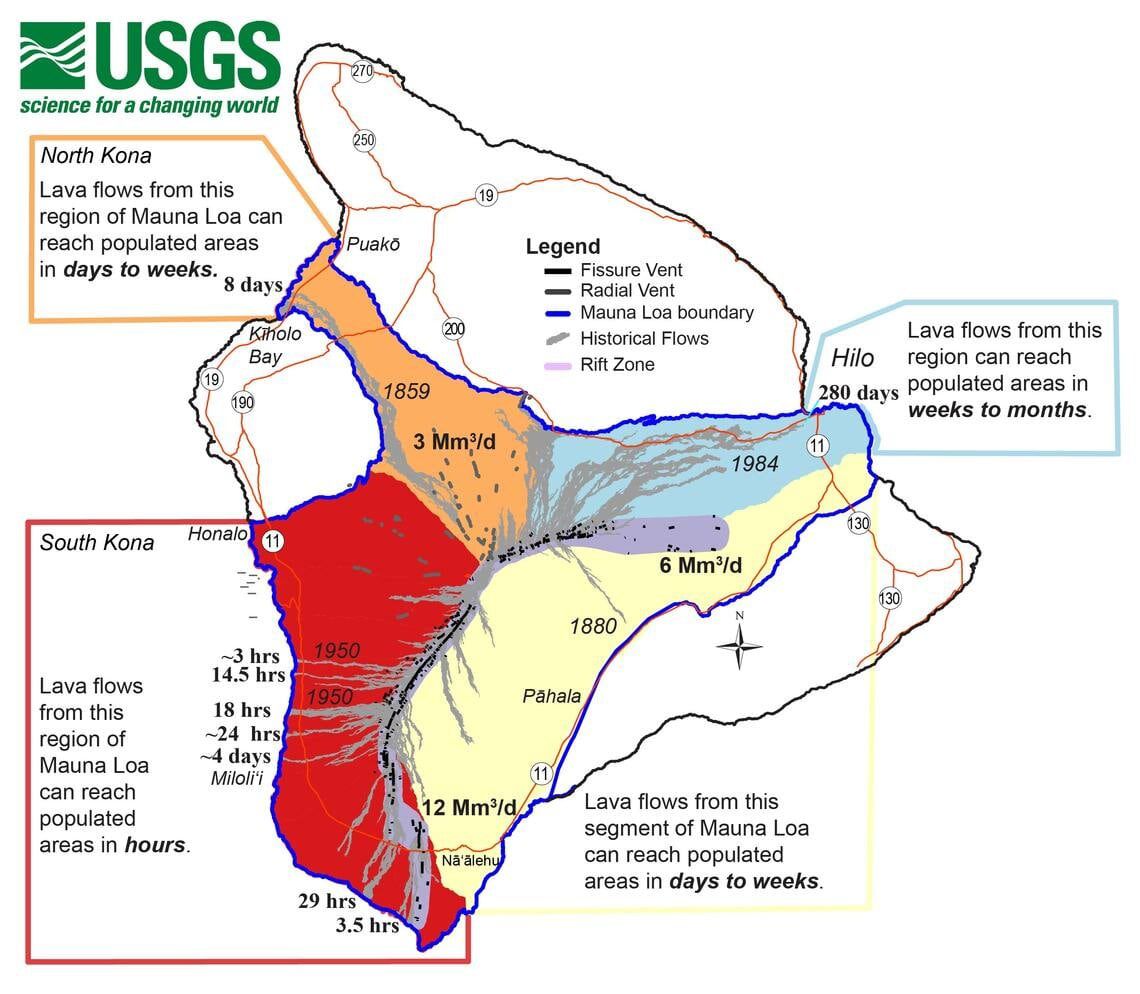 Mauna Loa - ancient eruptions and forecasts in terms of days, weeks; month - Doc. USGS - - one click to enlarge
Mauna Loa's last eruption occurred in 1984 and began in typical volcano style. At 10:55 p.m. on March 24, 1984, the rate of earthquakes beneath Mauna Loa began to increase rapidly. While earthquake rates were already above normal, they quickly increased to 2-3 earthquakes per minute.
At 11:30 p.m., a strong tremor had begun, indicating that the magma was moving underground and approaching the surface. The eruption began atop Mauna Loa at 1:30 a.m. on March 25.
The current episode of Mauna Loa unrest began in late 2014 with increased rates of inflationary deformation and seismicity. These rates declined in 2017-2018, but started to increase again in 2019 and have remained somewhat stable since then, with earthquake rates around 20 per day. A notable seismic swarm occurred from late January to mid-April 2021 and was accompanied by changes in ground surface tilt recorded by a summit tiltmeter. This was an unprecedented observation that indicated magma was approaching the surface. Another short swarm and tilt event was observed in early August 2022.
There were less than 20 earthquakes per day (blue bars) from early August to mid-September. The rate has increased to around 40 to 50 earthquakes per day for the past two weeks, with peaks of over 100 earthquakes per day on September 23 and 29. (USGS).
The current and ongoing swarm began on September 22, 2022, and marked the beginning of a persistent increase in the earthquake rate at Mauna Loa's summit. It went from around 20 a day to 40-50 a day, with two days reaching 100 a day. The shallow opening (less than about 2 miles or 3 kilometers deep) of the magma lanes has also been detected as an inflationary tilt event.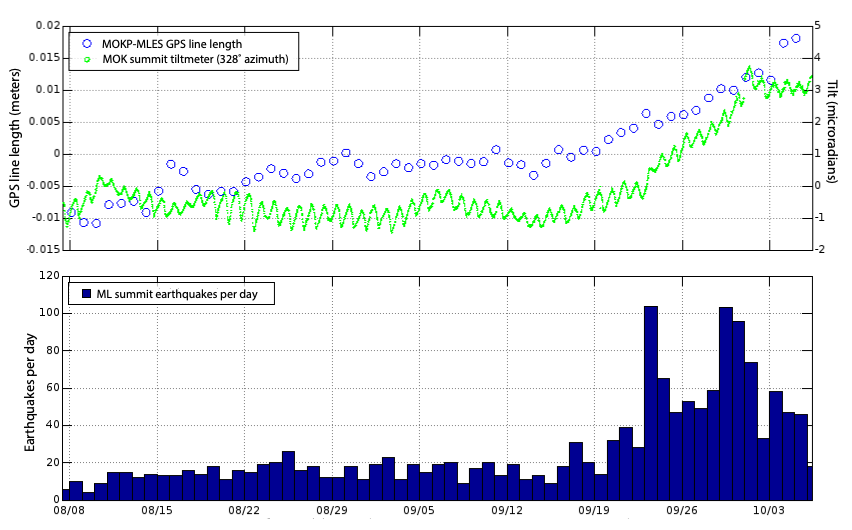 Mauna Loa monitoring data from the Hawaiian Volcanoes Observatory showing increased ground deformation rates (top) and earthquake rates (bottom) from August 8 to October 5, 2022. The distance (length of the line) between the MOKP and MLES GPS stations (blue circles) elongated by about 2 cm (less than 1 inch), indicating that Mauna Loa is expanding as more magma accumulates below the surface. MOKP is located just northwest of Mokuʻāweoweo (the summit caldera of Mauna Loa) and MLES is located on the upper southeast flank of Mauna Loa. Tiltmeter measurements (green line) also show increased ground motion - USGS
Last week, about 430 small-magnitude earthquakes were recorded below the summit and upper flanks of Mauna Loa, the majority of them occurring at depths less than 15 kilometers below sea level. Global Positioning System (GPS) measurements show continued ground deformation consistent with swelling of a magma chamber beneath the summit. Gas concentrations and fumarole temperatures at the summit and at Sulfur Cone on the southwest rift zone have remained stable over the past week. The webcams show no change in the landscape.
Mauna Loa is not erupting today, and remains at the ADVISORY Volcanic Alert Level. This alert level does not mean that an eruption is imminent or that progress to an eruption from the current level of unrest is certain.
The alert level for Mauna Loa remains at advisory / yellow.
Beginning October 6, HVO will change UPDATES for Mauna Loa from WEEKLY to DAILY, reflecting the increased level of unrest.
HVO continues to monitor conditions carefully and will post appropriate updates if conditions change.
Source: USGS – Volcano watch- Recent events at Mauna Loa remind us to prepare for rapid change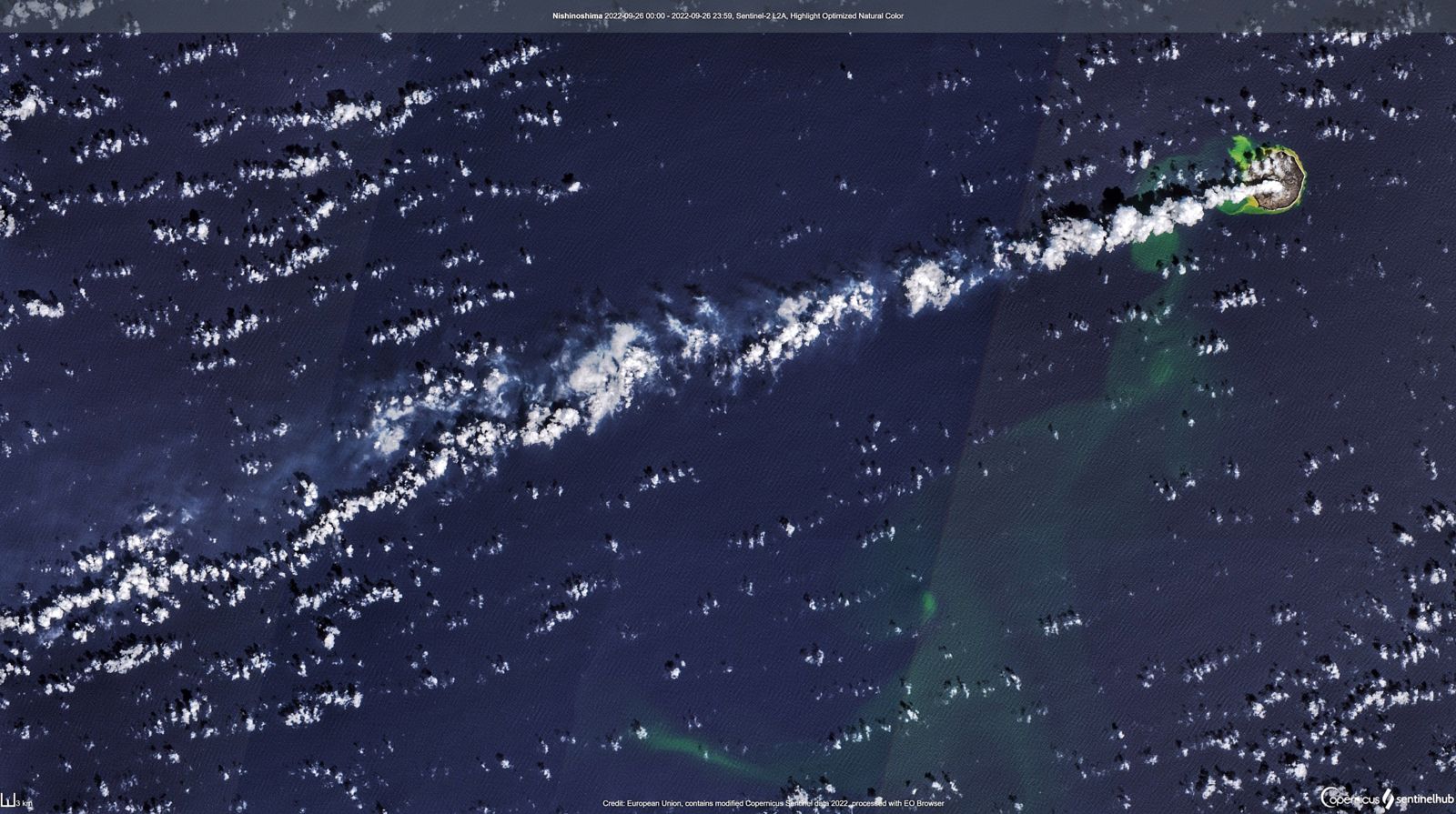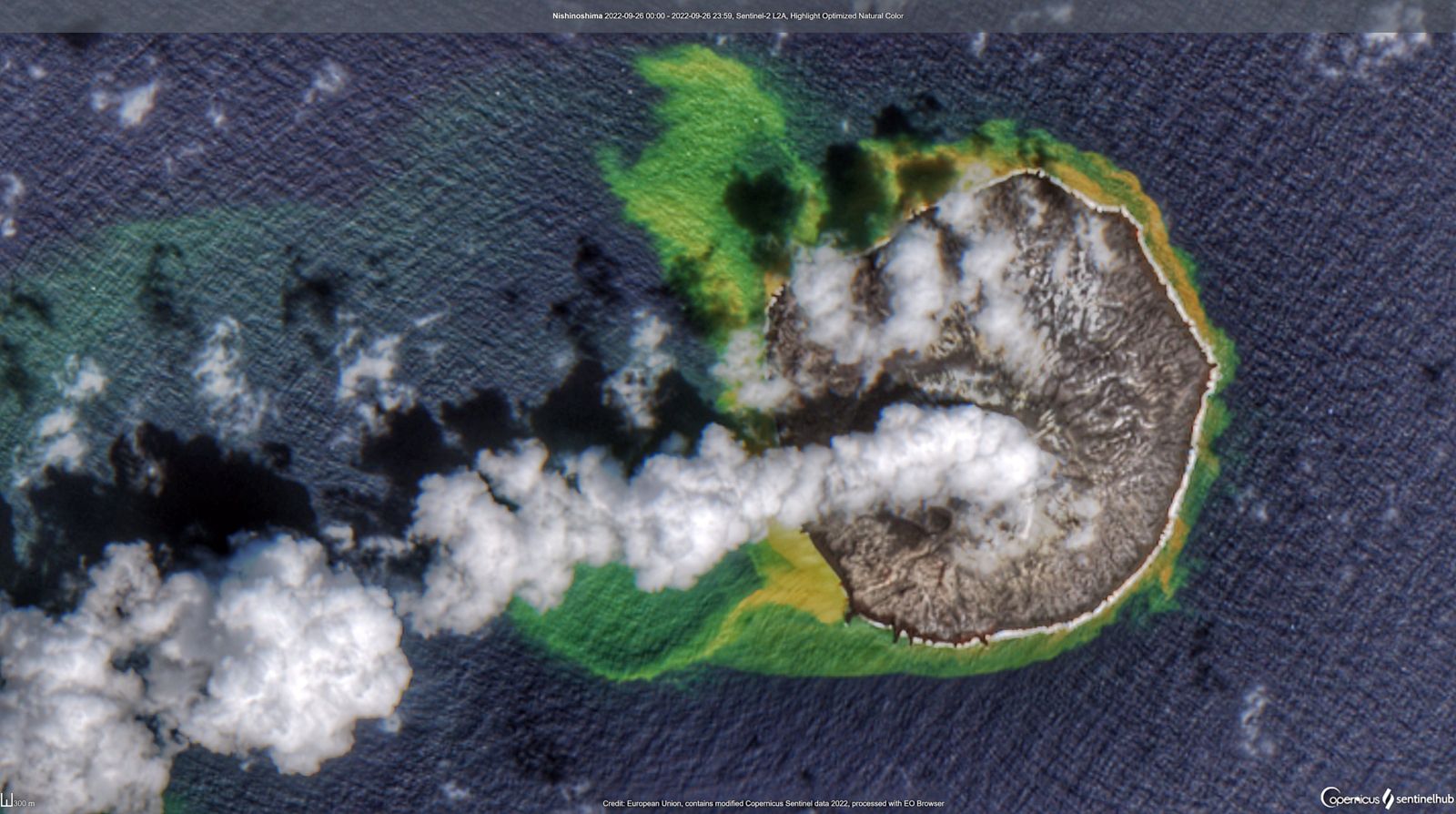 Nishinoshima - plume and discolored water area on 09.28.2022 / 11:50 p.m. - image Sentinel-2 L2A nat. colors - one click to enlarge
The Nishinoshima volcano in the Ogasawara Islands is the site of an ongoing eruptive phase.
Images taken by the Sentinel2 and Landsat-8.9 satellites show activity since September 23.
According to JMA and Tokyo's VAAC, an eruption at Nishinoshima produced ash plumes that reached 1.8 to 2.6 km (6,000 to 8,500 feet) above sea level and drifted toward east and west from October 1 to 4.
Multi-satellite views of the eruption show a main plume, extending 400 km, with thick haze extending further.
Sources: JMA, VAAC Tokyo, Sentinel-2