Publié le par Bernard Duyck
During the last 24 hours, thanks to the monitoring systems of the Popocatépetl volcano, 62 exhalations have been detected, accompanied by water vapor, volcanic gases and slight amounts of ash. In addition, 251 minutes of tremor, 139 minutes of low amplitude and high frequency and 112 minutes of harmonic type were recorded. Two volcano-tectonic earthquakes were also recorded yesterday at 8:59 p.m. and today at 4:56 a.m. local time, with respective magnitudes of 1.5 and 2.1.
CENAPRED urges not to approach the volcano and especially the crater, because of the danger of falling ballistic fragments and, in the event of heavy rains, to stay away from the bottom of the ravines because of the danger of lava flows. mud and debris.
The alert level remains at Amarillo Fase 2
Sources : Cenapred & webcamsdeMexico
This week from October 14 to 20, 2022, five lava avalanches were observed towards the southwest at Merapi, dominant at S. Bebeng with a maximum slip distance of 1,800 m. The sound of the avalanches was heard from Babadan post 10 times with moderate intensity.
No significant morphological changes were observed from the southwest dome and the central dome. The volume of the dome is fixed, namely for the southwest lava dome of 1,626,000 m³ and the central dome of 2,772,000 m³.
During this week, the Mount Merapi earthquake was recorded 286 times deep volcanic earthquakes (VTA), 102 times multi-phase earthquakes (MP), 2 low frequency earthquakes (LF ), 411 abortion earthquakes (RF), 41 blowing earthquakes (DG), and 8 tectonic earthquakes (TT).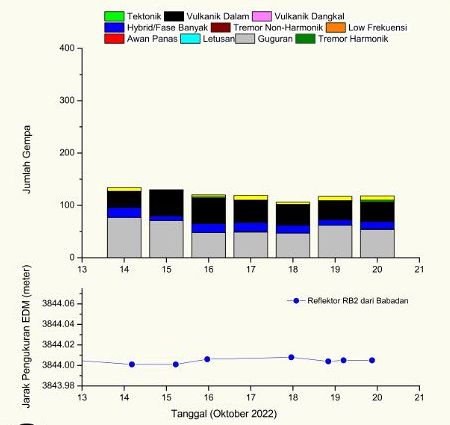 Activity status is set at siaga level /3
The current potential danger is in the form of lava avalanches and hot clouds in the south-southwest sector covering the Boyong River for a maximum of 5 km, Bedog River, Krasak, Bebeng for a maximum of 7 km . The southeastern sector covers the Woro River for a maximum of 3 km and the Gendol River for 5 km. Meanwhile, the ejection of volcanic material in the event of an explosive eruption can reach a radius of 3 km from the summit.
Source: BPPTKG
As announced yesterday, a total of nineteen (19) very weak phreatomagmatic bursts were detected by remote camera monitoring of Taal Main Crater between 8:50 a.m. and 1:30 p.m. today, October 21, 2022, all emanating from a vent on its northeast side.
The daily report from 21 to 22.10 / 05:00 mentions 29 for the day, as well as 2 volcanic earthquakes.
Some of these events produced steam-rich plumes 200 meters high, including a few emanating from very short black ash plumes that immediately collapsed into Main Crater Lake (MCL).
A voluminous plume 3,000 meters high is drifting WNW.
DOST-PHIVOLCS reminds the public that Alert Level 1 prevails over Taal Volcano, which means it is still in an abnormal state and should not be interpreted as having ceased unrest or ceased the threat of eruptive activity. .
Source: Dost-Phivolcs
The photo shows the Cotopaxi volcano cleared on the morning of October 21, 2022.
A westerly emission of gas is clearly observed, this type of emission dominated by water vapour; it is commonly observed since Cotopaxi ceased its eruptive activity at the end of 2015.
Seismicity, deformation and SO2 emission from the Cotopaxi volcano are at normal levels.
The gas column has a significant water content, due to the heavy rains that were recorded in the region during the week.
Photo: IG-EPN.