Publié le par Bernard Duyck
Chikurachki is an active volcano located in the Kuril Archipelago
It is currently in the eruptive phase and is emitting large amounts of ash.
On October 15, Sentinel-3 detected a massive ash plume about 300 km long drifting in the Pacific.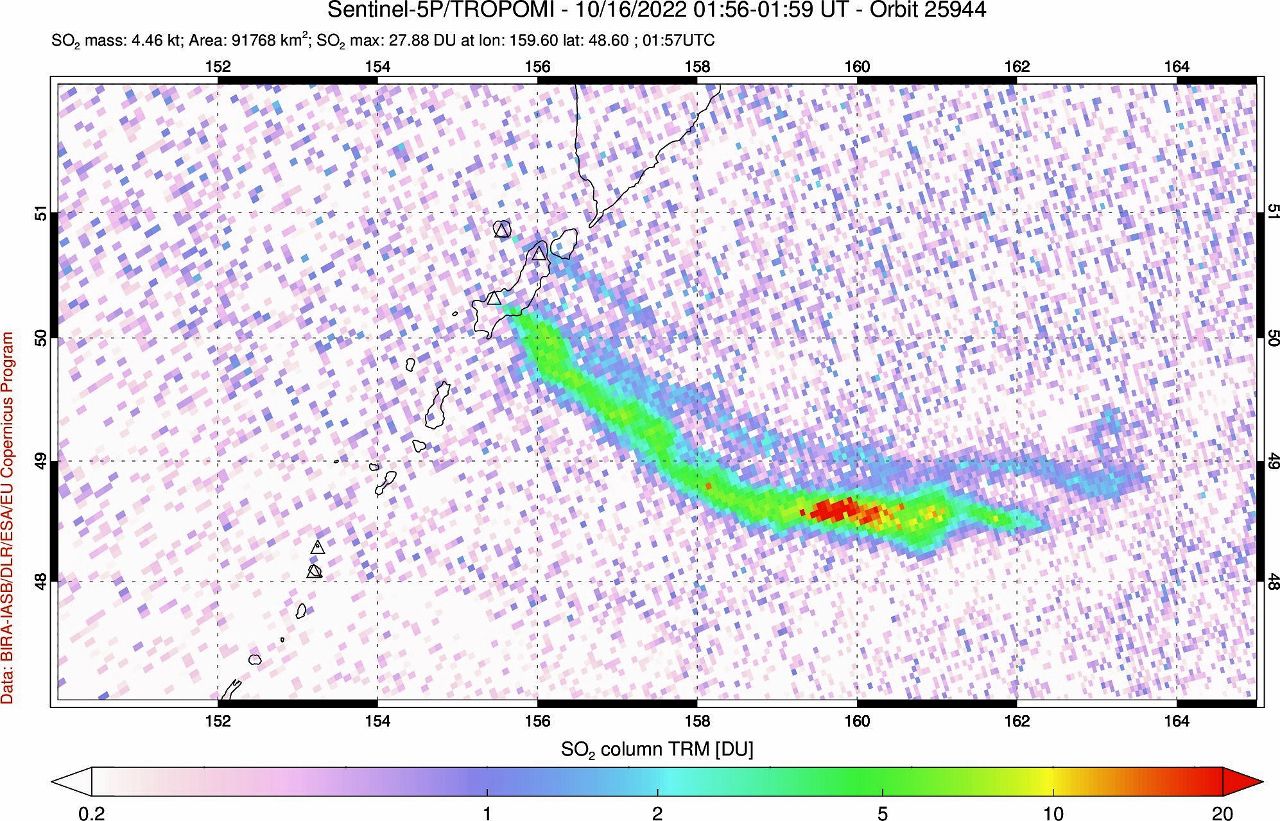 Chikurachki - Sentinel-5P Tropomi image from 16.10.2022 / 01:56 - 01:59 - SO2 emissions from Chikurachki (main) and further north, from Alaid - Doc. DLR BIRA ESA via S. Carn - one click to enlarge
Sentinel-5 P Tropomi SO2 data from October 16 (UTC) shows ~5 kilotonnes (kt) of SO2 in the Chikurachki plume, assuming a plume altitude of 5 km. Some SO2 emissions from Alaid have also been detected further north.
A gas-steam activity of the Chikurachki volcano continues. Satellite data from KVERT shows the last ash plume at 1:30 p.m. UTC and a thermal anomaly at 4:32 p.m. UTC on October 16. KVERT continues to monitor the Chikurachki volcano.
The aviation color code was lowered on October 18 to Yellow.
Sources: Copernicus Eu and Prof. Simon Carn / Tropomi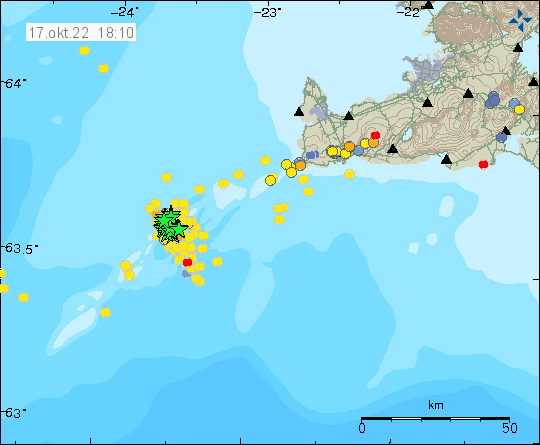 Reykjanes ridge - seismic swarm, location and magnitude of earthquakes as of 17.10.2022 / 6:10 p.m. - Doc. IMO
A new seismic swarm has been detected on the Reykjanes Ridge, submerged and connected to terrestrial eruptions on the Reykjanes Peninsula.
Earthquakes off the Reykjanes peninsula are frequent, but in the absence of deformation measurements at sea, knowledge of the activity remains poor. An eruption took place at Eldey in 1926, so nothing is ruled out
Source: IMO, Kristín Jónsdóttir & Dave McGarvie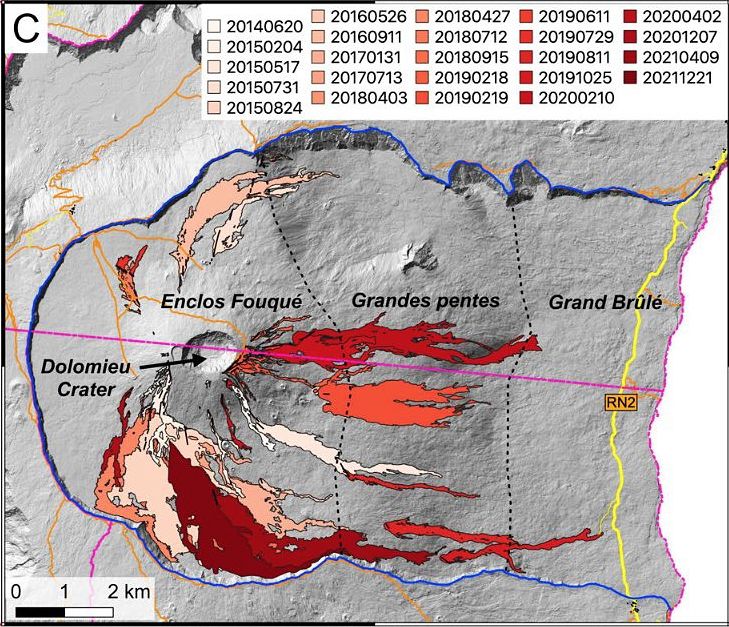 Piton de La Fournaise - Zoom of the Enclos showing the fissures (black lines) and the associated lava flows (color code) since 2014 and until the beginning of 2022 (the legend indicates the start date of the eruption: YYYYMMDD ). The dotted black lines divide the Enclos into three main areas: Enclos Fouqué Caldera, Grandes Pentes and Grand Brûlé. The black arrow shows the summit of the Dolomieu crater. - references in Source - one click to enlarge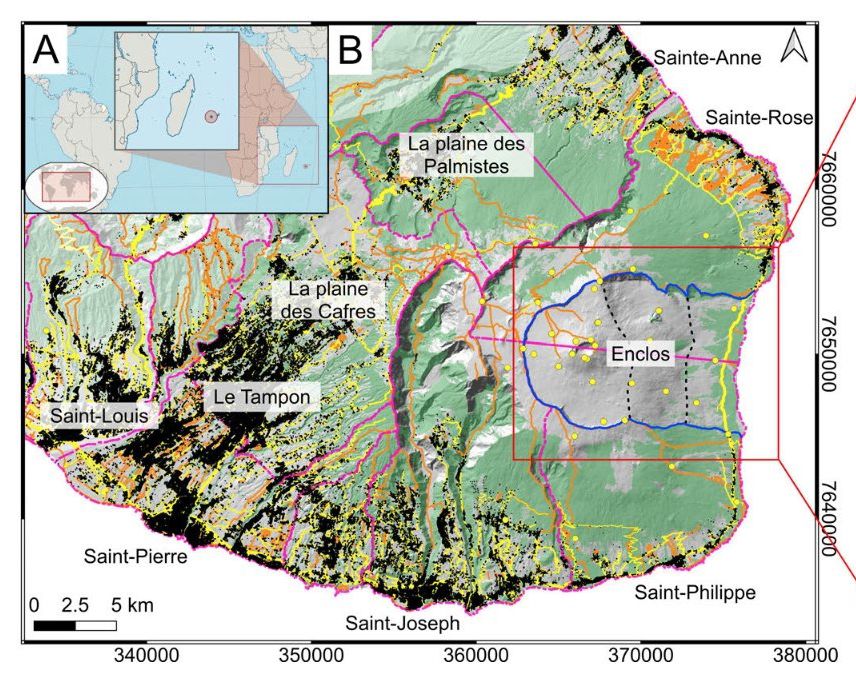 Location of Réunion Island (credits WikimediaCommons, the free multimedia repository) and Map of Piton de la Fournaise showing the outline of communes (pink dotted lines) and communes (buildings are in black), roads (yellow lines ), the trails (orange lines), the vegetated areas (in green) and the limits of the Enclos caldera (blue line). The background is a shaded DEM published in 2010 (coordinates are given in meters in the WGS84-UTM 40S system) by the National Institute of Geographic and Forest Information (IGN). The buildings, roads and trails are taken from the TOPO®IGN 2019 BD. The yellow dots are the monitoring stations of the volcano observatory. - references in Source - one click to enlarge
Since 1979, the Piton de la Fournaise (Reunion) has erupted on average twice a year, 95% of these eruptions occurring within an uninhabited caldera. However, lava flows have occasionally affected populated areas of the island, such as in 1977 and 1986.
Since 2014, an integrated multinational response based on satellite data to effusive crises has been developed to quickly assess lava flood zone and flow distance.
In 2018, this protocol was implemented as standalone software to provide a lava flow hazard map showing the probability of flow and flow coverage as a function of discharge rate. Since 2019, the short-term hazard map produced is shared with local civil protection in the first hours after the start of an eruption to help with mitigation actions. Multiple exchanges between scientists, the observatory and civil protection have made it possible to improve the hazard map delivered, to ensure a common understanding, a useful and usable product, and to help build effective mitigation strategies. at Piton de la Fournaise. In this work, we illustrate this effective near real-time protocol with case studies and document how the produced short-term risk map was adapted to meet the needs of civil protection.
Source and full text: Chevrel, M. O., Harris, A., Peltier, A., Villeneuve, N., Coppola, D., Gouhier, M. and Drenne, S. (2022) "Volcanic crisis management supported by near real- time lava flow hazard assessment at Piton de la Fournaise, La Réunion", Volcanica, 5(2), pp. 313–334. doi: 10.30909/vol.05.02.313334. - link
The Timanfaya lava fields in Lanzarote are "shrinking" an average of 0.6 centimeters per year as they continue to cool, even though three centuries have passed since the eruption that formed them (1730-1736)
All these phenomena occur in the so-called Islote de Hilario, the point of the park with the greatest thermal anomalies detected, where temperatures of 380°C have been measured just six meters below ground and almost double that, 605° C, about thirteen meters .
Seven researchers from the University of Leeds (UK), the Institute of Natural Products and Agrobiology of Tenerife (IPNA-CSIC) and the Research Center for Geography and Crust Dynamics of Japan, led by Victoria Purcell and Eoin Reddin, publish this month in the journal "Geochemistry, Geophysics, Geosystems" a work that shows what is happening in a larger area of ​​​​the park, about 20 square kilometers.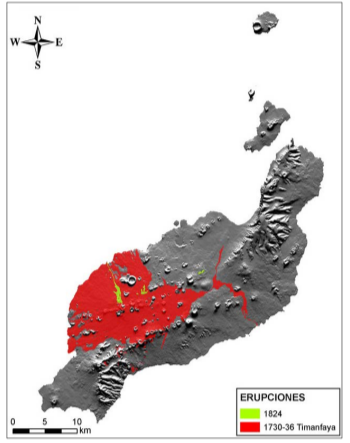 The Timanfaya eruption is one of the most spectacular known to man in history: it lasted almost six years (2,055 days), from September 1, 1730 to April 16, 1736, covering 200 square kilometers of lava (a quarter of Lanzarote) and emitted between two and five cubic kilometers of material through a crack about 15 kilometers long, leaving behind a landscape dotted with 30 volcanoes.
This team reviewed three decades of satellite measurements of the relative altitude above the Timanfaya lava sea, which reveal that they are contracting due to cooling at a rate of six millimeters per year, which has implications important.
The first, and most obvious, is that after three centuries the lava has not yet completely cooled, at least below the surface, with implications for the study of other eruptions; and the second, and more relevant, suggests that the maximum thickness of the lava layer of Timanfaya is not 60 meters maximum, as had been estimated to date, but between the double and the triple (from 100 to 150 meters)... the eruptions have therefore emitted more volcanic material than calculated so far. .

Source: Diario of Lanzarote