Publié le par Bernard Duyck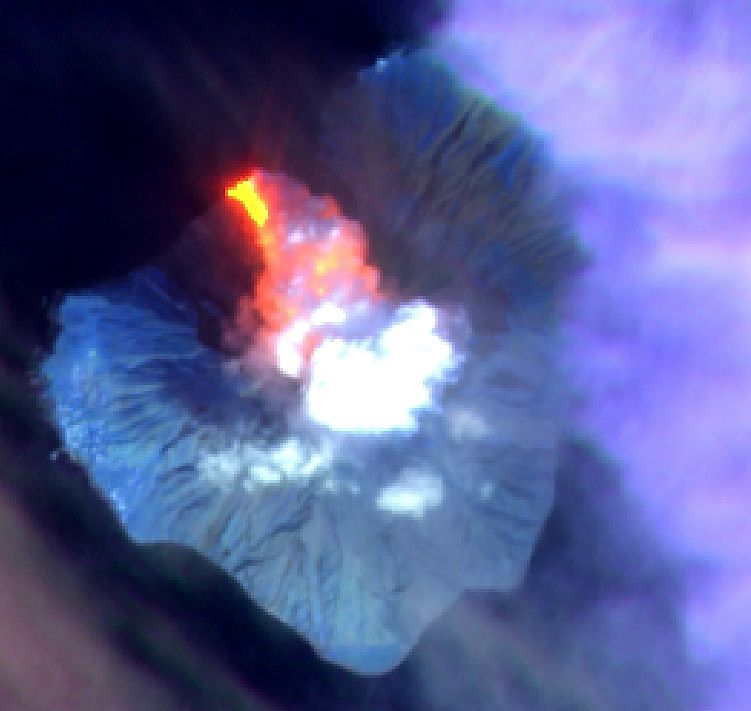 Stromboli - Sentinel-2 bands 12,11,8A image dated 09.10.2022 via Mounts Project - one click to enlarge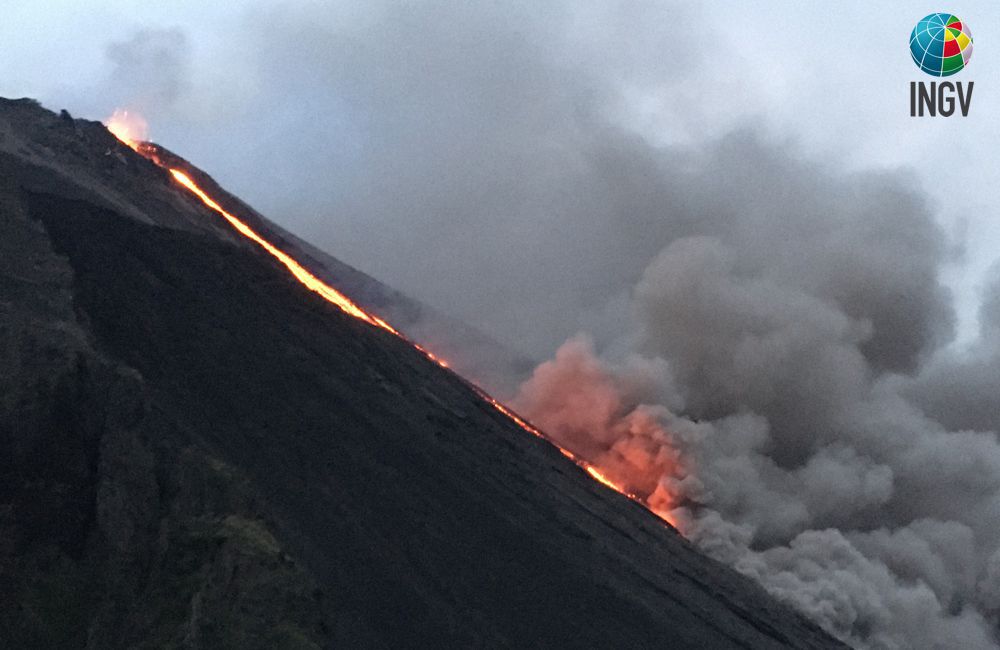 Stromboli - activity as of 09.10.2022 - photo Alessandro La Spina, INGV-Osservatorio Etneo - one click to enlarge
INGV OE reports this October 10 at 09:19 UTC that modest collapses were observed overnight at Stromboli, likely due to erosion of overlapping lava flow channels.
Field observations by INGV staff show that the collapses and lava flows continue, poorly fed, no longer reaching the sea and settling in the middle of the coast at an altitude of about 400 m. . Even from the partial and discontinuous images of the surveillance cameras, mainly due to unfavorable weather conditions, it can be observed that the flow supply has decreased.
From the seismic point of view, during the last 24 hours, the average amplitude of the volcanic tremor showed various fluctuations, oscillating mainly in the medium-low and medium-high levels, and reached the level of the high values ​​​​between 10 and 11 UTC and around 4:30 p.m. UTC yesterday. Currently, the magnitude of the tremor is in the medium-low level.
The recorded seismograms show the presence of point signals possibly associated with the rolling of materials.
Data from deformation monitoring networks on the island show no significant changes since the last publication.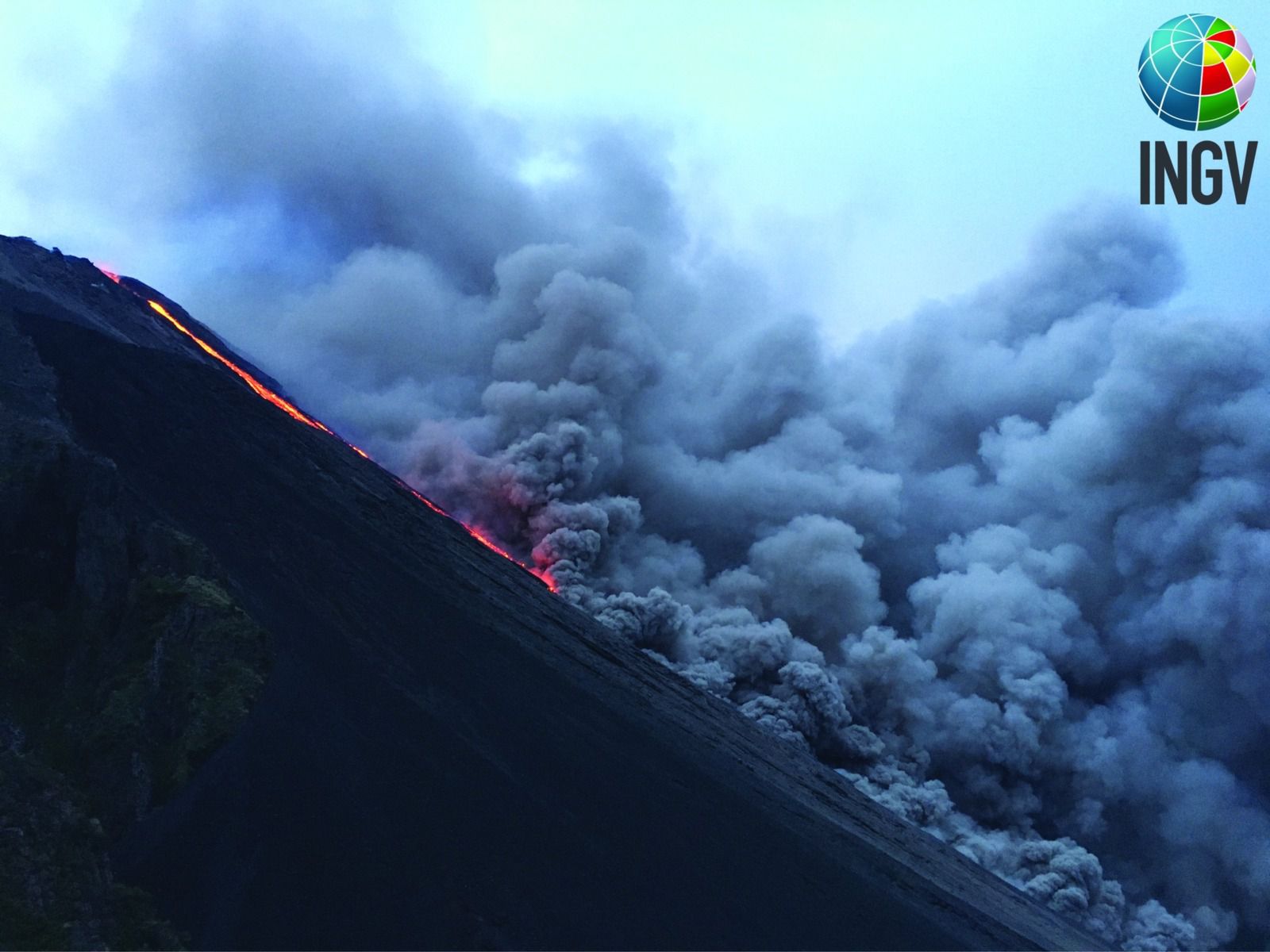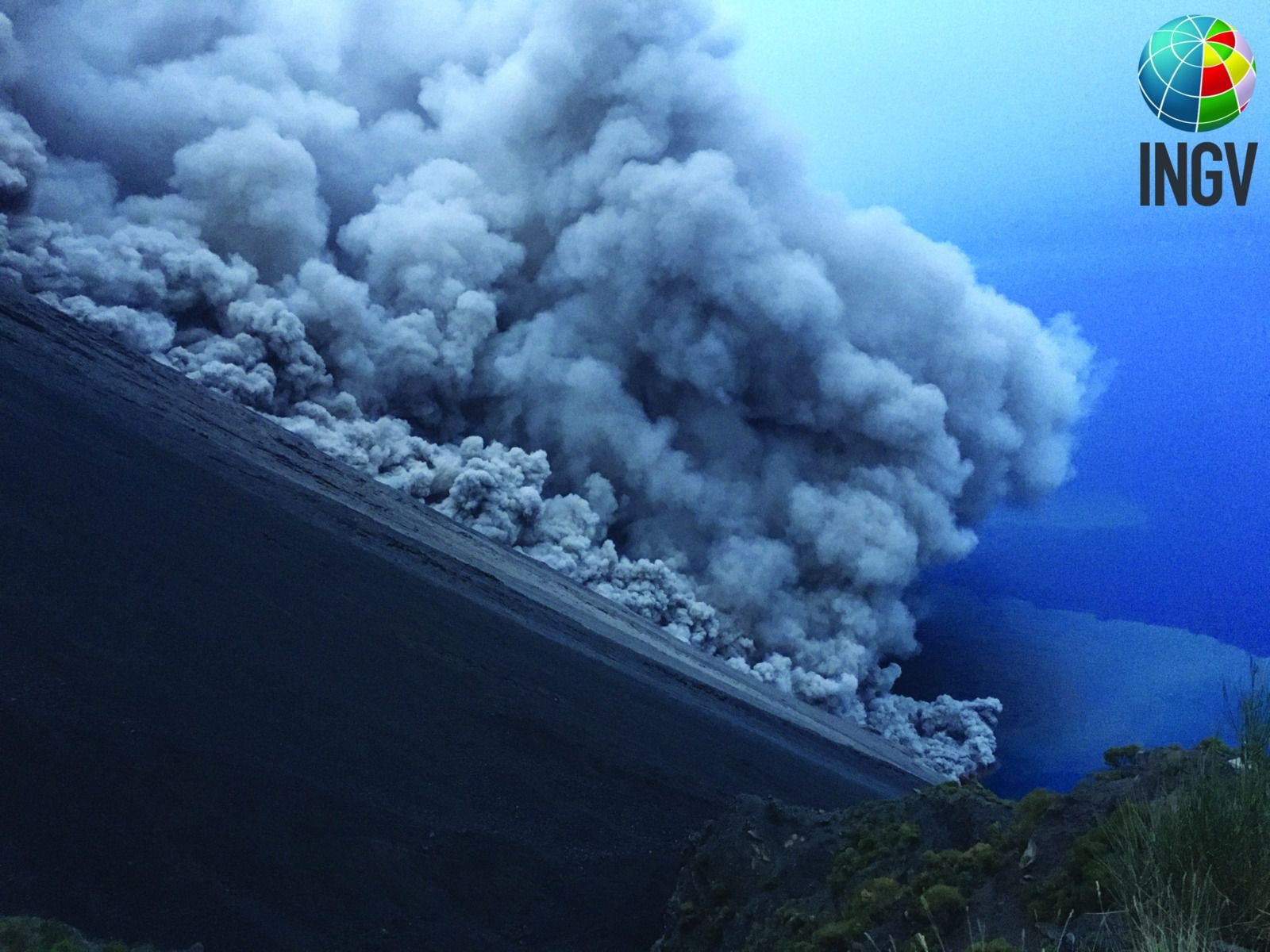 Stromboli - lava flow and pyroclastic collapse flow on 10.10.2022 / 07:14 UTC - photo credit ricercatori INGV C.D'Oriano, A. Spina - one click to enlarge
The Civil Protection Department has ordered the change of the alert for the Stromboli volcano from the yellow level to the orange level. This decision was adopted in the light of the assessments that emerged during today's meeting with the Competence Centers and the Department of Civil Protection of the Sicilian region, a meeting convened in the light of the current activities of the volcano, that is to say the beginning of an eruptive phase with a pyroclastic flow from the area of ​​​​the North crater which quickly traveled through the Sciara del Fuoco to reach the sea,
The passage of the alert level is based on the phenomenological reports and on the hazard assessments made available by the Competence Centers which for Stromboli are the National Institute of Geophysics and Volcanology (Etneo Observatory, Vesuvius Observatory and Section of Palermo), the CNR -IREA and the universities of Florence, Palermo, Pisa and TurinThe mayor of the municipality of Lipari, who took part in the meeting, will be constantly informed of developments in the situation in order to ensure information constant and correct to the population.
Whatever the local volcanic phenomenologies, which may have frequent variations, a situation of accentuated volcanic imbalance persists. Therefore, the population of the island is invited to keep themselves informed and to strictly follow the instructions provided by the local civil protection authorities.
Sources: INGV OE & Civil Protection