Publié le par Bernard Duyck
In the heart of Cantal, the Cère valley has been deepened into umbilicus, separated by locks of hard breaches. These locks have been cut by the rivers in gorges, sometimes in waterfalls.
The Faillitoux waterfall, in the Thiézac region (Aurillac), crosses a flow of ankaramite (*) prism vertically. The prisms, 0.5 m in section at the base, rise to the full height of the cliff.
This flow was dated at - 9.5 +/- 0.5 Ma (K/Ar).
The waterfall is fed by the Lasmolineries stream which rises on the southern slope of the Élancèze and flows into the Cère.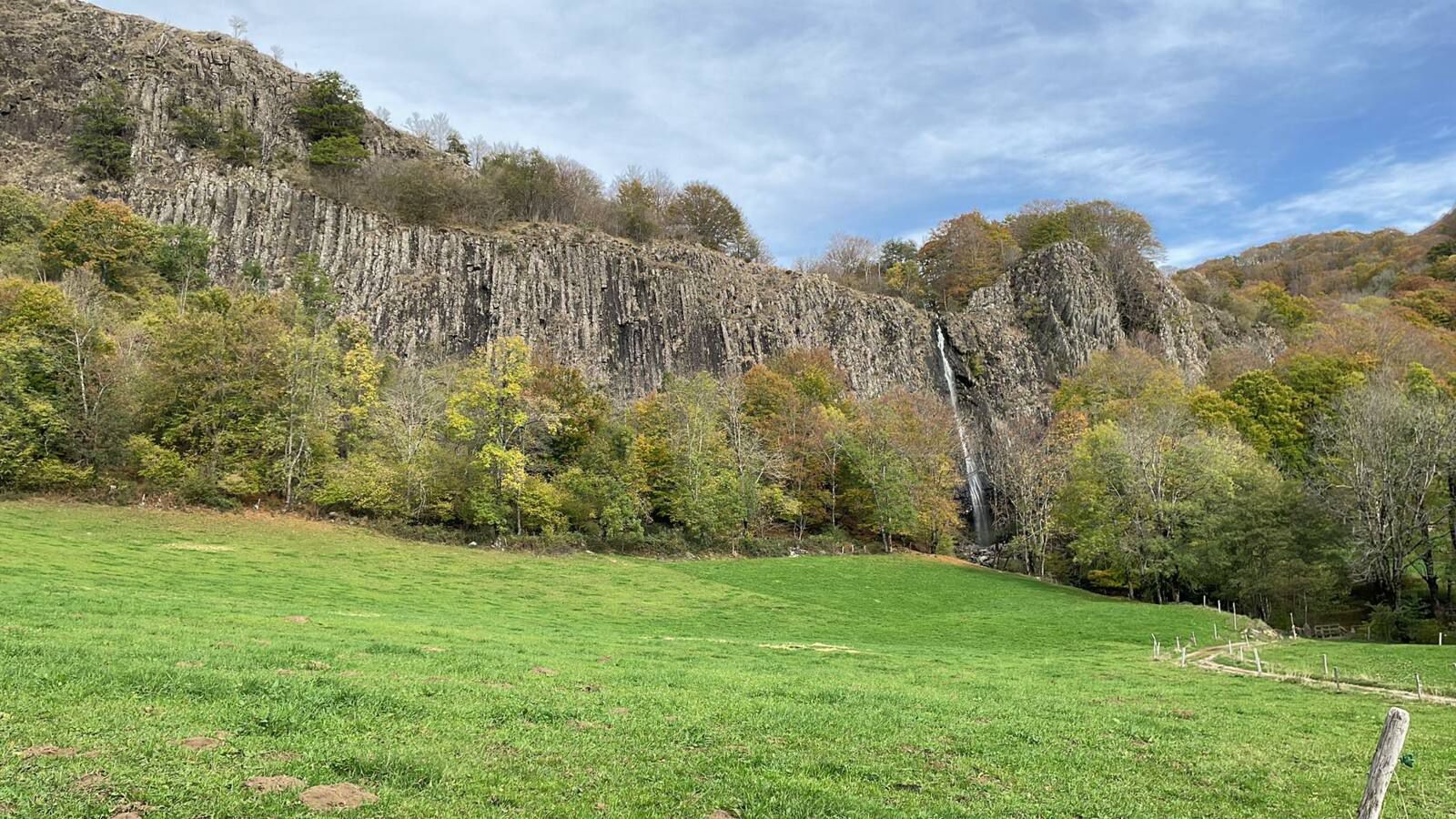 Thiézac - the Faillitoux waterfall and the prism ankaramite flow - photo © J-M M. - one click to enlarge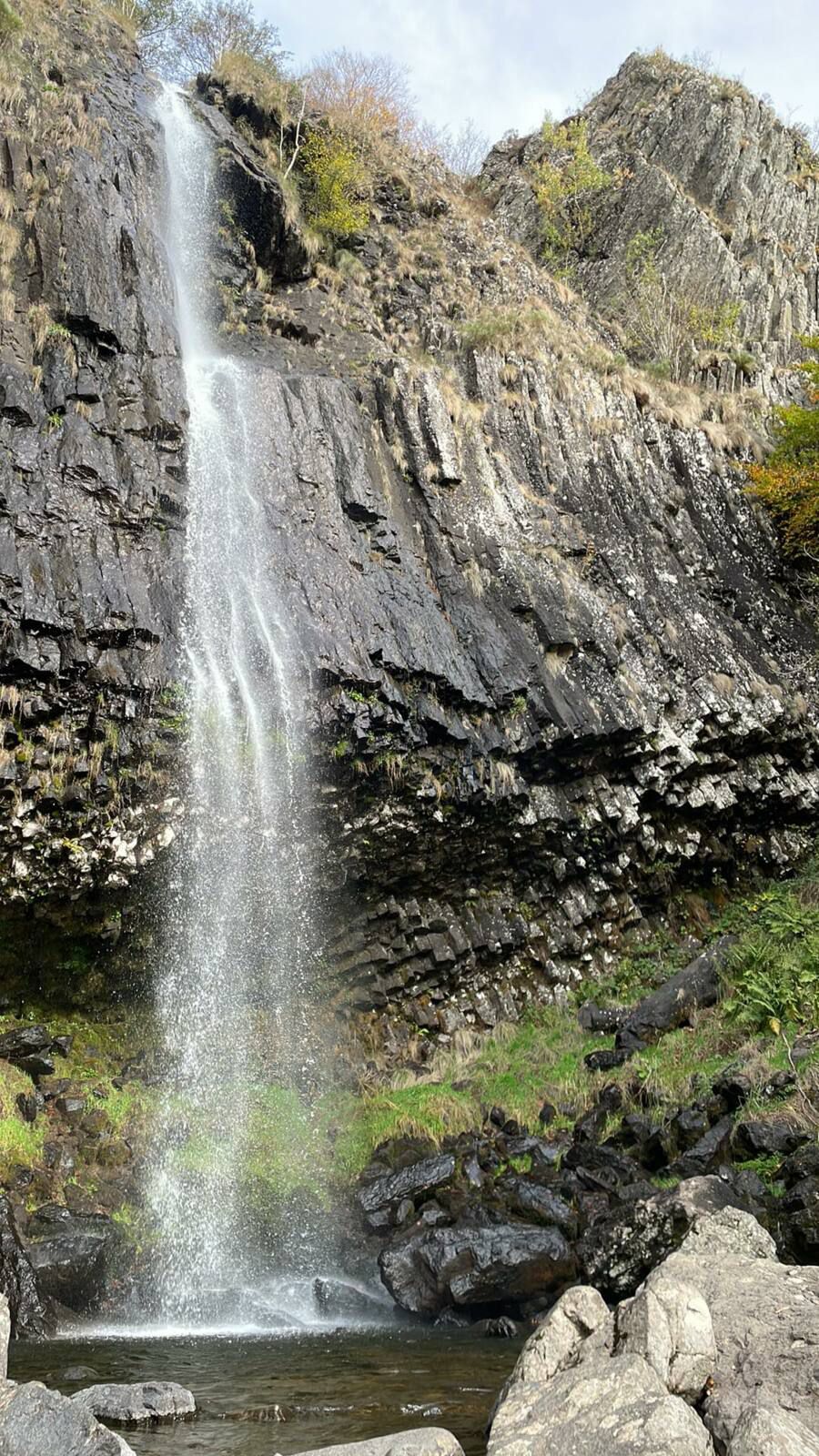 Thiézac - the Faillitoux waterfall which drops 41 m. on the prism columns of ankaramite - photo © J-M M.
(*) Ankaramite is a volcanic rock close to basalts and basanites. It is a dark rock (melanocratic), with a porphyritic microlithic structure. The phenocrysts include black automorphic olivines and clinopyroxenes (= augite) which can reach 2 cm in size. The matrix contains microlites of the same nature to which are added plagioclases associated with traces of titanomagnetite and biotite.
It belongs to a flow interbedded in trachyandesitic breccias and topped by trachyandesites and supracantal basalts.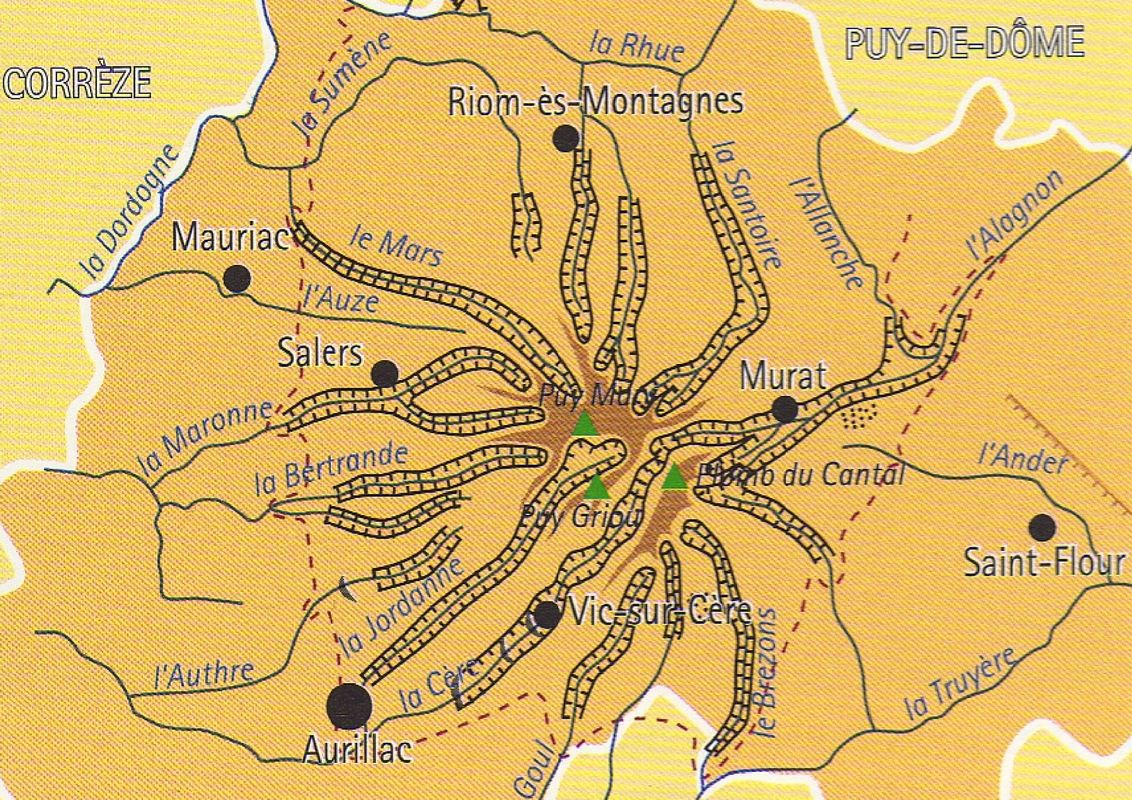 The extension of the glaciers in Cantal - in orange dotted line, the extension limit of the Cantal glaciation during the Würm glacial maximum (-20,000 years). - Doc. The volcanism of Cantal / AVG
Le Chaos de Casteltinet, on the left bank of the Cère:
The landslides of large volumes of breccias that occurred during the disappearance of a glacier 12,000 years ago, as a result of decompression phenomena on the edges of the glacial valley and water infiltration from the liberated plateaus first, forming listric faults (**) which destabilized the cliff.
The upper part of the cliff which overlooks this chaos is made up of prismatic columns corresponding to an old trachyandesitic flow which overcomes mud and debris flows (piling of lahars with carbonized wood) interstratified with lava flows, themselves overcoming sandstone formations.
The breach, thus detached, takes on the phantasmagorical shapes of needles, of pyramids. The "lion's door" is an arch made of these debris and which evokes this animal.
(**) : A listric fault is a normal fault of great spatial extension which is concave at depth, involving a deep shear level.
A quick look at the passage to Puy Griou.
It is a phonolite dome located in the center of the remains of the Cantal stratovolcano. It would have been in place 6 Ma ago, after the paroxysmal eruptive phases of Cantal (between 8.5 and 6.5 Ma).
The dome was remodeled under the action of freezing and thawing which cut it into slates piled up in a scree sleeve.