Seven years ago, began a sudden and powerful eruption, described VEI 4 on Okmok volcano's caldera in the center of the Aleutian arc.

On 12 July 2008, the eruptive activity began just a few hours after a subtle increase in seismicity, followed by a short sequence of seismic swarm, noticed retrospectively.

The first explosions took away a part of the cone D, in the central-eastern sector of the caldera wide of 10 km. The most energetic phase takes place during the first ten hours of the event. Data from the GOES satellite and comparison with Puff ash dispersion model indicates a height of the initial eruption column 16 km.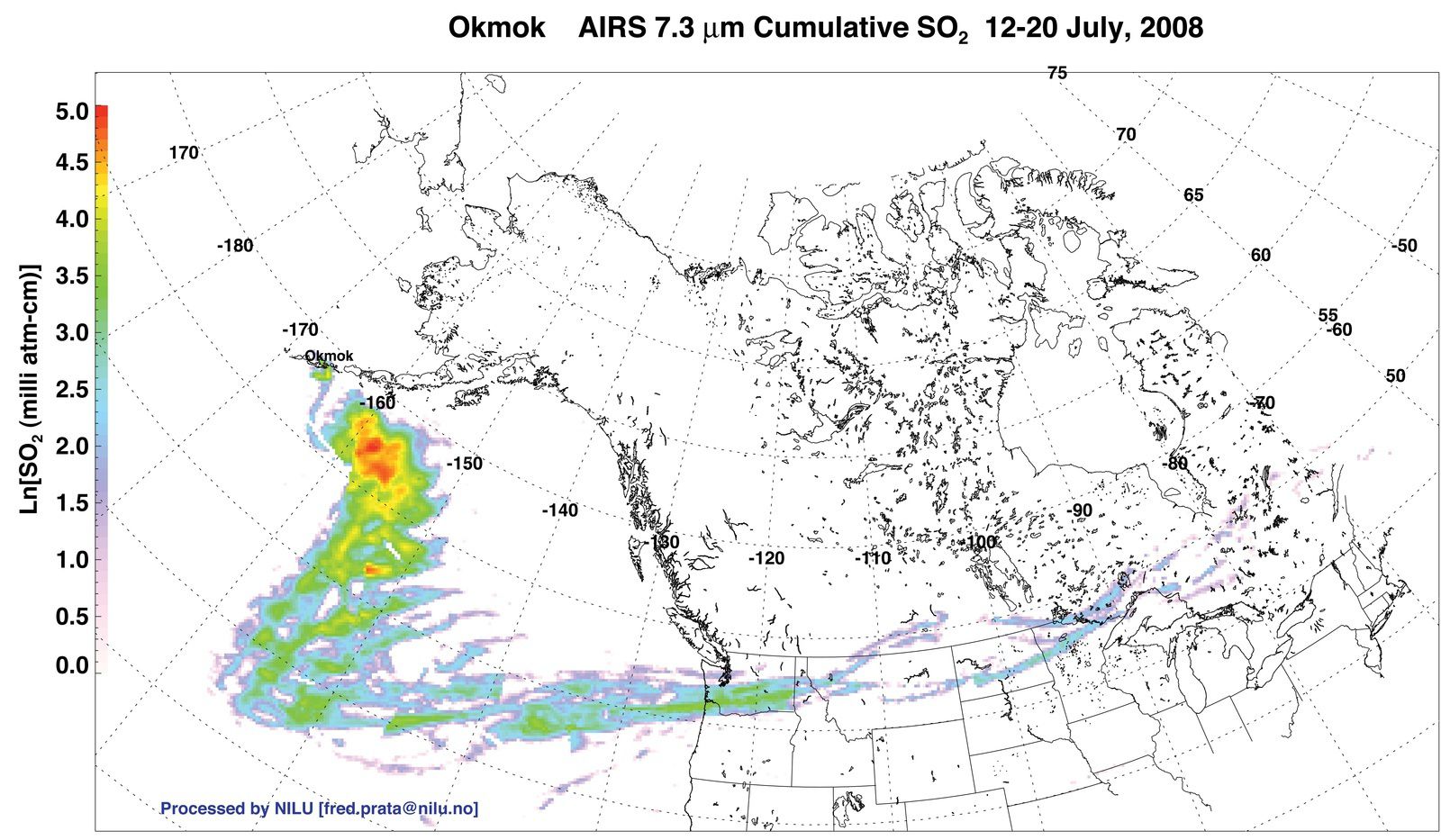 Okmok - cumulative emissions of sulfur dioxide from 12 to 20.07.2008 - Doc. NILU / Nasa Earth Observatory
Over the next five weeks, hundreds of millions of cubic meters of tephra and lahar deposits will cover much of the northeast of the island Umnak. Within the caldera, almost continuous hydrovolcanic explosions will accumulate several tens of meters of tephra, wet and fine grain. Explosive activity will completely disrupt the water table and standing waters in the caldera; a new tephra cone will be built, reaching finally 200 meters height. This eruption is the first volcanic event of phreatomagmatic dominance marking the US since the eruption of the maar Ukinrek (north of the Aleutian arc) in 1977.

On July 23, many lahars are noticed by a farmer; their formation is not identified with certainty: remobilization of ashes by rain, water vapor condensation syn-eruptive, water loss during wet ash falls, snow melts, or combination of factors?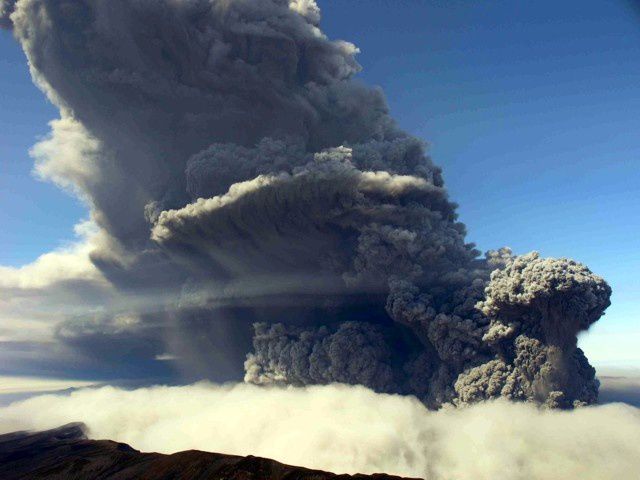 The eruptive plume of Okmok seen on August 3, 2008 from a plane of Alaska Airlines flying at an altitude of 10.7 kilometers - photo Burke Mees
On 2 and 3 August, the eruptive plume increases in height, strength and support of ashes; this coincides with an increase in the amplitude of tremor. This enhancement of activity do raise the alert level for aviation in Red by the AVO. During the first two weeks of August, the intensity of the eruption and the plume height decrease, and ash emissions stopped on August 19. A survey reveals a single vent contained in a tephra cone with steep walls.

Field observations in September, combined with the analysis of photographs will however indicate that the eruption occurred at the start of a series of vents, which opened during the first two weeks, and arranged on a 2 km line in the caldera. A tephra cone has been built above the 2008 longer active vent. The explosion and the collapse of craters, to the west of D cone, formed a depression that is filled with water and formed a lake of 0.6 km².

More details on the website of the AVO.