The deep hydrothermal vents present in the oceans are getting better studied since the late 70s; they reveal not only a complex chemical trade but also a living environment, from bacteria to more advanced marine organisms.

Of these, a little devil, known as the "little devil blob" or, more scientifically, Aciduliprofundum boonei ... a archaeobacterium living in extreme environment formed by the top of hydrothermal vents: in acidic medium, pH between 3.3 and 5.8, at a temperature between 55 and 75 ° C, this single cell organism derives its energy from the reduction of iron and sulfur, and the oxidation of organic carbon.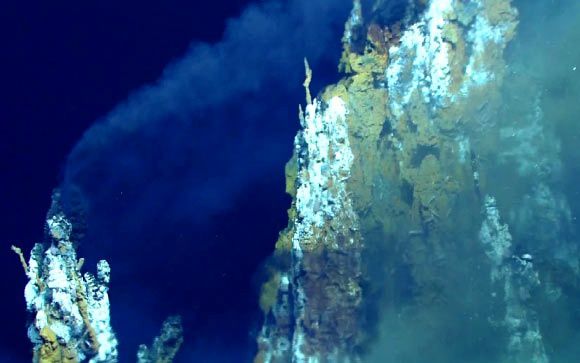 Hydrothermal vent in the Lau Basin / West Pacific - Image credit MARUM - University of Bremen - NOAA Pacific Marine Environmental Laboratory.
But it has another peculiarity: it has an anti-bacterial gene, which could be a source of new antibiotics in the future, and to help the medicine facing increasing resistance and research in this area slipping a bit.

The DNA analysis showed that Aciduliprofundum boonei has a gene that produces lysozyme, able to kill resistant bacteria such as Staphylococcus aureus, Bacillus anthrax or Clostridium difficule.

What justifies the presence of this enzyme ? The living environment of the archaeon : she lives in biofilms in promiscuity with extremophile bacteria, and must compete with them for resources.

Besides an increase in the study of the evolution of living organisms, volcanoes will help humanity to solve a vital health issue ... however, some years may separate the discovery from a practical application.
Source :
Vanderbilt University - Life's extremists may be an untapped source of antibacterial drugs - link