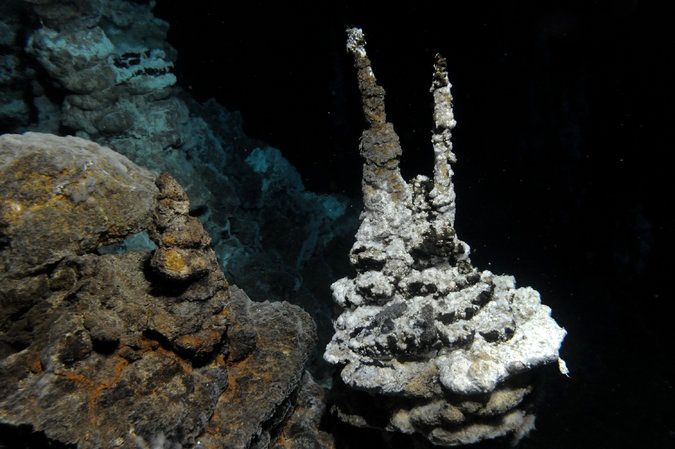 Marine deep environment of Loki's Castle, a geothermal vent on the Mid-Atlantic - Credit RB-Pedersen Centre for Geobiology, University of Bergen
In marine sediments of the Arctic, specifically on geothermal area of ​​Loki's Castle, a new life form was discovered by scientists at Uppsala University in Sweden.

It comes into effect in any classification established to identify life on Earth ... and may well be the missing link of evolution. His name : Lokiarchaeota.

Living beings are classified into two basic categories: prokaryotes, whose cell structure does not contain nuclei appeared there are 4 billion years, and eukaryotes, or animals, plants, fungi and some unicellular, having a cell nucleus. Eukaryotes are further characterized by the presence of mitochondria sort of battery energy.
Left, illustration made by computer of the bacterial cells - Doc. Corbis - right, location of Loki's Castle on the Mid-Atlantic Ridge
The Lokiarchaeota, simplified in "Loki", has no mitochondria but its genetic heritage contains genes linked to the presence of certain proteins found only in eukaryotes.
"The eukaryotes and archaea would share common ancestors," said G. Thijs Ettema, at the origine of discovery. It is possible that the "Loki" uses its skeleton to crawl over surfaces.

The Lochiarchaeota was found on the seabed about 10 km from the hydrothermal vent called Loki's Castle, located on the mid-Atlantic ridge between Greenland and Norway at a depth of 2,352 meters. The "Loki", however, poses a problem: the found microbes die before scientists are able to study them. Their slow growth in difficult environment does not allow them a cell division every ten years ... inconceivable in laboratory studies.

The challenge will now be to find "Loki-like" having a more recent lineage with eukaryotes, and try to rebuild their genomes to find additional pieces to the complex puzzle of the origins of life.

This demonstrates the influence and importance of deep geothermal areas on the origins and evolution of life on Earth.
Sources :
- New York times science - Under the Sea, a Missing Link in the Evolution of Complex Cells - link
- The Independent - Discovery of 'missing link' between the two main life-forms on Earth could explain evolution of animals, say scientists - link