A new volcano has been discovered ... aged of 5 million years , complementing the chain of Hawaiian volcanoes : the Ka'ena .

Until now it was thought the island of Oahu formed by two volcanoes, Wai'anae to the west and Ko'olau to the east. The Ka'ena complements the volcanic history of the island.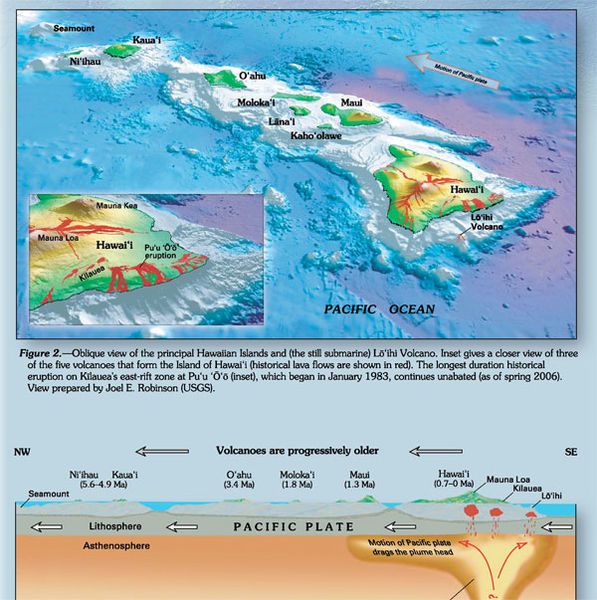 The chain of volcanoes of Hawaii, formed under the action of the hot spot and the movement of the Pacific tectonic plate .
In the study published in the Bulletin of the Geological Society of America , geologists believes that his training started there five million years due to the hot spot , forming a top four thousand meters shield, and with an estimated 20 to 27,000 km ³ volume.
Once emerging from the surface , as evidenced by the presence of lava that formed in mid air on the summit, it was covered by the Wai'anae volcano who grew up on his side and pierced the sea surface , 3,9 Ma ago. The Ko'olau volcano did the same there 3 Ma, before the volcanoes of Oahu stop their activity there 2 Ma. The three volcanoes overlap each other .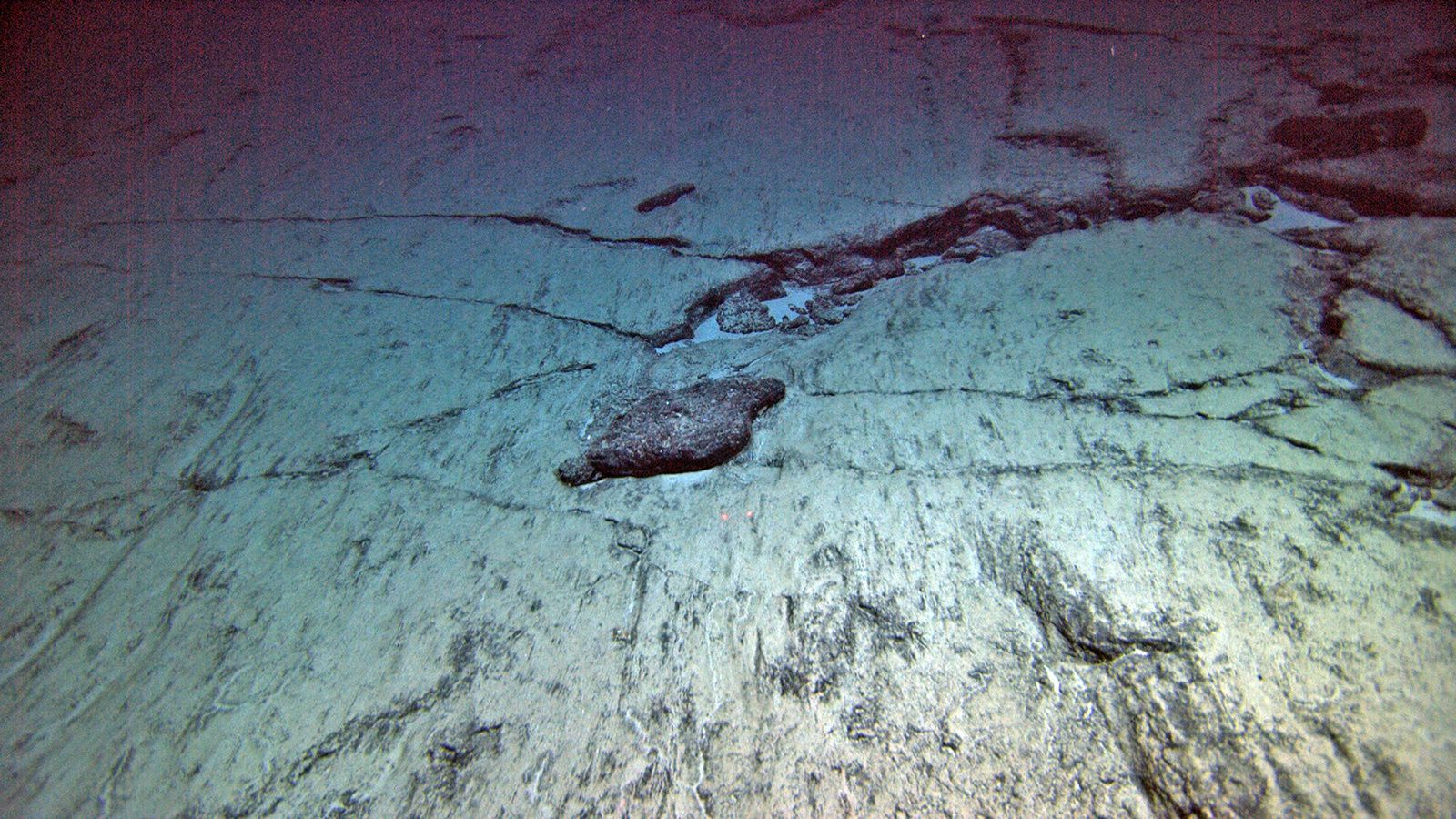 Hyaloclastites laminated on Ka'ena / Hawaii - Oahu - . Photo University of Hawaii at Manoa / via Live Science.
Low gravity anomalies , topographic alignment, orientation of the dyke complex, the geochemistry and age indicate that the new volcano has an independent structure of Wai'anae , and can be considered the precursor volcano of Oahu .

The new volcano also solves a puzzle : the volcanoes of the Hawaiian chain are spaced 32 to 64 km. Between the Wai'anae / Oahu and Kauai volcano , we had a top distance of 145 km. , Exception. The Ka'ena is the missing link , located about 60 km. northwest of Wai'anae .

The phenomenon of subsidence of the volcanoes of Hawaii under their own weight , and the deformation of the underlying crust do sank the Ka'ena volcano below the sea level .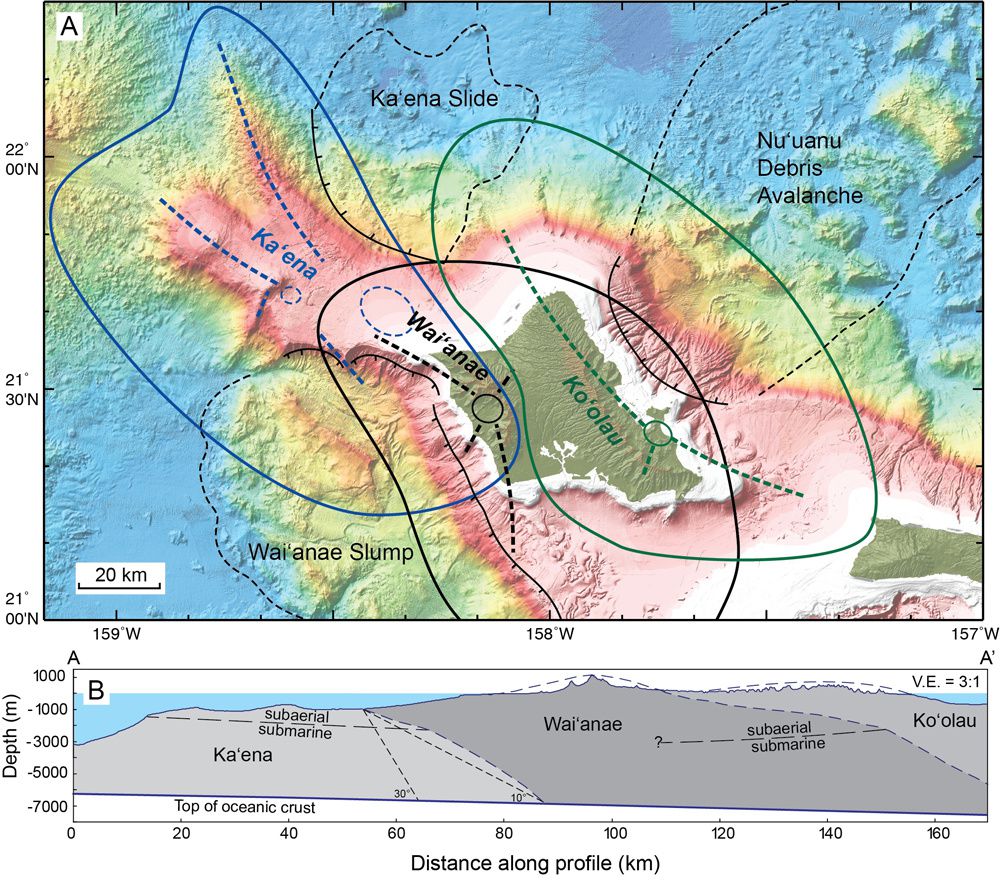 Map of the three volcanoes forming Oahu : from oldest to youngest , the Ka'ena, the Wai'anae and Ko'olau . The dotted bold lines define possible areas of rift volcanoes ; in fine dotted, the deposits of major . The inset shows how volcanoes overlap. - Doc.University of Hawaii at Manoa / via Live Science.
Sources :
- Live Science - Found! New Underwater Volcano Discovered in Hawaii - link
- GSA Bulletin - Ka'ena Volcano—A precursor volcano of the island of O'ahu, Hawai' - John M. Sinton & al Hawai university / Laboratoire des Sciences du climat et de l'environnement – France / Monterey Bay Aquarium research Institute.- link