The fissure eruption in the lava field Holuhraun, north of Vatnajökull, which started around midnight, ceased to 4am on 08/29/2014.

Based on the volcanic tremor, the peak of the eruption happened between 0:40 ET 1:00; it decreased from 2:30 to remain stable thereafter.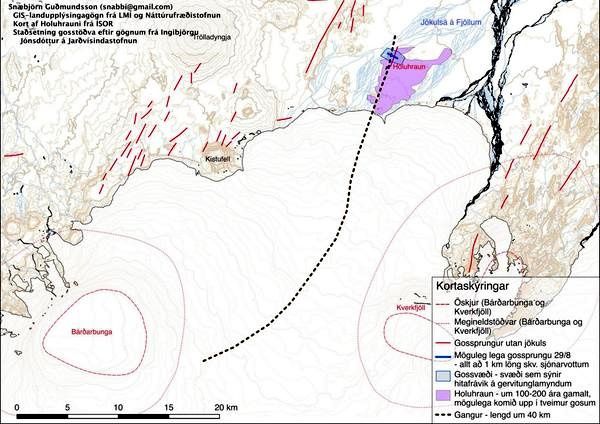 Location of the eruptive fissure in the lava field Holuhraun - Doc. Gudmundsson / University of Iceland / Twitter
Páll Einarsson, professor of geophysics at the University of Iceland, claimed : "It was a small eruption, and a small portion of the magma was moving underground has reached the surface." It describes the events of the night as an aberration in the broader context of the events of the past two weeks. Magnús Tumi Guðmundsson, his colleague, concurs, describing the eruption of "accident."

The Met Office has lowered the alert level to orange and the Ministry of Transport has reduced from 10 to 3 nautical miles the restricted flight zone.
Seismicity has declined in response to the release of pressure ... However, a significant number of earthquakes is detected, since its stop, in the dyke between the site of the eruption and an area further south to 5 km from Dyngjujökull. .. "seismicity seems to turn" ... always powered but presumably blocked in his advance northward, the stress generates earthquakes in the previously area borrowed by the dyke.

The ascending and descending interferograms were used in conjunction with continuous GPS to model magmatic intrusion, before the eruption of 29.08.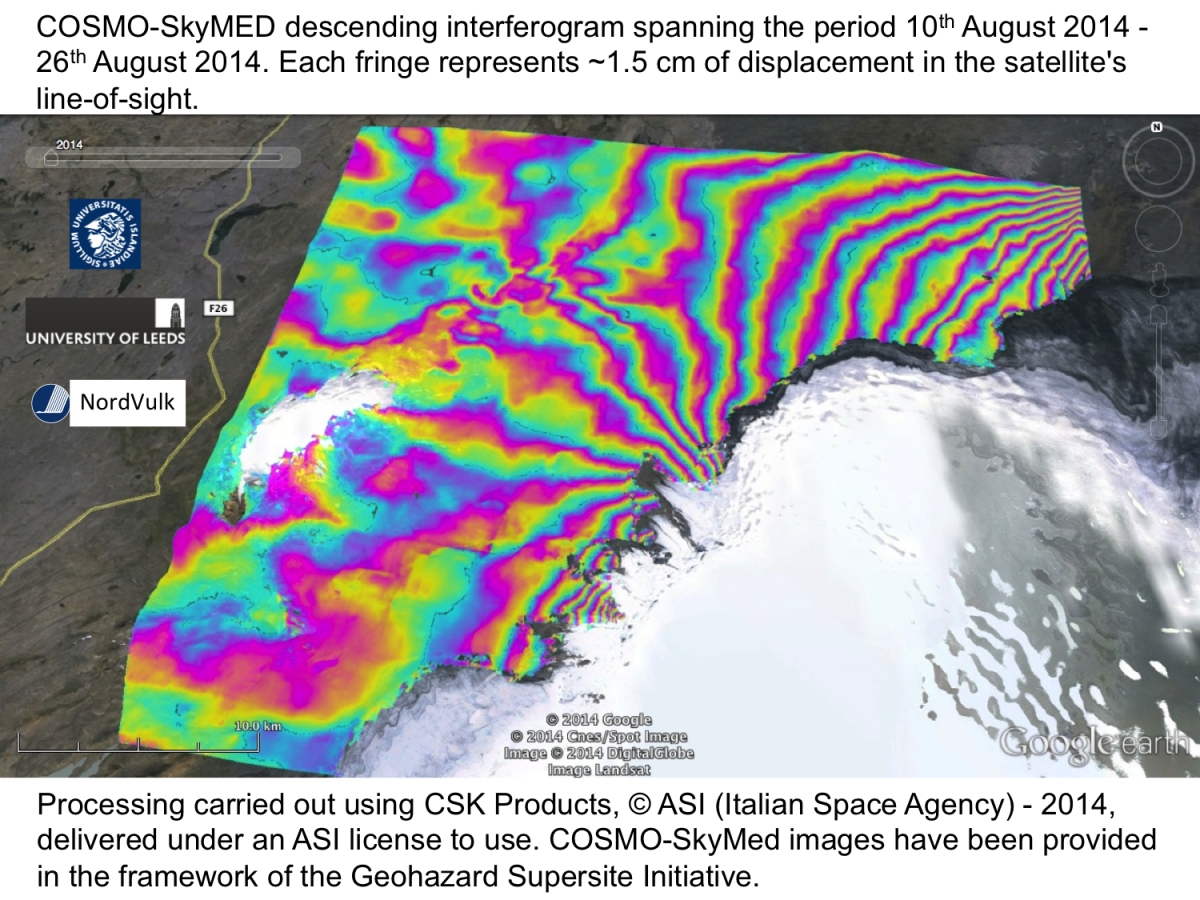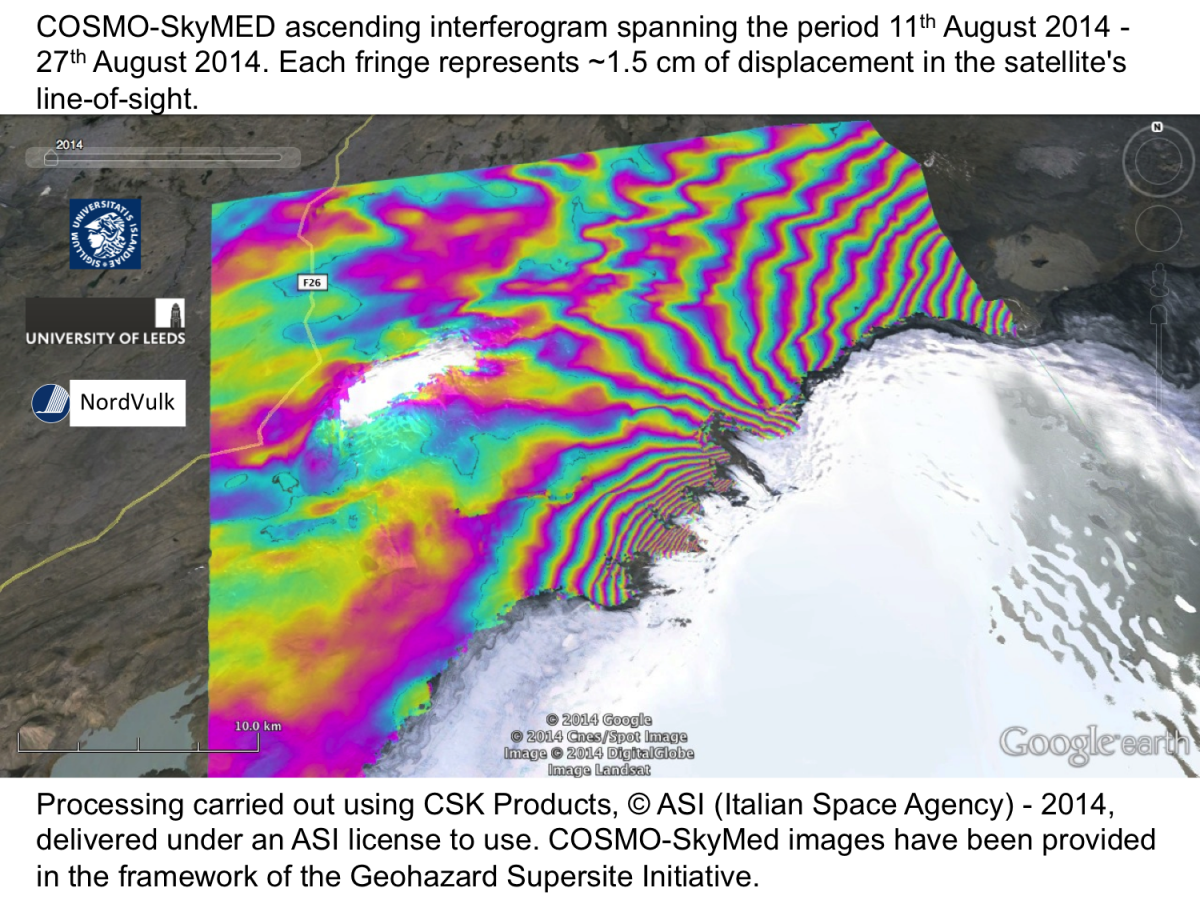 On the left , descending interferogram for the period 10 to 26.08 - right, ascending interferogram for the period from 11 to 27.08 - Doc. COSMO-SkyMed ascending and descending interferograms / University of Iceland - one click to enlarge.
A vertical plane reaching very shallow levels, with the opening of five meters, were modeled through cooperation between NordVulk, the Institute of Earth Sciences / University of Iceland, the University of Leeds and the Icelandic Met Office.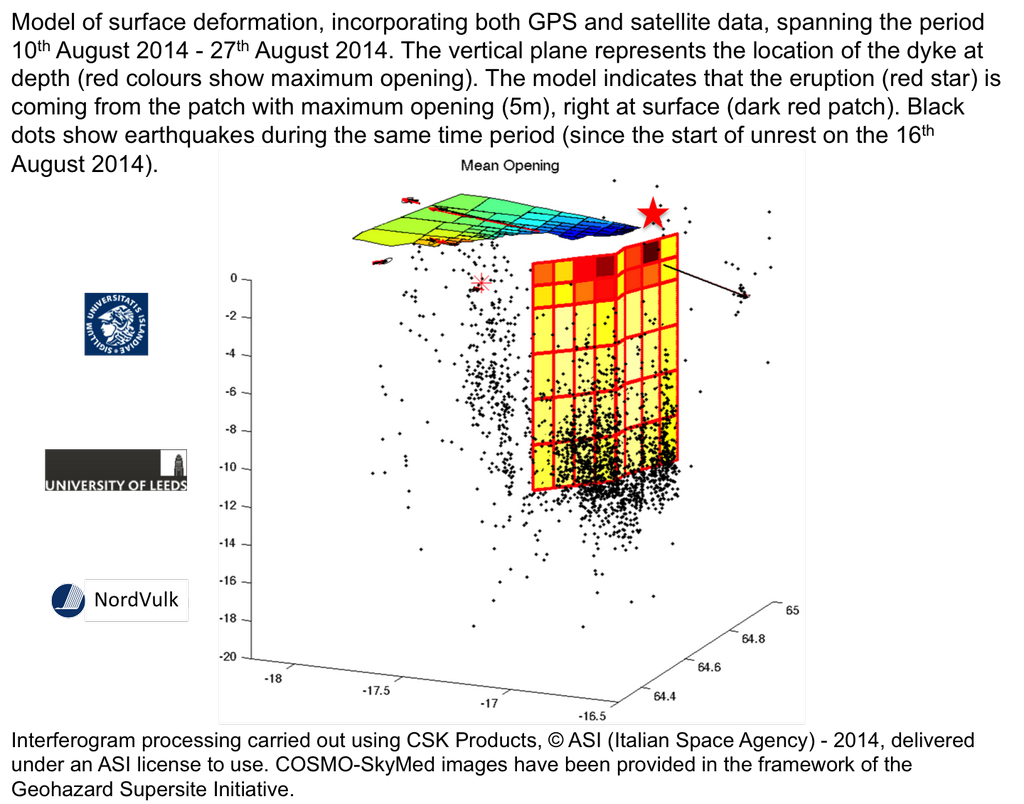 Model of surface deformation between 10 and 27.08 - doc. NordVulk, Institute of Earth Sciences, University of Iceland, University of Leeds, and Icelandic Met Office.- a click to read the legend.
The fate of this magmatic intrusion is always uncertain ... stay tuned !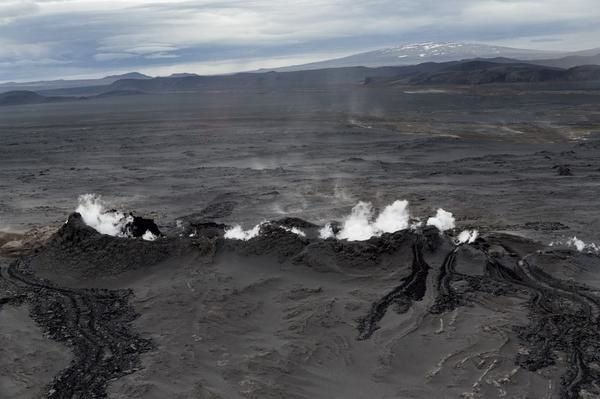 The fissure, saw by helicopter around 10am on 29/08/2014 - photo Vizir / twitter / pic.twitter.com/jngmfyXpg3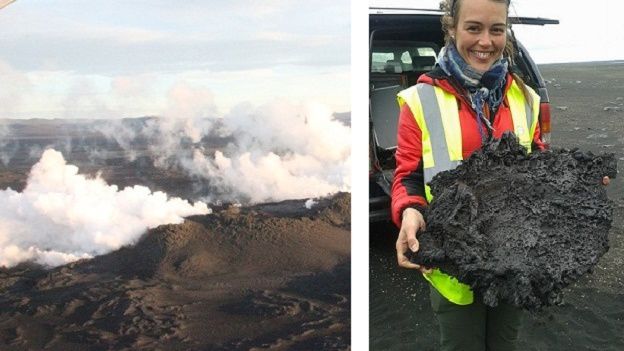 Thorbjorg Ágústsdóttir, a doctoral student in geophysics at the University of Cambridge, garnered the first lava from the eruption in Holuhraun. Thorbjorg told to the RUV's reporter that "last night probably worth a whole year of learning."
Sources :
- IMO
- University of Iceland
- RUV
- Visir