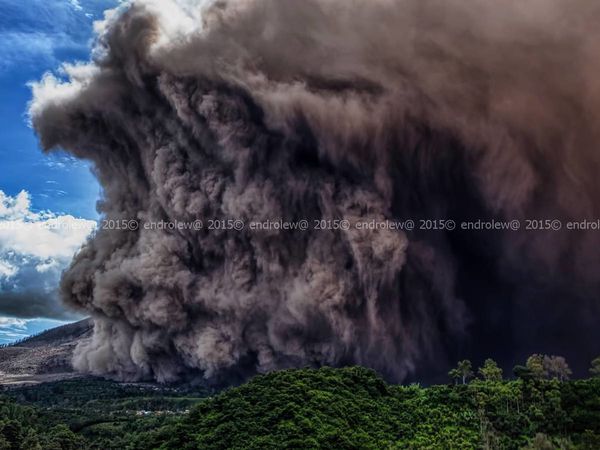 Sinabung on 13.06.2015, respectively at 13h56, 14h13 (left to right) and 14:15 loc (below) -.. Photo endrolew@
The Sinabung had another eruptive crisis Saturday, June 13, that I could not tell because a meeting of the Nord-Pas de Calais-Picatrdie sectionof LAVE association.

According to AFP, pyroclastic flows descended the southeastern flank of 3,000 meters. A total of 11 avalanches were recorded, along with plumes rising up to 2,000 m. No casualties are reported, and more than 2,700 people in the area of ​​7 km. were evacuated.

On June 14, ten pyroclastic flows were reported on the southern slopes, reaching 3,500 meters, and to the southeast, where they traveled 2500 m. The casting of 5h 12 Loc. is considered as the most important of these last days.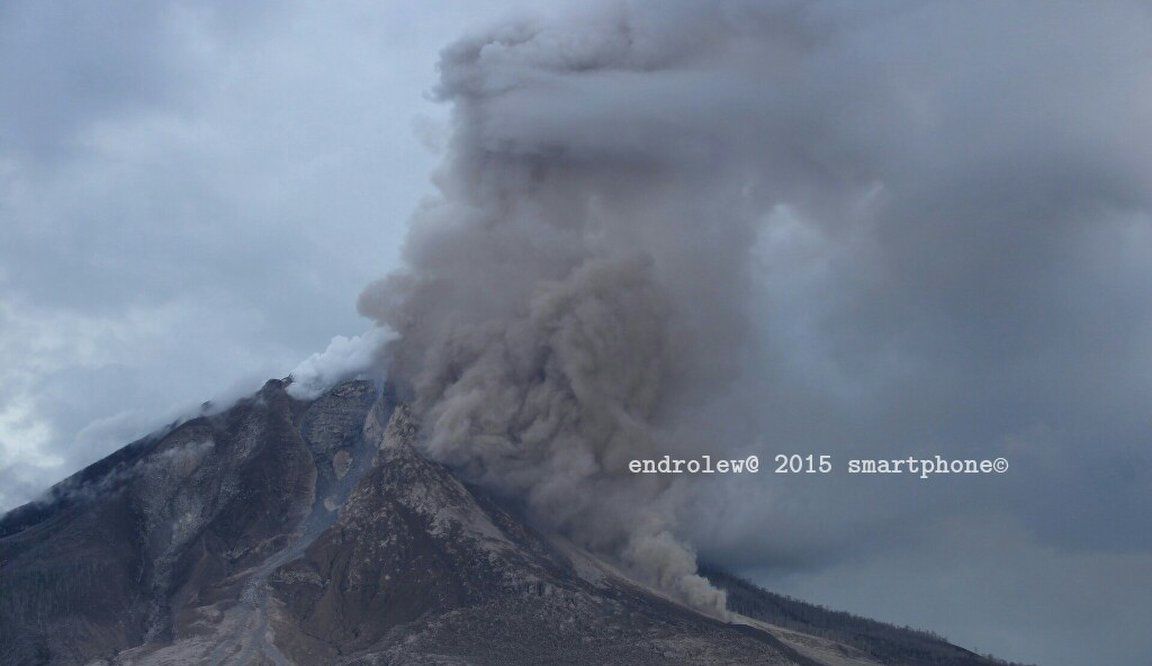 Sinabung on 06/14/2015 at 15:37 loc.; left of the ash plume is seen that the dome has preserved an impressive volume - photo endrolew@
According Alhidavat Deri, an official with the PVMBG in an interview Sunday to Jakarta Post, " In today's eruption, Sinabung's hot clouds simultaneously moved to the south and southeast. The hot cloud releases to the south reached 3,500 meters, or farther than the ones in the southeast, which reached 2,500 meters. From the latest data, the volume of Mt. Sinabung's lava dome has reached 3.3 million cubic meters. Eruptions previously occurred have not yet fully abolished its lava dome; thus, there is still a potential for massive eruptions "
Sources:
- Jakarta post 15.06.2015 - link
- Mbah Lewa and Sadrah Peranginangin on social networks.
In Santiaguito, Guatemala, INSIVUMEH reported explosions accompanied by small plume of ash and gas amount to 2800-3000 m asl, then moving to the West and the Northwest, with possible falls of ashes over Llanos del Pinal and Quetzaltenango.

In Fuego, explosions are low to moderate, with plumes rising to 4,300 m asl 4600., Moving the O and NO, with ash fall on La Soledad, Acatenango and Sacatepequez. From the night, glow was observed.