This 5/31/2015, at 4am local, seismic stations recorded in the Chilean volcano Guallatiri a swarm of 22 volcano-tectonic earthquakes / VT in 10 minutes, associated with fracturation of rocks. The more energetic, of 3.5 magnitude is located 3.3 km southeast of the main crater and a depth of 1.1 km.
Another earthquake VT occurred at 5:17, at 8.4 km south-west of the main crater.

Since 28 May, the two inclinometers near the crater indicate a low inflation. When the conditions permit, a white plume within 200 meters is visible.

Given these various changes, the SERNAGEOMIN increased the technical level of alert to Amarillo on 31.05. / 14 h. loc., and ONEMI said preventive alert for Parinacota province.

Guallatiri is the youngest volcano in a group of three: the Nevados de Quimsachata, on the border between Chile and Bolivia, in the region of Arica and Parinacota, consisting of Cerro Acotango, 6,050 meters, Cerro Elena Capurata, 6,000 meters, and Gallatiri.

The latter, top 6071 meters asl, is covered by dacitic lava domes and a pyroclastic cone. The geochemistry is divided between andesite (58% SiO2) and rhyolite (75% SiO2) with a predominance of dacite (63-70% SiO2). Minor explosive eruptions are reported since the beginning of the 19th century. Its last eruption of December 1960 (GVP)

Intense and noisy fumarolian activity marks the west upper side, which led to it being considered "the abode of the devil", by local Aymara villagers.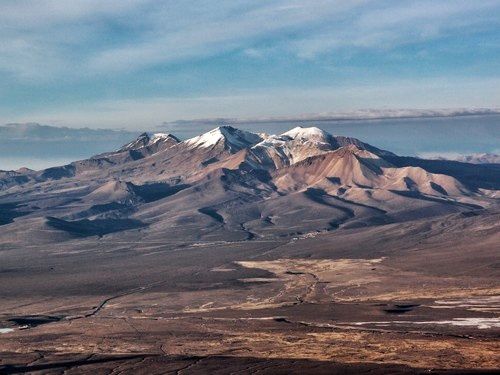 The Nevados de Quimsachata: from left to right, the Capurata, the Acutango and the Guallatiri, seen from the slopes of Sajama - photo Summitpost
At May 31, 2015, SERNAGEOMIN notes 4 volcanoes on alert Amarillo, the Chaiten, the Calbuco, the Copahue and the Guallatiri, and a volcano in Naranja alert, the Villarica.
Sources :
- ONEMI - link
- Global Volcanism Program - Guallatiri