The Unimak island , located in the Aleutian volcanic arc, has at least six volcanoes : the Roundtop , the Isanotski, the Shishaldin, the caldera Fisher, the Progromni group and Faris Peak , all stratovolcanoes , except Westdahl, of a large shield volcano .





Begin with the Shishaldin, located in the center of the island, because of its current activity. It is listed in aviation code orange by the AVO .

This symmetrical stratovolcano has a basal diameter of 16 km, and rises to 2857 meters, with a small summit crater emitting continuously a little steam . The summit is covered with eternal snow. The northwest flank of Shishaldin, covered with a'a lava, is punctuated by 24 monogenetic cones parasites.

The Shishaldin is dated less than 10,000 years ago and was built on the remains of an ancient somma or a shield, eroded by glaciers, himself on a underbody of volcaniclastic or plutonic rocks, age tertiary . Remnants of this ancient building are exposed to the west and north -east to 1500-1800 m in height.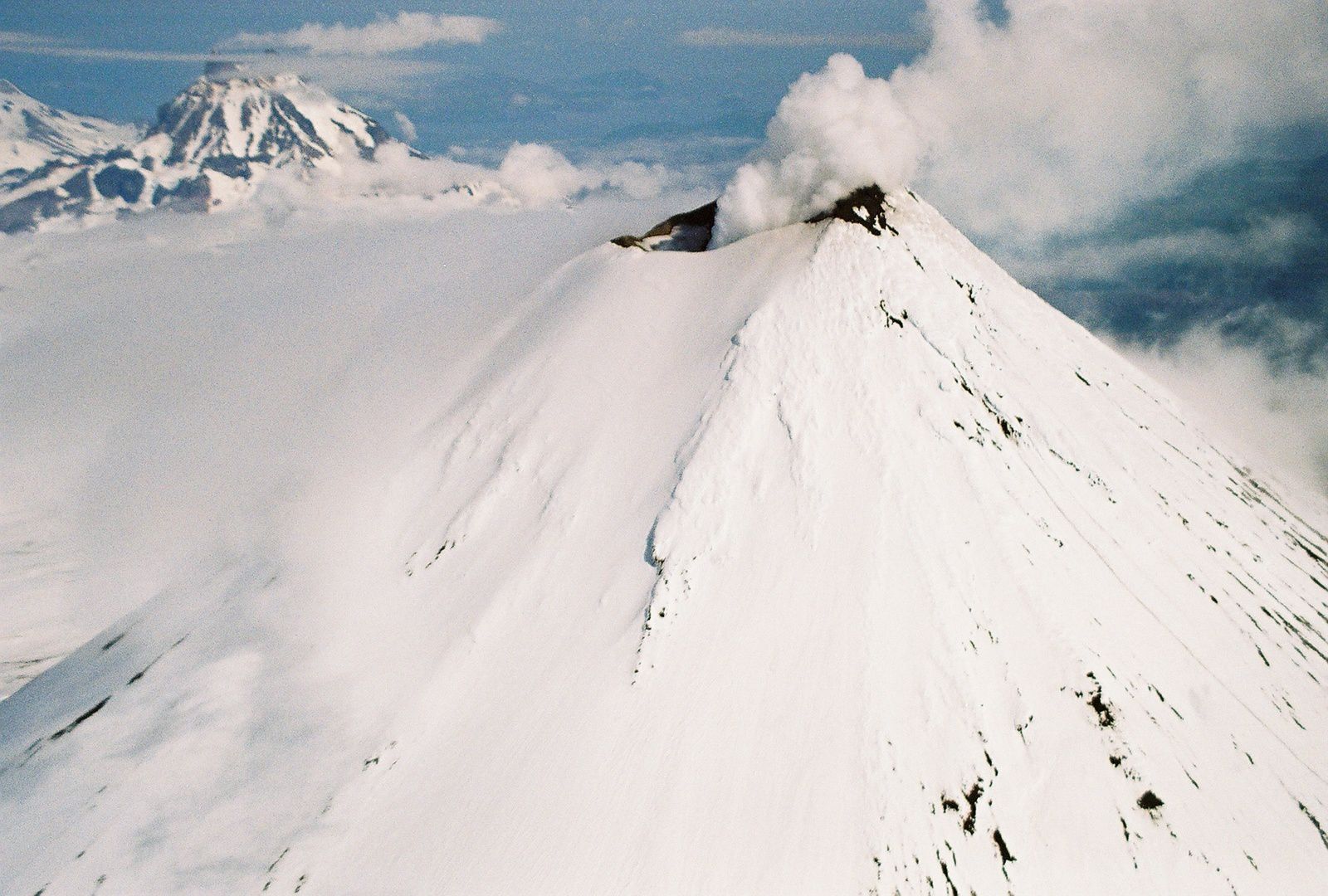 The Shishaldin and his small permanent plume of steam - 02.09.2008 - photo Bill Springer / Maritime helicopters / AVO
A rise in temperature and a minor degassing are now observed ; A photo of May 14 shows traces of fresh ash on top . Seismic stations near the volcano detect short signals of strombolian explosion.


At the eastern tip of Unimak , the stratovolcano Roundtop dominates with its 1871 meters a wide valley , 13 km. west of the village of False Pass.

This building, atop eroded and covered with ice and snow, covers the greater part of a large caldera 3 km . which was formed at the beginning of the Holocene. The formation of the caldera produced pyroclastic flows and rhyolitic tephra deposits widely dispersed on the south -western peninsula of Alaska . A group of lava domes was built south of Roundtop .

His only known eruption is dated by the GVP to 7600 BC. In the 1930s , hot springs were found on its slopes .

To follow, other volcanoes Unimak.
Sources :
- AVO - Volcano information and reports
- Global Volcanism Program - Shishaldin
- Global volcanism Program -
- Unimak Landforms - link