The Isanotski stratovolcano , also known as the " Ragged Jack" , has an heavily eroded summit , consisting of rugged pinnacles, and covered with glaciers.
Four historical eruptions were recorded in the 18 and 19 centuries , poorly documented , and considered by the GVP as uncertain , given the state of extreme erosion of the summit. They are probably due to its neighbor, Shishaldin .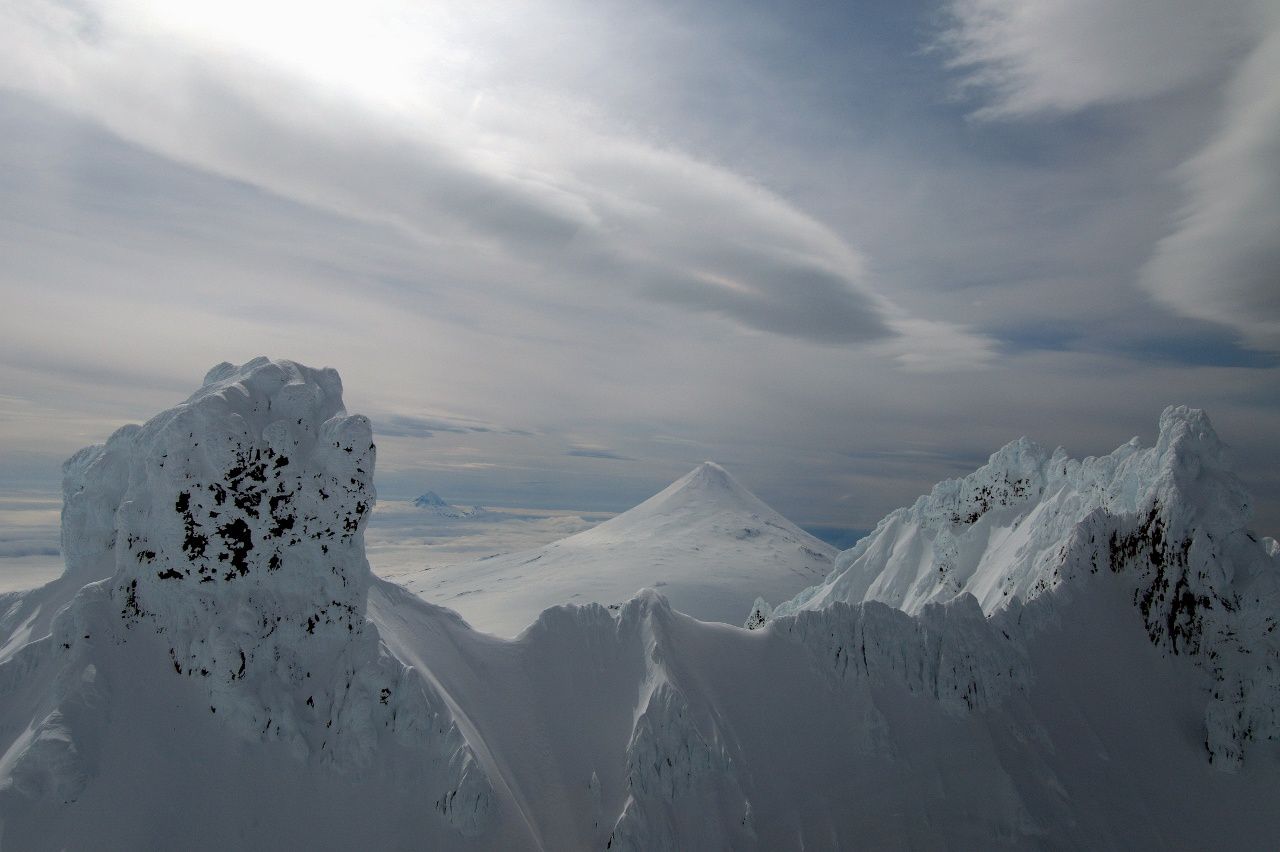 The top of the Isanotski , and in the cut , the symmetric Shishaldin - photo Cyrus Read / AVO - USGS
Located between Isanotski and Roundtop , a Pleistocene volcano , called Unimak 5270 , is considered a volcano, or a vent in part, due to aerial observations showing radial lava flows from the top ( Chris Nye, 2008)
The Fisher Caldera , 18 km. on 11 , features three lakes and several cinder cones and spatter cones , including the Mount Finch, a central composite cone of over 2000 m. in diameter and 400 m high. It is the largest of 12 calderas formed in Alaska during the Holocene .

A 2004 study considers that the volcanic system , before the eruption forming the caldera 9400 years ago , consisted of a group of three small stratocones , independently in activity between 66,000 and 9400 years ago.

The caldera was formed during a single eruption , producing a thick deposit of dacitic ash , two deposits of pyroclastic flows , a small dacitic flow and a mixed basalt - dacite flow . Pyroclastic flows , particularly mobile , have reached the Bering Sea , to 15 km , and the Pacific Ocean to 8 km. , overcoming reliefs of more than 400 m.

A lake was then filled much of the caldera during a rest period .

Volcanic activity resumed at the start of intra- calderic vents , producing fallout of thick slag interbedded with lacustrine sediments. Several stratocones have developed, which one is marked by a collapse . The caldera lake was drained abruptly when a phreatomagmatic eruption produced a wave that incised and topped the south wall of the caldera. Deposits containing accretionned lapilli, found inside and outside the caldera, reflect the phreatomagmatic activity in Holocène .

A small explosive eruption is dated 1826 ; current activity is hydrothermal , with low temperature fumaroles on the western flank of Mount Finch . Turquoise Lake , at the base of the cone Finch , emit hydrogen sulphide .

On the left, the caldera Fisher - Catalog of the Historically active volcanoes of Alaska - Miller and others (1998 ) and Miller and Smith (1977) - to the right , radar image of Unimak Island - Oregonstate University - a click to enlarge .
Sources :
- AVO - Volcano information - link
- Eruptive history of Fisher Caldera, Alaska, USA by Pete Stelling & al.- link
- Global Volcanism Program - Isanotski
- Global Vocanism Program - Fisher
- Unimak Landforms
- Catalog of the historically active volcanoes of Alaska