Publié le par Bernard Duyck
Après un épisode éruptif le 21 décembre 2018 à 13h51, accompagné d'un panache de cendres noir et épais à 400 mètres au dessus du sommet, enregistré sur le sismogramme avec una amplitude maximale de 58 mm et une durée de 2 minutes 12 sec., l'Anak Krakatau est entré dans une phase éruptive paroxysmale caractérisée par une activité continue explosive et effusive.
Une coulée de lave est émise depuis l'évent sommital sur le flanc sud, alimentée par des éjections de spatters et bombes de lave.
L'activité s'est poursuivie en cours de journée jusqu'à la tombée de la nuit, où l'activité sommitale et les lueurs de la coulée entrant en mer sont visibles depuis l'île de Java.
Le code aviation est à l'orange depuis 15h47 le 21 décembre, alors que le niveau d'activité n'a pas varié.
Sources : PVMBG, Oystein Lund Andersen, Galih Jati / Volcanodiscovery.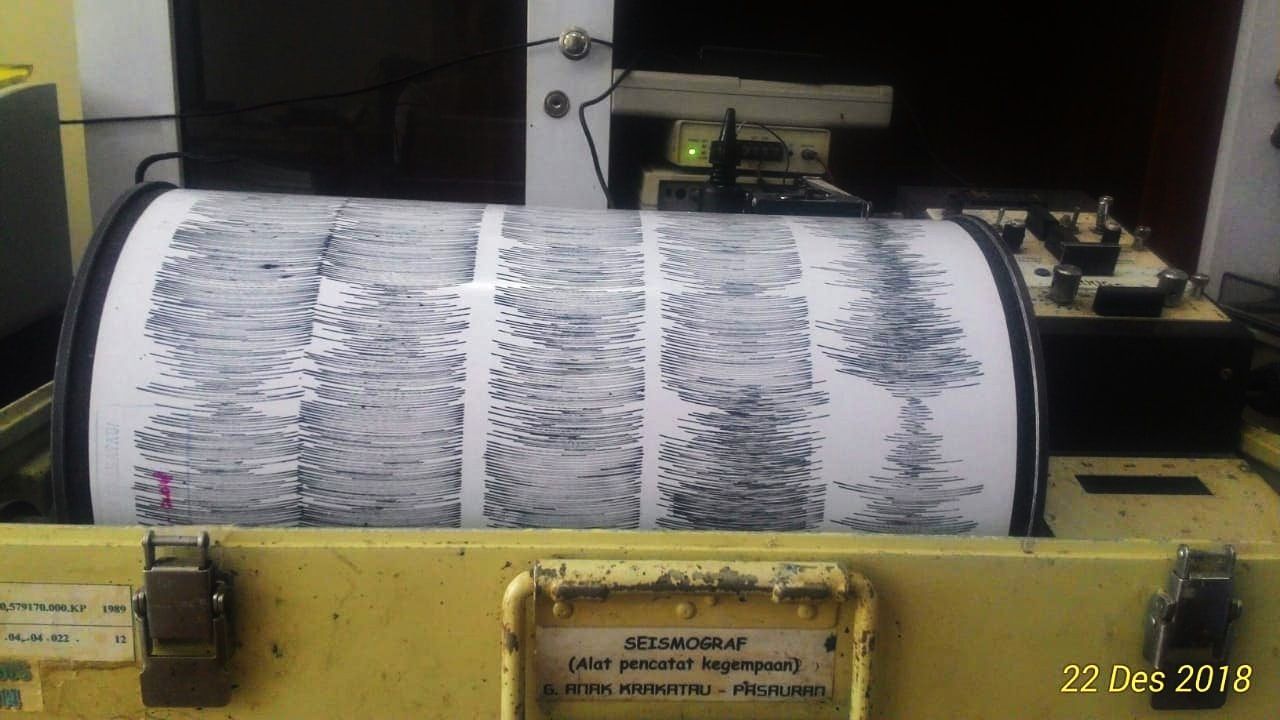 Anak Krakatau - signal sismique saturé ce 22.12.2018 montrant des explosions continues - image Krakatau volcano observatory via Galih Jati - VolcanoDiscovery
After an eruptive episode on 21 December 2018 at 13:51, accompanied by a plume of black and thick ash to 400 meters above the summit, recorded on the seismogram with a maximum amplitude of 58 mm and a duration of 2 minutes 12 sec., Anak Krakatau has entered a paroxysmal eruptive phase characterized by explosive and effusive continuous activity.
A lava flow is emitted from the top vent on the southern flank, fueled by ejections of spatters and lava bombs.
The activity continued during the day until nightfall, when the summit activity and the lights of the casting entering the sea are visible from the island of Java.
The aviation code has been orange since 3:47 pm on December 21, while the level of activity has not changed.
Sources: PVMBG, Oystein Lund Andersen, Galih Jati / Volcanodiscovery.
Eruption paroxysmale du Krakatau - Vidéo Galih Jati / Volcanodiscovery 22.12.2018