Used for over a century, enamelled lava will be first used for signage street signs , ladders low water, to certain outputs of the Metro in Paris (Porte de la Chapelle) / France, for roads signs of Michelin in France , or orientation tables published by the Touring club .

Today , this beautiful product is used for worktops for kitchens, wall coverings, decorative panels or art trinkets.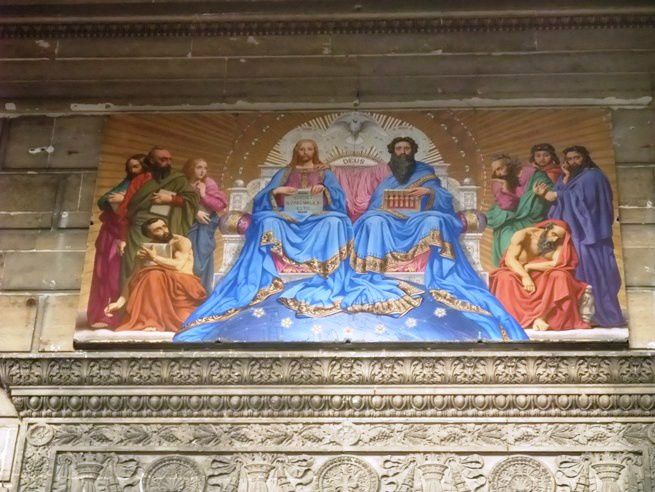 Jules Jolivet (1794-1871) Decorative panel "The Trinity " - Painting enamelled lava - 110 x 240 cm Paris , Saint- Vincent -de- Paul - Photo: Didier Rykner
Production of the plates :

Slices of lava, most often Volvic lava , a trachy - andesite , are calibrated in thickness and debited to the desired format ( water-cooled diamond tool ) . After surfacing to smooth the cutting traces and chamfering of the edges , the imperfections of the stone are engobed with a mixture of silica , feldspar and clay . Once dry , the plate is sanded with cork and baked at about 980 ° C.

The drawing is referred to the graphite mine , and enamels , mainly based on iron oxides and derivatives, applied with a marten brush . Everything is vitrified between 940 and 960 ° C. A possible additional passage in the oven is when gilding brush, annealed to 700 ° C. The lava stone is the only supporting these repeated firings.

The enamel surface has crazing , cracking which can be explained by an expansion coefficient higher for the enamel than lava. In cooling , the difference in shrinkage leads to the appearance of this phenomenon of microcracking .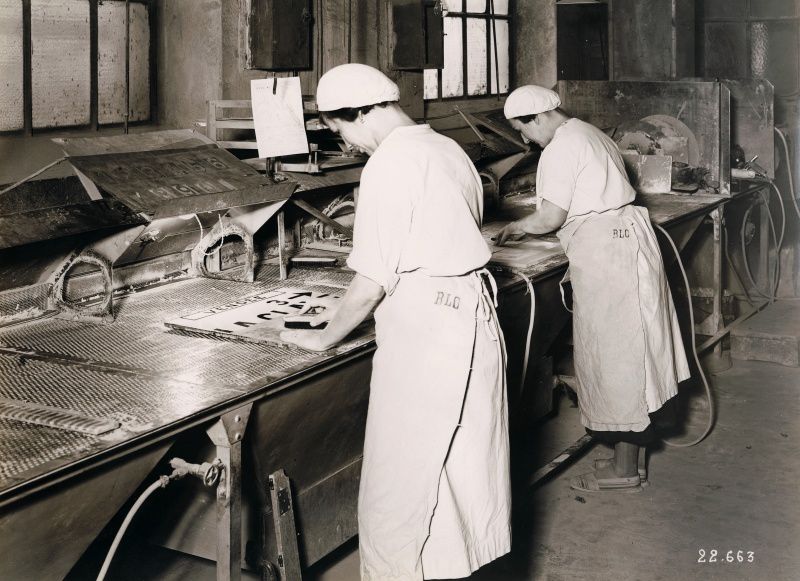 Manufacturing of the enamel plates of lava - Extract from the "official monthly magazine of the auto -club- Ardennes " , Number 11 November 1935.
Its features allow you to create a product of unparalleled quality. The natural appearance of the lava gives a unique visual rendering, brightness and exceptional color depth .
The sustainability of the product comes from his insensitivity to heat, cold, salt air and wind erosion by blowing sand , and high resistance to damage , scratch , puncture , or graffiti (which may be removed by pressure hose , or with acetone )

Only drawback, offset by the longevity of the product , its price avoisinne 3,000 € ht / m².
Sources :
- Histoire du panneau Michelin - link
- Ce qu'il faut savoir sur la lave émaillée - link