A ring of fire surrounding the building of the Institute of Earth Physics of Paris.

The Institute of Earth Physics of Paris is an institution of higher education and independent research, a member of the Commonwealth of Universities and Institutions (COMUE) Université Sorbonne Paris Cité and associated with the National Centre for Scientific Research (CNRS ). It brings together 150 high-level researchers recruited worldwide, 170 engineers and managers and more than 190 doctoral students from all countries who share the same passion for the Earth Sciences and planets.

The broken red neon lines are visible on two sides at once, the corner of Jussieu and Cuvier streets, and reveals itself in all its beauty at the dusk. It illustrates scientific data over 400 emerged volcanoes that dot the Pacific Ring of Fire .


Ring of Fire of IPGP - less visible during the day, it surrounds the historic building - photo IPGP Jussieu
It is the work of a couple of Brazilian artists Angela Detanico and Rafael Lain, born respectively in 1973 and 1974. They currently live in France, in Paris.
Their work can be linked to several artistic movements that gave life to the avant-garde modernist Brazilian movement, such as concrete art, or digital art. They build their work on a personal use, improper voluntarily, of the labor of encoding and decoding characterizing the movement of information in contemporary society.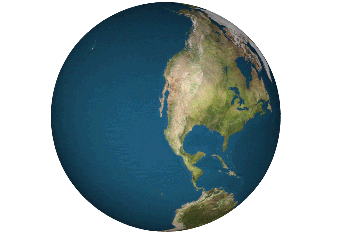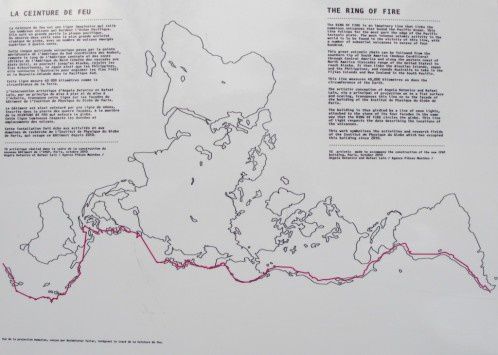 Animation above: Dymaxion map - doc. Chris Rywalt - image below: the red line follows the way of the Pacific Ring of Fire of Buckminster Fuller - Doc.Overblog / Archéologie du fiutur , archéologie du quotidien.
Their neon broken line is based on the dynamic projection of Buckminster Fuller. This is a map projection of a map on the surface of a polyhedron; it was created in 1946 for projection onto a cuboctahedron (regular polyhedron with 14 faces, of which eight are equilateral triangles and six squares) and implemented in 1954 on an icosahedron (polyhedron with 20 faces) ... 20 triangles can be positioned differently, the resulting map with neither high nor low.
This card is called the Dymaxion map, Dymaxion is an acronym for Dynamic Maximum Tension.
Details of the Ring of fire of IPGP and the pediment of the Faculty of Science of the University of Paris - photo Overblog / Archéologie du fiutur , archéologie du quotidien.
Sources :
IPGP – Institut de Physique du Globe de Paris - link