Publié le par Bernard Duyck
| | | | |
| --- | --- | --- | --- |
| Mayon Volcano Bulletin | | | |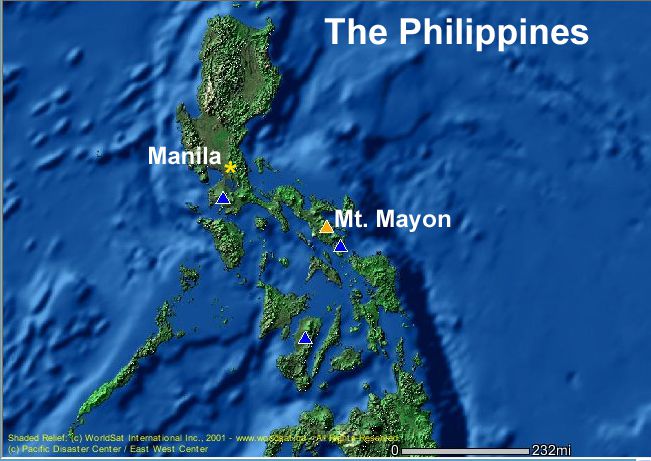 Augmentation du niveau d'alerte au Mayon - Communication du Phivolcs.
RELEASED: 10 July 2009; 8:00 AM
This is a notice for the raising of Mayon Volcano's status from Alert Level 1 (low level unrest) to Alert Level 2 (moderate unrest).
Beginning June 2009 monitored parameters indicated an increase in the current activity of Mayon Volcano. The number of recorded low frequency volcanic earthquakes rose to a higher level signifying possible movement of magma beneath the volcano edifice at shallow depth. The present seismic count is at the same level when a phreatic explosion occurred last August 2008. Ground uplift of about one centimeter was measured by Precise Leveling Survey conducted last June 15-22, 2009 and the uplift was sustained during a re-survey yesterday, July 9, 2009. Glow at the summit crater has intensified and could now be observed at Lignon Hill Observatory without the aid of telescopes. Steam emission was at moderate level.
Aerial survey conducted last July 08, 2009, showed a cone-shaped pile of hot, steaming old rocks, possibly remnants from previous eruptions which could be the source of the glow at the crater. The low frequency volcanic earthquakes and ground uplift could indicate that fresh volcanic materials are moving upward at depth, causing the formation of the cone-shaped pile of materials at the crater.
Because of the above observations, PHIVOLCS is now raising the Alert status of Mayon Volcano from Alert Level 1 to Alert Level 2. This alert condition signifies, a state of unrest which could lead to ash explosions or eventually to hazardous magmatic eruption. Thus, at Alert Level 2, PHIVOLCS strongly recommends that the 6-km radius Permanent Danger Zone (PDZ) around the volcano and the 7-km Extended Danger Zone (EDZ) on the southeast flank of the volcano are off-limits due to the threat from sudden explosions and rockfalls from the upper slopes. Active river channels and those areas perennially identified as lahar prone in the southeast sector should also be avoided especially during bad weather conditions or when there is heavy and prolonged rainfall.
PHIVOLCS
vidéo sur :
http://www.gmanews.tv/story/167071/Mayon-now-under-alert-level-2-Phivolcs-says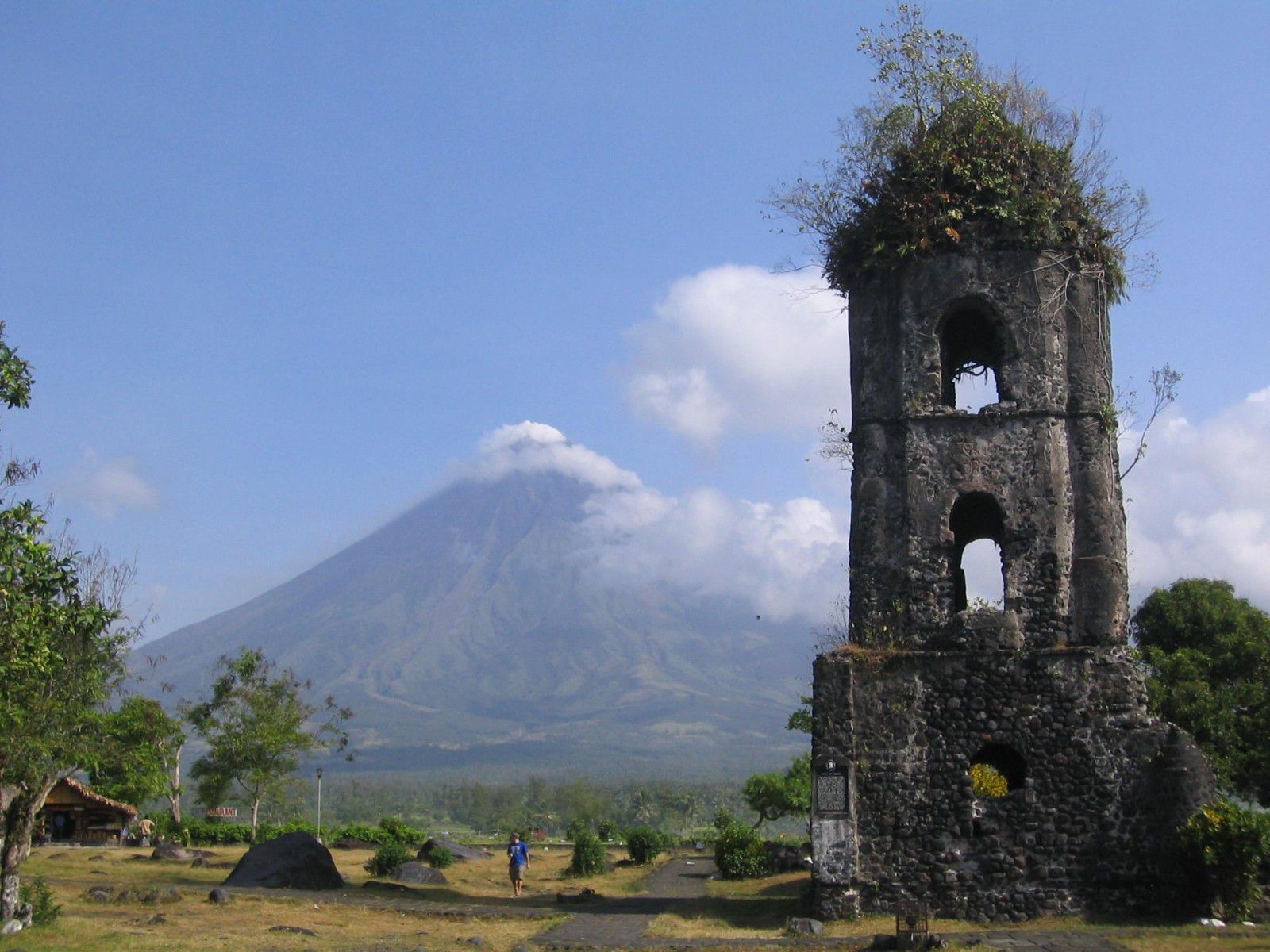 Stratovolcan de forme parfaite - 2642 m . - 13,25N.-123,68E.
photo : K.Fredrickson - Smithsonian inst.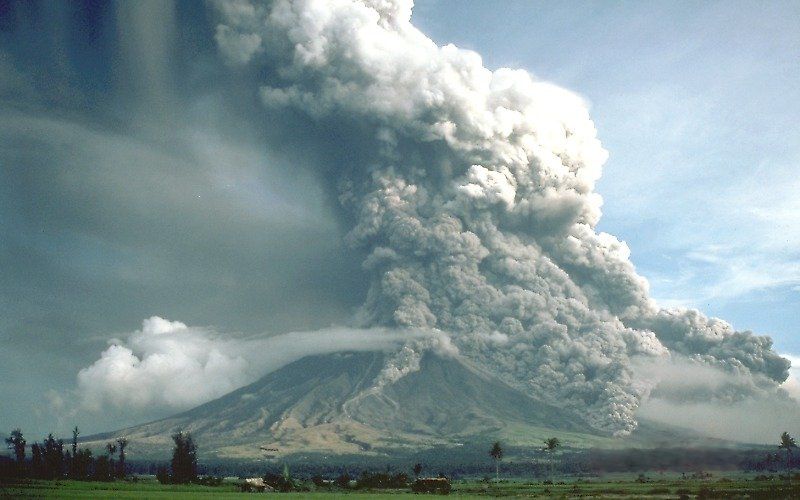 Eruption de 1984 - flux pyroclastiques - C.G.Newhall in Wikipedia

L'éruption de 1984 avait fait 1.200 morts et rayé de la carte la ville de Cagsawa.
La carte ci-dessous situe le volcan dans une zone très peuplée ; le cercle rouge délimite la zone de danger permanent (PDZ)de 6 km. de diamètre.
source : Phivolcs.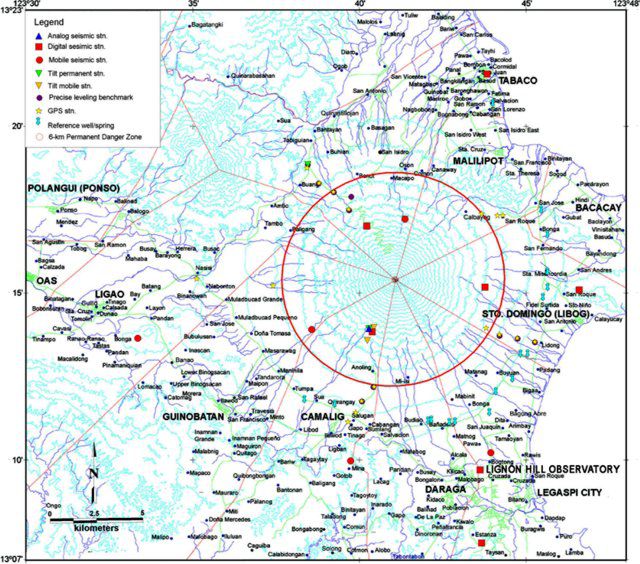 sources : - Phivolcs:Philippines institute of Volcanology and Seismologie

- Global volcanism program
- GMA news tv