Publié le par Bernard Duyck
It's going wrong with the local analysis by a submarine robot !

A robot arrived on 18 at La Estaca to be brought on site by the ship "professor Ignacio Lozano" and is capable of diving to 1,000 meters deep ... but no camera on board. This is a food sampling and analysis.
But small problem, we learn on 19 that he does not support acidic pH or a temperature above 35 ° C ... it is not adapted to the environment of the eruption.

We must therefore wait for the "Ramon Margalef" and his own robot "Liropus" to obtain images of the area of ​​the eruption.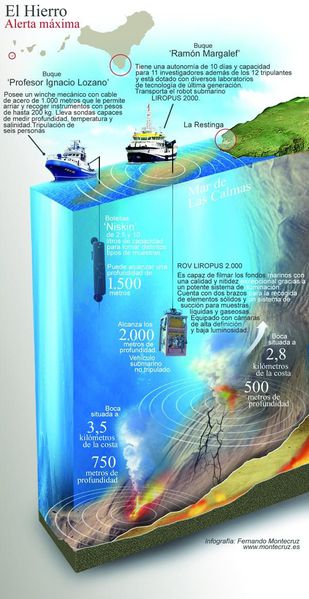 Parallel investigation of the two ships and their respective possibilities: The "professor Ignacio Lozano" can drop a probe deep but only its vertical - the ROV Liropus 2000, aboard the "Ramon Margalef" is capable of sampling and filming in low light. - Computer graphics Montecruz F. / The Provincia.es

Another sore subject : after two notifications of a posssible return for the people of the Restingua, the authorities announced a permanent return is not allowed for security reasons. Dietary measures were taken for evacuation, but no compensation is considered.

The pH of the "green spot" (stain of sulfur) is so acid that fish and plants can not survive ... it is a blow to the biodiversity of the coast south of the Sea and Restingua Las Calma.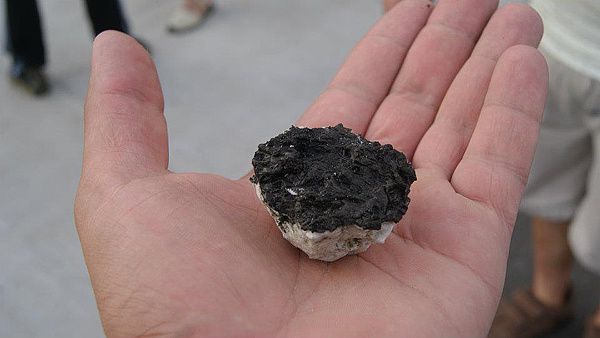 El Hierro - sample of the submarine eruption - photo blogspot.

Samples from the surface and seabed were analyzed: for rock samples, it would be a mineral precipitate composed of silica, aluminum and iron. These fragments are black outside and white inside. Extremely fragility to shocks and the black body color reflect exposure to high temperatures ... Perhaps rocks expelled by hydrothermal fluids?
Water and gas to the surface were also analyzed ... but no results have yet been communicated.

Update 20.10 : Involcan confirms that the expelled rocks are juvenile material of basaltic composition.

The data show that the tremor eruption lost power for 48 hours; bubbles (photo Diario El Hierro) have also disappeared from the "green spot".
The magnitude of earthquakes is between 2.3 and 0.7, to a depth between 8 and 21 km. ... but the future course of the eruption remains unknown, ranging from the opening of new cracks and vents, to the migration of the fireplace to the island, or the decline and end of the episode.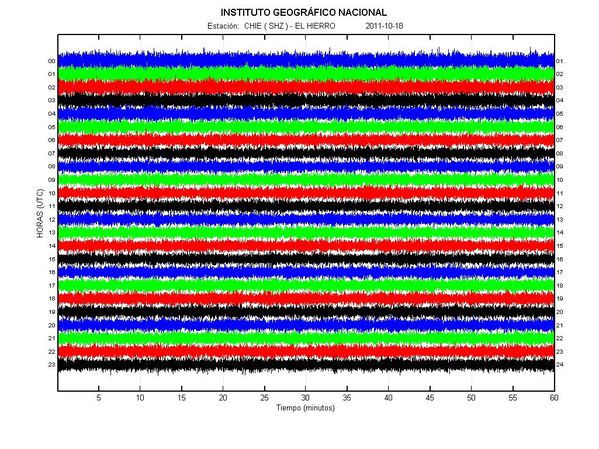 Tremor activity of 18.10.2011 - the intensity has decreased, but the level remains variable. - Doc. IGN

Earthquakes of the last days show a NNW-SSE alignment, according a fracture or a dike through El Golfo, Tanganasoga, landforms, el Julan and eruptive zone off La Restingua.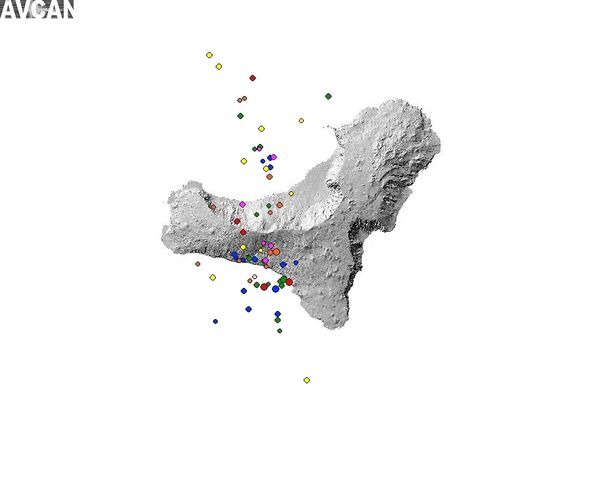 Recent Earthquakes ..
1106169 19/10/2011 2:12:48 27.7077 -18.0565 1.2 W 8 M LA PINAR.IHI [+] i
1106273 19/10/2011 12:18:37 27.7873 -18.0464 21 1.7 M NO FRONTERA.IHI

October 19 - Rose (6) / October 18 - Yellow (11) / October 17 - Blue (14) / October 16 - Orange (9) /
October 15 - Red (5) / October 14 - Green (15). - Doc. AVCAN

In the late afternoon, seismic activity has intensified with some LP earthquakes indicating magma movement at depth.

Sources:
- AVCAN - IGN
- The Provinia.es
- Earthquake-report