Publié le par Bernard Duyck
Little information on the extinct volcano that has a caldera complex and colorful.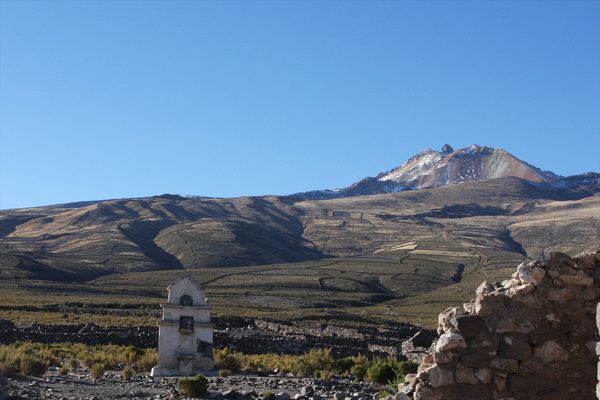 Volcano Tunupa seen from Tahua, north of the Salar de Uyuni - © Jean-Michel Mestdagh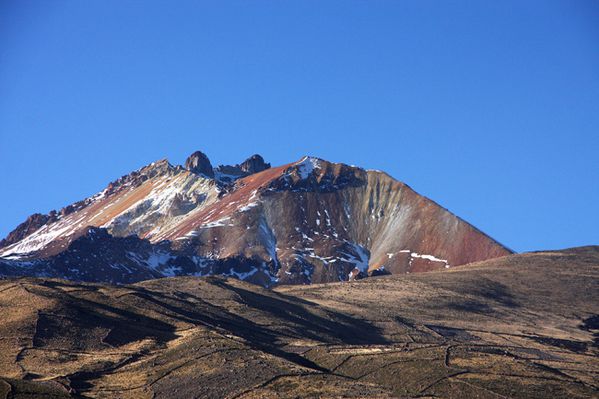 © Jean-Michel Mestdagh July 2011

A climb to the viewpoint of the volcano at 4600 m, can be possible for acclimated backpackers ... It takes 6-7am. round trip.
The true summit, shredded and reserved for climbers, rising to 5432 meters.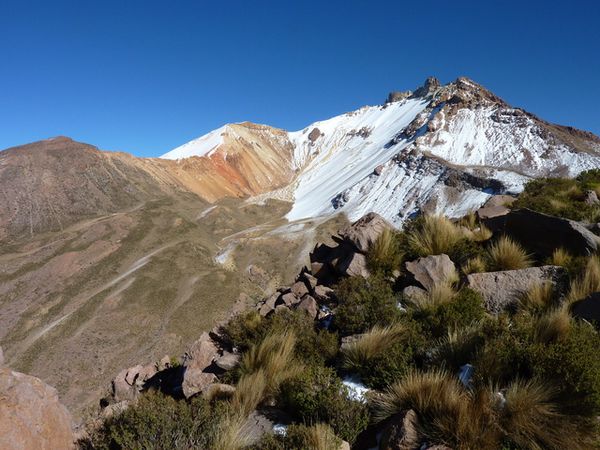 The caldera Tunupa - © Pierre Gondolff May 2011

Modeling of paleoglaciation Tunupa helped rebuild paleoclimatic conditions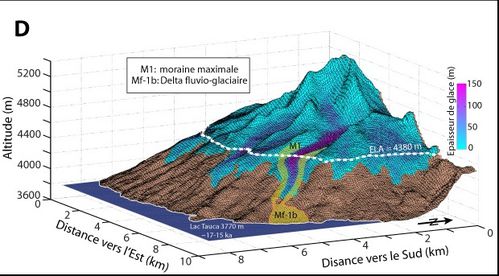 ruling on the altiplano between 17,000 and 15,000 BC. It was conducted by measuring the cosmogenic He3 content in pyroxenes taken from glacial moraines.
It was concluded that the glaciers of the Altiplano persisted in their maximum position along the lake Tauca reached its maximum extension, 50,000 km ². Glaciers have fallen sharply in line with the disappearance of Lake Tauca (study and doc. CNRS).

Many legends speak of Tunupa and the salar along its banks. Here are two different versions:

In Andean cosmology, all the peaks are associated with mythological figures.
" " The volcano Tunupa is thus recognized as the daughter of the omnipotent God Viracocha. Following a drought and epidemics, she fled towards the Western Cordillera, where it was collected by the giant Sajama, who fell in love.
Tunupa to leave yet fooled by the promises of the young gallant Huayna Potosi, who abandon their love soon consumed. Tunupa, ashamed, decided to flee. It will be guided by the Southern Cross, that Viracocha made appear in the sky to show him the way. Exhausted, she sat by the roadside and started crying relentlessly.
She wept so much that her tears eventually form the salar ... ! " "
(Chile Excepcion)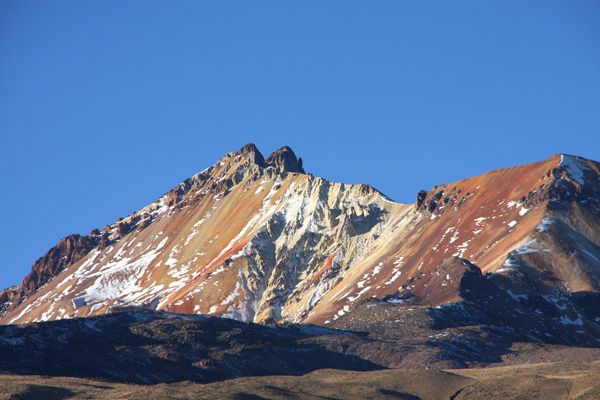 It's at the sunset that the colors of Tunupa prove ... - © Jean-Michel Mestdagh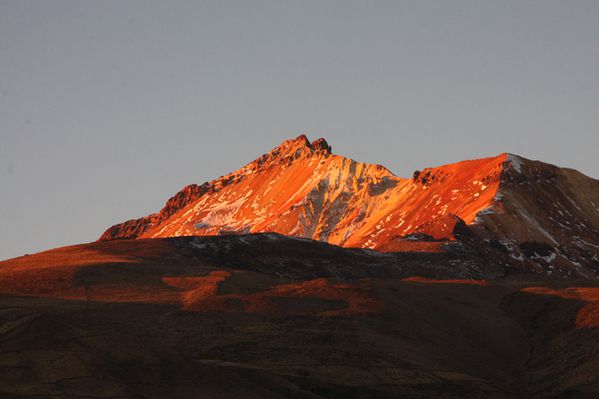 Another entitled "leche of Tunupa" (milk of Tunupa):

" " In the past, the land of the Salar de Uyuni was a vast plain where the giants lived livestock, and agriculture. Among these giants lived the beautiful Tunupa, courted by all the men of the tribe. The latter married Cuzco, strong young man, respected and feared by all. Calicatin born of their union.
One day, while Calicatin had not yet come to the world, came a pretty young woman Cruzuña, Cuzco became infatuated with ... It then drops Tunupa, which alone gave life to his son and vowed to never let his son approaching Cuzco.

While Calicatin was still breastfed by his mother, he questioned about his father : who was he?

To this question the nice Tunupa answer always : "Your father is the sun and the moon, that give life to everything on Earth." Thus, driven by curiosity, he ran away morning and went to see the different males of the tribe. To each he said "I am Calicatin, the son of Tunupa, I'm looking for a father. Do you know who is it? Do you know where I could find it?". Each time the answer was similar: "No Calicatin, I do not know who your father ...", and each time he returned to another giant, who was supposed to have information about the child's father.

Thus, over the unsuccessful meetings, the young Calicatin goes away from his house. He was already far away when, not seeing him in the morning, Tunupa began looking for him. She tried in vain all day and at night, she went home thinking the child back. It was not. She began to cry, and while the tears rolled down her cheeks, her breasts began to lose the milk thoroughly that his son had not suckled. This milk is spreading on the ground.

The gods, tired of the lies, secrecy and betrayal of these giants, decided to punish them and petrified. The Giants became volcanoes, Tunupa tears turned into lakes, for her milk, it hardens into the salar.

Today Tunupa found Calicatin, the two are opposite sides of the Salar. Both mountains have a family resemblance that enabled them to identify with the first glance. " "
(El Camino del Indio)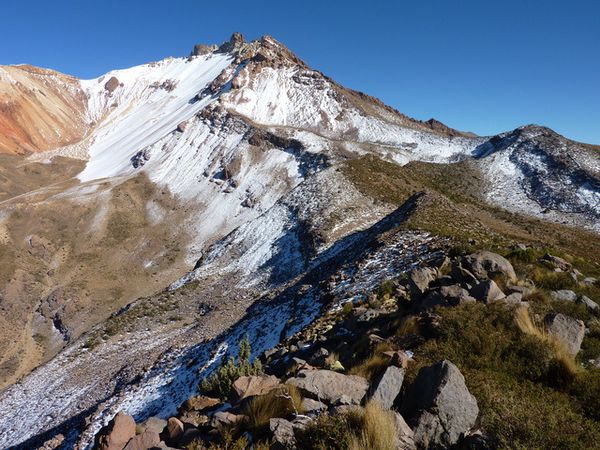 In the caldera of Tunupa - © Pierre Gondolff May 2011