Dr. Jourdan and his team, from Curtin University , recently demonstrated the influence of volcanic eruptions of Kalkarindji province , in northern Australia , on the climate causing the first mass extinction on Earth.

Using dating techniques based on radioactivity has precisely dated the eruptions of this igneous province , between 510-511 Ma. Two million square kilometers were covered with lava ... massive emissions of sulfur dioxide have be measured by a depletion of SO2 in volcanic rocks of this province.

The fact that the Cambrian extinctions , affecting more than 50% of complex multicellular organisms , including the famous trilobites, brachiopods and conodonts, are related to abrupt climate change and depletion of oxygen in the oceans , was known ... but the mechanisms to the origin of these changes are not yet specified .

Rapid climate oscillations produced by these major volcanic eruptions cause adjustment difficulties for many species .

According to Dr. Jourdan , these studies can help us understand how the climate , oceans and ecosystems were affected in the past, and hence better understand the biological and climatic effects in the long term due to the massive injection of gas into the atmosphere by our modern society .

The Kalkarindji CFBP ( Continental Flood Basalt Province) , located in the northern territories of Australia, is a large igneous provinces among the least known and the oldest to have been active in the Phanerozoic . The basalts are slightly distorted and petrology exceptionally preserved despite their age .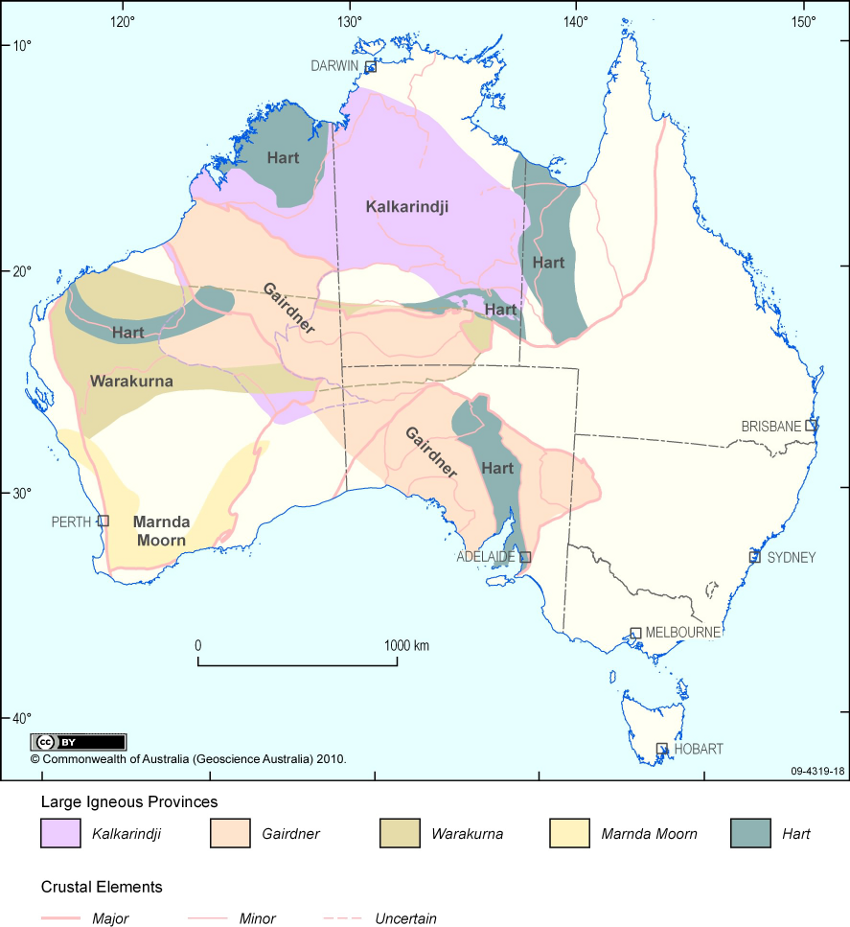 Australian 's LIP (Large Igneous Province) - doc.Geosciences Autralia 2010 (legend by following this link : http://www.largeigneousprovinces.org/10oct )
Sources :
- High-precision dating of the Kalkarindji large igneous province, Australia, and synchrony with the Early–Middle Cambrian (Stage 4–5) extinction - by F.Jourdan & al.- link
- Curtin University - Australia's deadly eruptions the reason for the first mass extinction - link
- Large Igneous Provinces Commission - A review of Kalkarindji - the oldest Phanerozoic flood basalt province - link
- The earliest trilobites - link