While some cards mention its existence from the 14th century, it is considered that the Santa Maria island was discovered by Portuguese sailors in the 15th century and the first of the populated islands forming the archipelago of the Azores, to 1430-1450 .

Sometimes called "yellow island" because of wild yellow flowers that bloom there in the month of February, she also called "Island of the sun", because of its drier climate over much of the island, and weather conditions more favorable than its neighbors throughout the year ... but it is also characterized by many other colors !
In the bed of the Ribeira do Maloás, 220 meters from its source, a waterfall of 15-20 meters showcases the prismation of a basaltic lava flow from the complex Pico Alto.

The prisms, UHF dimensions, form, at the top and bottom of the fall, a polygonal pavement type Giants Causway.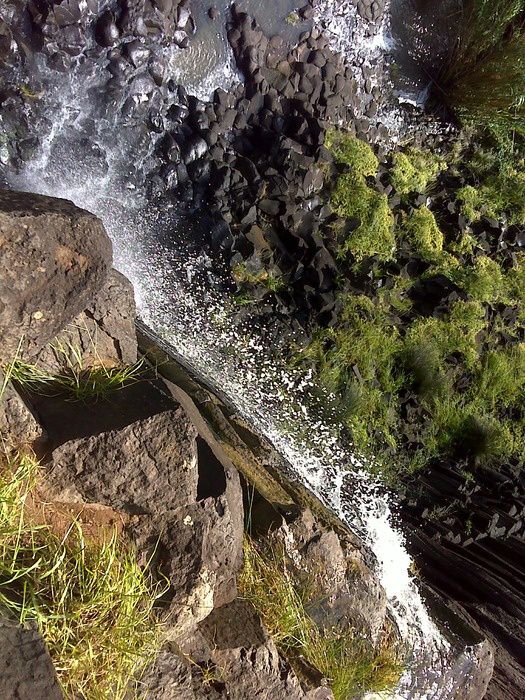 Santa Maria / Azores - organs of Ribeira do Maloás - at the bottom of the fall, a polygonal pavement of erosion - doc. Wikiloc.
In the extreme south of Santa Maria, Pontado do Castelo, a rocky promontory overlooking the sea.
The stratigraphic sequence includes marine sedimentary rocks, some with fossils, and submarine and sunaerian volcanic rocks. You can also see the vein intrusions.

Poço da Pedreira is an old quarry, where old basaltic scoria were exploited.
Consolidation over time of pyroclastic and red color of slag earned him the name of Pico Vermelho / red peak.


To Pedreira do Campo, a underwater sequence, old of 5 million years, is exposed, composed of marine sedimentary rocks rich in fossils at the base, and covered by basaltic hyaloclastite and pillow lavas.

These places are included among the 57 spots of the Azores Geopark.