The island of Faial, an irregular pentagon of 21 km. x 14, is a well-known stage for sailors crossing the Atlantic and coming anchor and refuel in the port of Horta, the capital.
Peter's bar is the favorite benchmark of thirsty crew.

Discovered in the first half of the 15th century, it was designated as Ilha da Ventura / Island adventure, before being called Ilha de São Luís / island of Saint Louis.

The current name Faial comes from the Portuguese "Faia", designating an abundant originally shrub, Myrica faya (Firetree).
It is nicknamed the "Blue Island", because of ubiquitous hydrangeas, boosted by an humid and temperate climate.

From a geological point of view, the island concentrates the different volcanic formations:

- A shield volcano, the volcano Riberinha in the extreme northeast, which is the origin of the proto-Faial Island. Since then, he has been largely destroyed by erosion and tectonic forces, causing the graben Pedro Miguel.

- A stratovolcano, with the volcano Caldera, with a central position.

This polygenic building has since 15,000 years, 14 subpliniennes eruptions, including two very violent, dating from the year 340 - 350 and from 800 - 810 AD, at the origin of ignimbritic deposits exposed on the northern flank.

The current caldera, steep-walled, measuring 2,000 meters in diameter and 400 m deep. Classified as a nature reserve, the descent into the caldera is prohibited.
Its flat floor features small buildings, including Capelo, a diameter of 150 meters and a height of 30. It houses small temporary lakes.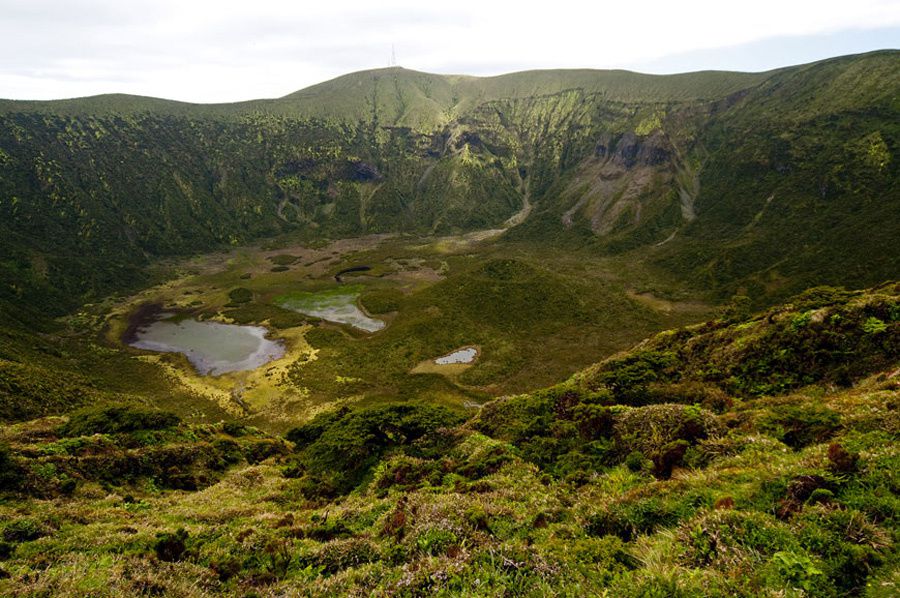 Faial / Azores - the caldera of the volcano Caldera, and Capelo, a post-caldera cone (in the center of the photo) - Photo Geoparque Azores.
- Monogenetic volcanoes of basaltic origin, scattered on the Horta's platform and the Peninsula Capelo.

The Horta's platform houses the Monte das Moças, the Monte Queimado et the Monte da Guia.

The latter, of submarine origin, consists of a Surtseyan tuff cone open to the sea by two twin craters; the cone is connected by an isthmus of dune to Monte Queimado.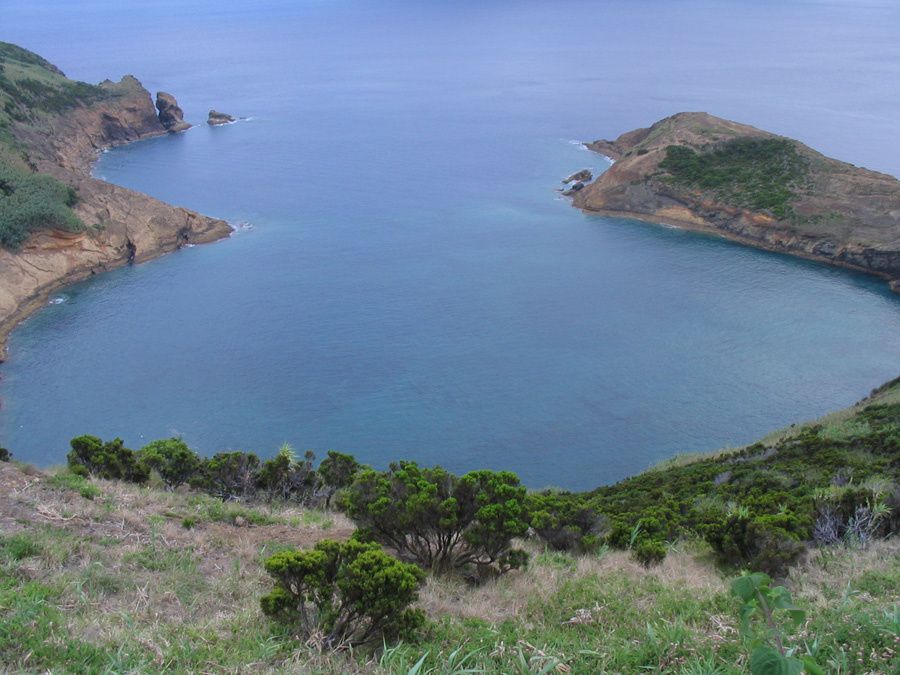 Faial / Azores - Monte da Guia - the twin craters seen from the top of the tuff cone - photo Geoparque Azores.
The peninsula do Capelo consists of a linear chain of basaltic volcanoes, the seat of major eruptions in historical times: the Cabeço do Fogo, in 1672-1673, and Cabeço dos Capelinhos in 1957-58.

We see it in detail later.

South-west of the island, the Morro do Castelo Branco is a trachyte dome, covered by pyroclastic deposits from the volcano Caldera.

His name, Branco / white, come from the light colored clay deposits present in the upper part. Strong marine erosion has left high cliffs.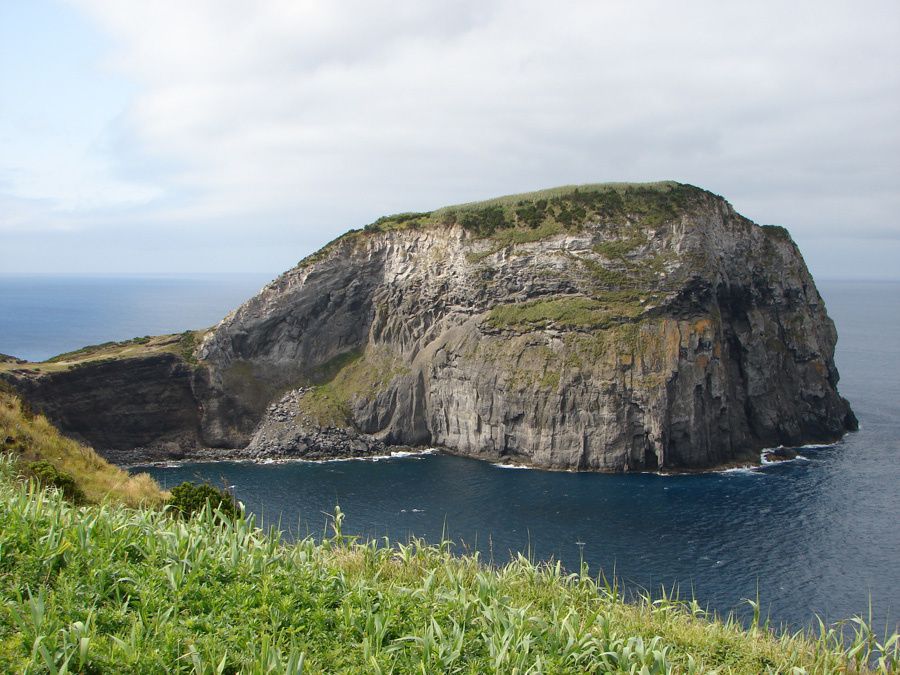 Sources :
- Geoparque Açores - Geossitios Faial - link
- AGU - American geophysical union : "Azores hotspot deep signature"
- ATA - Association turismo Açores.