São Miguel has a varied structure: an old massive east of the island, the complex Povoação; three stratovolcanoes with caldera : Sete Cidades, Agua de Pau and Furnas. These volcanic mountains are interconnected by recent alignments of cinder cones and lava flows: the region of the Picos.

Three Quaternary stratovolcanoes with caldera are the result of large eruptions, mainly trachytic nature, pyroclastic flows and ash fall.

The oldest caldera is the outer caldera of Agua de Pau, in a central position, dated between 26,500 and 46,000 years. Then there is a progression from west to east, to newer structures : in the west, the caldera Sete Citades dated 22,000 years, then the inner caldera of Agua de Pau, dated 15,000 years, and finally, in the east, that of Furnas, dated 12,000 years.
The Agua de Pau, a central stratovolcano :

The oldest subaerial rocks of Agua de Pau, dated of Pleistocene, include a dome of trachyte (181,000 years) on the south coast, a trachyte flow near the top (121,000 years) and trachytic tuffs (one unit 103.000 year old).
The main building consists of trachytic lava domes and pyroclastic deposits, dated between 100,000 and 40,000 years ago.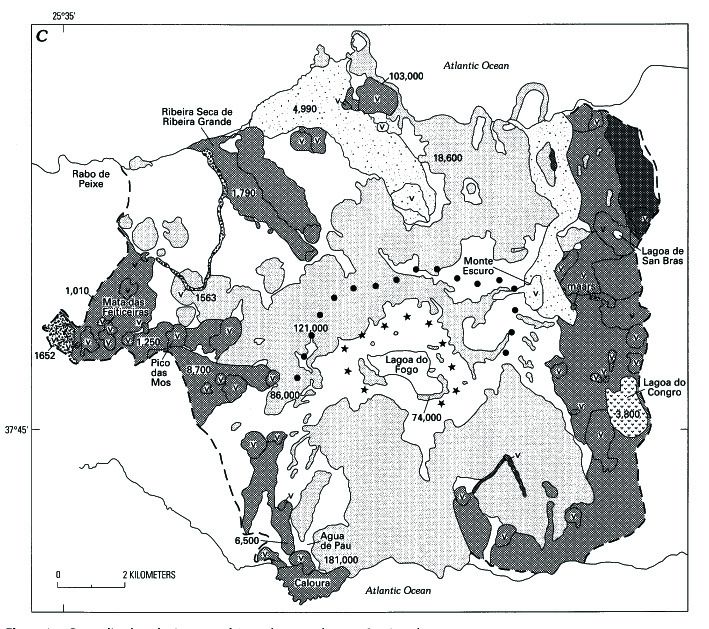 São Miguel, the center of the island - The Agua de Pau central stratovolcano : the outer caldera, dotted / the inner caldera, bounded by stars - doc. in Three Late Quaternary Geology of stratovolcanoes on Sao Miguel, Azores - by R.Moore
The outer caldera, 4,000 of 7,000 meters, is dated from 26,500 to 46,000 years.
The inner caldera, 2500 to 3000 meters, was formed 15,000 years ago.

Activity post-caldera concerns lava domes, which are set up on the northern and western flanks of the volcano and the caldera, where one of the largest eruptions in the Azores - VEI 5 - is dated 2990 BC ., characterized by the deposition of pumice of 3 km ³ (Fogo-A Plinian-fall deposit). The most recent caldera features a lake, Lagoa do Fogo. Cinder cones dot radial and concentric cracks.

The last trachytic explosive eruption took place in 1563, at the Cerro Qurimado vent on the side of the caldera NO. Hot springs, located on the side of NO., suggest the presence of magma or rocks heated by it, associated with eruptions of the Pleistocene / Holocene near the surface.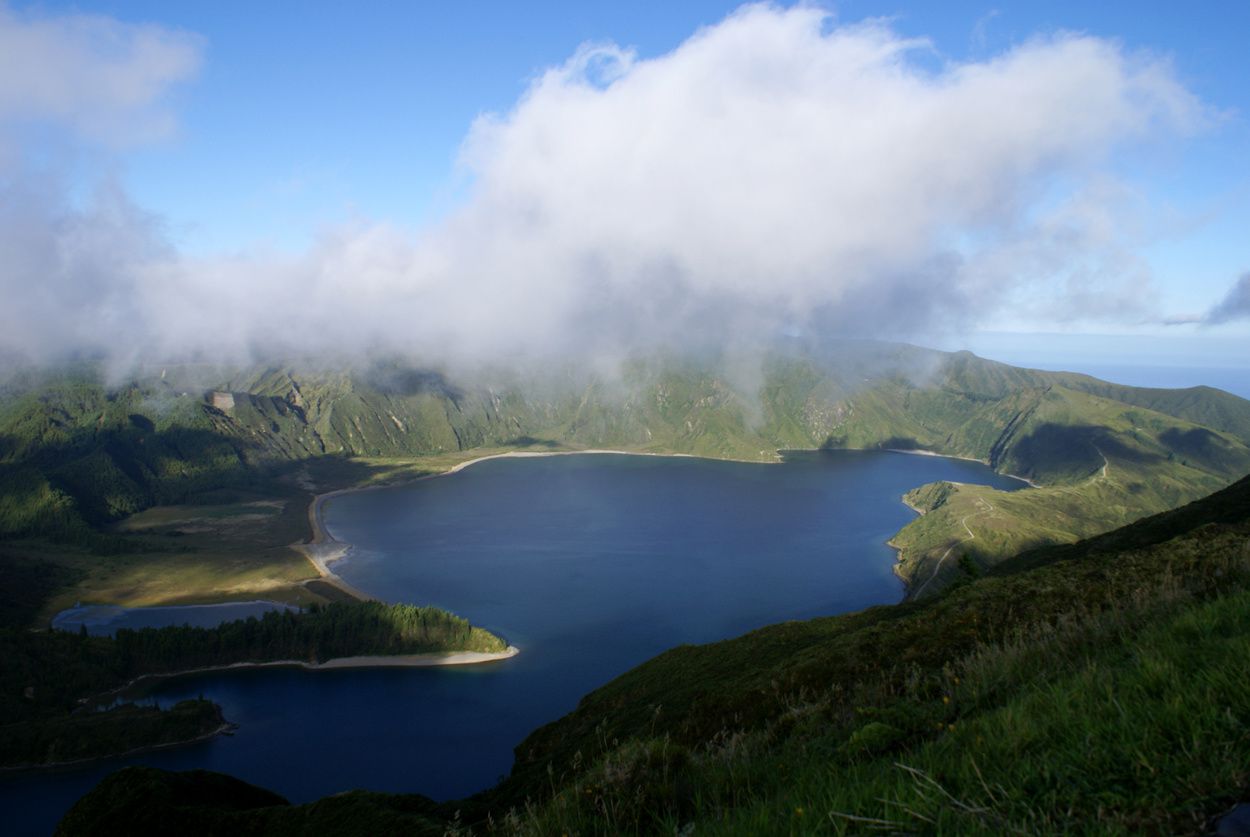 São Miguel, caldera Agua de Pau : Lagoa do Fogo, from Miradouro da Serra da Barrosa – photo Luis Silveira
Sources :
- Geology of Three Late Quaternary Stratovolcanoes on Sao Miguel, Azores – by R.Moore - link
- Global Volcanism Program - Agua de Pau
- Geoparque Azores - Sao Miguel